If you're breastfeeding or considering breastfeeding, we're here to support you.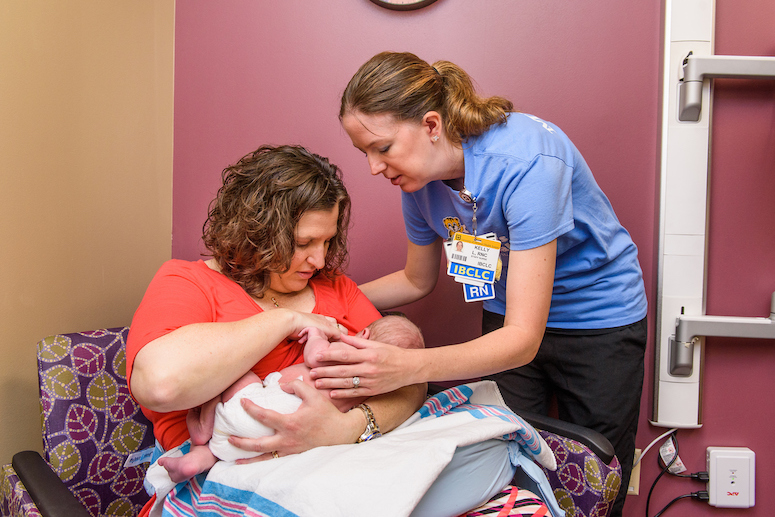 We know breastfeeding isn't always easy, especially at first. But it's a wonderful way to support your baby's development and lifelong health — while nurturing your parent-baby bond.
To help you reach your breastfeeding goals, MU Health Care offers breastfeeding support at every stage of pregnancy and new parenthood. These services include:
Lactation consultants
Breastfeeding classes
A new parent support group
A Baby-Friendly® hospital, which means we offer special support to get you off to a good start with breastfeeding
Our goal is to give you and your baby the best chance of having a positive breastfeeding experience.
Comprehensive breastfeeding support services
Whether you're pregnant and planning ahead or you've just encountered a new breastfeeding difficulty, we can help. Our comprehensive services include:
Lactation consultants
Lactation consultants at MU Health Care offer personalized breastfeeding support from pregnancy through weaning:
During pregnancy: We're available to answer any questions and help you decide whether breastfeeding is the right choice for you.
At the hospital: As you get started with breastfeeding, we'll be on hand to help you deal with any difficulties and build confidence.
If your baby is in the NICU: Babies in the neonatal intensive care unit (NICU) often have special nutrition needs. It's also sometimes difficult to breastfeed them. We're experts at helping you feed and bond with your baby while they're in the NICU.
After you go home: Breastfeeding at home can feel different from breastfeeding in the hospital. If you have any difficulties or questions, you can make an appointment with a lactation consultant. We see patients at the South Providence Medical Park pediatrics office and the Smiley Lane family medicine office.
Call 573-882-4730 to schedule an appointment with a lactation consultant.
Breastfeeding classes
Our lactation consultants regularly lead classes to give expecting and new parents a practical, hands-on introduction to breastfeeding. Classes are held twice a month on Mondays from 7 to 9 p.m.
Register online or by calling 573-771-6675.
Our parent support group
Tiger Tot Mommies is an online support community for mid-Missouri mothers. At each of its monthly online meetings, a lactation consultant is available to answer breastfeeding questions. These meetings are free, and registration is not required.
Baby-Friendly® breastfeeding support
Since 2015, MU Health Care has been designated Baby-Friendly® by the World Health Organization (WHO) and the United Nations Children's Fund (UNICEF).
The designation recognizes our commitment to supporting breastfeeding and parent-child bonding while you're in the hospital. As a Baby-Friendly® hospital, we:
Offer education on the benefits of breastfeeding, which provides complete nutrition to your infant and supports their lifelong health, growth and development.
Help you start breastfeeding within one hour of birth, if possible.
Give you the option of "rooming in," or staying with your baby 24 hours a day while in the hospital. This helps you and your baby bond and means you can breastfeed whenever your baby wants to.
Show you how to breastfeed and how to make sure you keep producing milk, even if you need to be away from your baby.
Share strategies to help your baby get used to breastfeeding. These include breastfeeding "on demand"; feeding your baby exclusively with breastmilk, if possible; and avoiding pacifiers and bottles at first.
Refer you to support groups and lactation consultants so that you can get help after you go home.
Learn more about having your baby at our Family Birth Center.
Should you see a lactation consultant?
We encourage you to schedule an appointment with a lactation consultant if you have any questions or concerns about breastfeeding. Some of the most common reasons people schedule appointments include:
Engorgement (too much milk supply)
Too little milk supply
Latching difficulties
Feedings that seem too short or too long
Pacifier introduction
Sore nipples
Call 573-882-4730 to schedule an appointment with a lactation consultant.
Alternatives to breastfeeding
Some parents prefer not to breastfeed, or not to breastfeed exclusively. In other cases — for example, because of medical concerns — breastfeeding isn't possible. So we also support parents who are using formula.
We can provide education and counseling to help you and your baby get the most out of formula feeding. Our nurses and lactation consultants can show you how to:
Get benefits typically associated with breastfeeding (such as skin-to-skin contact) while formula feeding
Learn how to mix formula safely
Plan the best times for your baby to eat
Find the bottle and nipple flow best suited to your baby
Call 573-882-4730 to schedule an appointment with a lactation consultant.
Related Conditions & Treatments