Breastfeeding is a learned skill that has many benefits for you and your baby. The American Academy of Pediatrics (AAP) recommends breastfeeding as the preferred method to provide nourishment to your baby for at least the first year.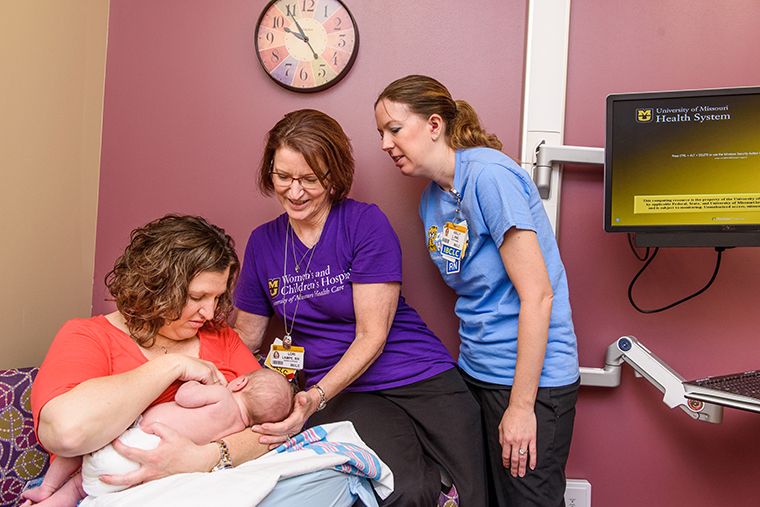 If you choose to breastfeed your baby, the staff at University of Missouri Women's and Children's Hospital wants to do everything possible to help you reach your breastfeeding goals. We'll support you during each phase of your pregnancy, the postpartum period and beyond, giving you and your baby the best possible chance of having a positive breastfeeding experience.
Breastfeeding takes practice and patience. Here at Women's and Children's Hospital, our lactation services help moms by:
Encouraging skin-to-skin contact with mom and baby, directly after birth and throughout the hospital stay
Offering 24-hour "rooming in" so mother and baby can stay together
Encouraging nutrition by breast milk only (unless supplementation is medically necessary)
Not routinely giving pacifiers to well babies until breastfeeding is well established 
Providing lactation support resources when moms go home 
Having certified lactation consultants available to help with breastfeeding issues
Lactation consultants
MU Health Care has lactation consultants available at two convenient locations in Columbia.
At our Pediatrics clinic at South Providence Medical Park, our lactation consultants on staff can help pregnant women and new mothers. Lactation consultants are also available to help premature babies and breastfeeding mothers in our neonatal intensive care unit (NICU).
If you are facing any difficulties with your breastfeeding, please consult with your nurse or provider or call 573-882-4730 to schedule an appointment with a lactation consultant for expert guidance and support.
Breastfeeding classes and clinic support
Although breastfeeding is a natural way to feed your baby, it doesn't always come naturally to moms and newborns. We offer assistance and education to help you have a successful breastfeeding experience.
We hold classes on the first and third Monday of every month from 7 to 9 p.m. To register, please call 573-771-6675.
You can make an appointment for our breastfeeding clinic at the Pediatrics clinic located at South Providence Medical Park, 551 E. Southampton Dr, Columbia MO. This clinic offers support, supplies and education to breastfeeding moms and their babies.