Choosing a primary care doctor for your child is an important step. Having someone you can trust and turn to, from the first year of your child's life through puberty and into adulthood, can keep your kid on track and give you peace of mind.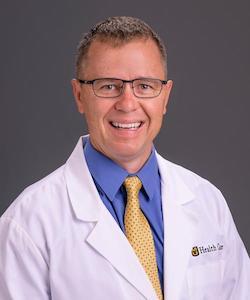 Christopher Wilhelm, MD a pediatrician at MU Health Care with 20 years of experience, offered his suggestions for what parents should consider when looking for a pediatrician.
1. Consider your provider wish list before you have kids.
Some parents value location and hours, while others prioritize approaches to care or knowledge about certain topics such as breastfeeding. It's also OK to not know what you prefer, especially if you're a first-time parent. Some places, including MU Health Care, help parents decide in the hospital after their baby is born.
If you choose one beforehand, you get the benefit of a relationship with your provider, who can speak with you and your obstetrician or midwife before you give birth, answering questions and addressing concerns.
"We recognize how much trust a parent is putting in us," Wilhelm said. "A first-time mother comes not only with her baby, but also with tons of worry and doubt about whether she's raising her child correctly. Pediatricians recognize that, provide reassurance or suggestions and work with the parents to help provide a loving, growing environment for the child."
2. Ask what resources pediatric providers have available.
One benefit of MU Health Care's Children's Hospital and pediatric clinics is the wealth of knowledge and the number of pediatric specialists. Our doctors work with experts in more than 25 pediatric specialties, all just a phone call away if your child needs specialized care.
And because our primary care doctors and specialists work together and have access to the same medical records, coordinating your child's care and appointments is that much easier.
"You're not only choosing a pediatrician, you're also choosing a health care system," Wilhelm said. "It is so important that there is communication between providers when your child needs care in different settings. In one phone call, I can call the pediatric cardiologist and make the case that I think this kid needs to be seen today, versus a month from now or whatever the wait is. There's a continuity of care."
3. Know your options for providers.
Parents have three main choices when choosing a provider for their child: pediatricians, family medicine doctors or pediatric nurse practitioners (PNPs). MU Health Care offers doctors and nurses with board certification in all three practices. Pediatricians have specialized training to care for kids and work solely with kids up to age 18. Family medicine doctors receive training in pediatrics, internal medicine and geriatric medicine so they can care for patients of all ages. PNPs hold a masters- or doctorate-level degree and are trained to care for kids from birth into young adulthood, focusing on well-child care, injury and illness prevention, and management and treatment of chronic conditions.
This decision is about choosing what's best for you and your family, so there's no wrong answer.