As a parent, your child is your No. 1 priority. At University of Missouri Health Care, your child is our No. 1 priority, too.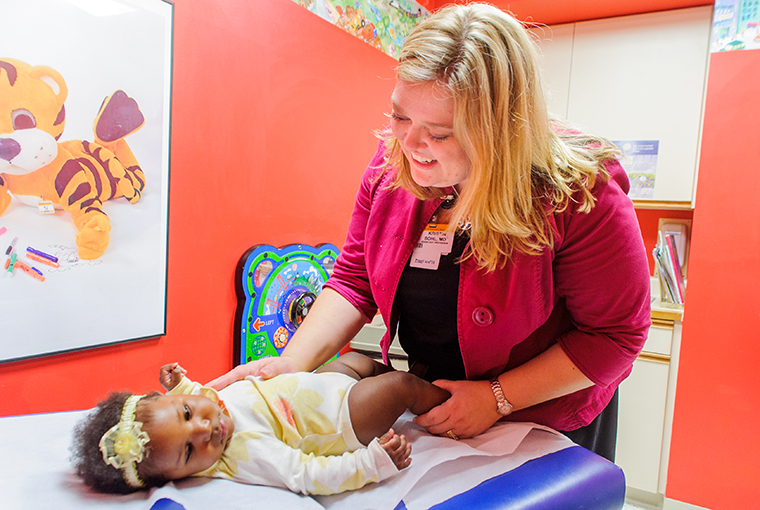 Our board-certified general pediatricians provide care for children from infancy through their teenage years. From ear infections and middle-of-the-night fevers to sports and school physicals, you can trust that your MU Health Care pediatrician is here to care for your child.
If your child needs pediatric specialty care, you can also find expert care in more than 30 pediatric subspecialties at MU Children's Hospital.
The relationship makes the difference
The right pediatrician takes the time to really know your child, including their medical history, personality, what they're like at school and home, even which book they love most. Forming a long-term relationship with your child allows our pediatricians to spot health problems early and recognize when your child needs help.
Each year that your child sees the same pediatrician, they benefit more and more from this relationship. When you choose a MU Health Care pediatrician, we form a relationship that lasts from infancy until your child "graduates" into adult care.
Your kids are our specialty
MU Health Care pediatricians recognize the unique needs of children as they grow and develop. We understand children are not just little adults — their bodies react differently to diseases, medicine and other challenges.
Our pediatricians are specially trained to care just for kids. We treat your child as the center of each appointment, listening to their needs and worries. We focus on giving them the care they need to feel better both mentally and physically.
We partner with parents, too, helping answer all your questions and concerns. We recognize that you play a valuable role in your child's health. Together, we'll help keep your child as healthy as possible.
Designed with children in mind
Our practice is specially designed to be kid- and family-friendly, helping your child feel at ease. From fun-colored walls and toys in the waiting room to kid-friendly equipment and art that makes them smile, all aspects of our practice help your child feel comfortable.
Our Child Life volunteers also work in our waiting rooms to provide developmentally appropriate activities for kids. We are the only practice in mid-Missouri to offer this service.
The latest in pediatric care
MU Health Care pediatricians provide care based on the latest research and treatments available. This means your child benefits from the latest in clinical trial research and advanced medical breakthroughs.
Our pediatricians participate in advocacy for children and are involved in current events that affect children's health. For instance, we've developed a childhood obesity management program in Columbia and advocate for children through the Thompson Center for Autism as well as the Rainbow House.
Our pediatricians stay up-to-date on the latest pediatric medical education, working as part of national organizations. All MU Health Care pediatricians are fellows of the American Academy of Pediatrics, and several are also members of the Academic Pediatric Association.
Comprehensive pediatric primary care for kids
Our team of expert pediatricians offers comprehensive care to children, including:
Care for illnesses or injuries
Childhood immunizations
Developmental screenings
Management of chronic conditions like asthma or attention deficit disorder (ADD)
On-site pulmonary function testing and asthma education
Routine vision and hearing screenings
Well-child care
Our pediatric practice is the only one in Columbia that provides on-site breastfeeding support with a full-time certified lactation consultant. Our consultant provides supplies, education and breastfeeding consultations to pregnant women and new mothers to help you have a successful breastfeeding experience.
What to expect at your first visit
Your child's first visit to our practice may take longer than the average visit. During this initial visit, your child's new pediatrician starts the beginning of a lifelong relationship with your family. We want to introduce ourselves and get to know your family.
First, your pediatrician will review your child's health history and immunization records. You should also bring your child's list of medicines.
Next, your pediatrician will perform a head-to-toe physical exam. This exam helps your pediatrician understand what your child is like when they are healthy so they can identify any health problems later. The first exam should take 30 to 45 minutes and it's a vital step in keeping your child healthy as they grow.
Related Conditions & Treatments