Your family medicine physician received special training and education to offer you lifelong care. He or she can treat a wide variety of conditions and help coordinate your care with other specialists when necessary.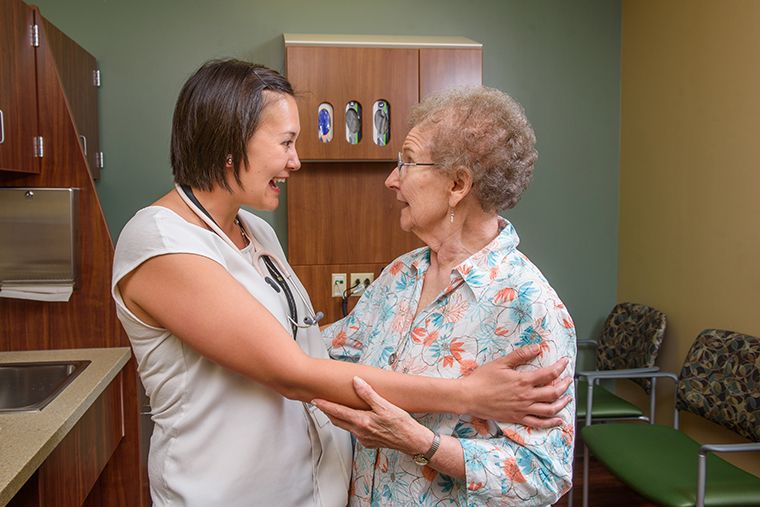 Whether your 2-year-old has an earache or your mother needs help managing blood pressure, our family medicine physicians are here to help.
At University of Missouri Health Care, our care centers around a strong, trusting relationship between you and your physician. We take the time to get to know you as a person, not just your medical history. Your physician is your partner in health and is dedicated to keeping you well.
Family medicine physicians offer comprehensive care, including:
Care for illnesses or injuries
Immunizations
Management of chronic conditions like diabetes or high blood pressure
Screenings
Smoking cessation
Weight loss support
Wellness visits
Patient-centered medical homes
MU Health Care family medicine physicians provide a medical home where you are treated like family. Patient-centered medical homes provide coordinated primary care in a centralized location, helping you partner with your physician for better health. Our practices have achieved the highest National Center for Quality Assurance (NCQA) patient-centered medical home rating.
In a patient-centered medical home, you receive extra support to help you achieve good health and prevent problems. You can expect your care to look similar to this scenario:
You visit a physician for help managing diabetes. Your physician listens to all your concerns about your medicines, how you feel and challenges with diet changes. Based on your needs, your physician creates a personalized treatment plan designed specifically for you. To help you stay on top of this plan, a nurse or care coordinator contacts you regularly to check on your health, answer questions and provide support.
As part of a patient-centered medical home at MU Health Care, you are treated as a whole person with individual needs. Download our Primary Care Patient Packet for more information about your clinic's status as Patient-Centered Medical Home as well as information on navigating MU Health Care, filling prescriptions, after-hours care and communicating with your health care team.
National leaders in family medicine
At MU Health Care, our family medicine physicians are recognized as national leaders in their field. U.S. News & World Report Best Graduate Schools has ranked University of Missouri School of Medicine Department of Family and Community Medicine in the top 10 family medicine departments for nearly 25 consecutive years.
This ranking recognizes our physicians for providing quality care and education to medical students and residents. We help the next generation of family medicine physicians provide outstanding care to patients across the country.
Family medicine clinics close to home
MU Health Care family medicine physicians offer care at locations throughout mid-Missouri. Receive convenient care close to home at any of these clinics.
Related Conditions & Treatments