Blair Clayton is a 3-year-old girl who knows only one speed. Whether she's bouncing around at gymnastics practice, cruising on her pink scooter or chowing down at dinner time, she goes full steam ahead.
"Her nickname is TED," said her mother, Heather Clayton. "That stands for Terrorize, Eat and Destroy. She's pretty rambunctious."
After going hard all day alongside her older brother and sister, Blair usually sleeps like a hibernating bear at night. So her parents knew something was wrong on the night of July 8, 2021, when she woke up multiple times crying and saying her belly hurt. The next day, Blair ran a fever, got a full-body rash and started vomiting. A lymph node in her neck swelled up, and the whites of her eyes turned red.
Heather, who is an ICU nurse at University Hospital, took Blair from their home in Centralia, Missouri, to the Children's Hospital emergency room because she knew it had a team trained in pediatric emergency medicine that could give her daughter the expert care she needed.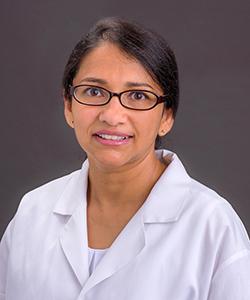 Shortly after her arrival, Blair was admitted to Children's Hospital so doctors — including pediatric infectious disease specialist Amruta Padhye, MD — could start working to determine the source of the problem that was causing the varied symptoms.
Padhye had Blair tested for a variety of infections, and Blair tested positive for several, including strep, E. coli and Rocky Mountain spotted fever. Padhye dismissed strep as the cause of the illness when Blair didn't feel better within a few days of receiving antibiotics. Her symptoms couldn't fully be explained by E. coli or Rocky Mountain spotted fever infections, either. Padhye knew it was something else.
"Even if a patient tests positive for something, you have to put it in context and ask, 'Does that explain everything?'" Padhye said. "We have to be very careful that we're not missing a very serious diagnosis."
*
As Padhye consulted with fellow pediatric specialists and narrowed down the possible causes of Blair's illness, she suspected the culprit might be Kawasaki disease. The cause of this rare childhood condition is unknown, and there is no single test to diagnose it.
Kawasaki disease often is associated with common viruses, which would explain Blair's multiple positive tests, as well as rash and inflammation that leads to red eyes. Kawasaki disease can cause permanent damage to coronary arteries, especially if it isn't treated within 10 days of onset
"You have to rule out other possible infections and then put together all these symptoms that can be explained by Kawasaki disease," Padhye said. "So, it's difficult to make the diagnosis quickly. It's not unusual for us to see patients who have been sick for more than a week and have been at more than one community hospital before someone put the symptoms together. Here, we have the benefit of having multiple specialists easily available to our patients."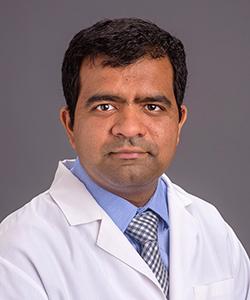 One of those specialists is pediatric cardiologist S.K. Chaitanya Panchangam, MD. Padhye consulted him to look at Blair's echocardiogram to see if there were any heart problems that are typical in patients with Kawasaki disease.
"Even though she did not have any inflammation of the coronary arteries, there were some subtle valve abnormalities that I notified the team about," Panchangam said.
Armed with all this information, Padhye made the diagnosis of Kawasaki disease on July 13, four days after Blair was admitted to the hospital. Blair was treated with IV immunoglobin, which gives the immune system an antibody boost to fight the disease.
Almost immediately, she shifted back into TED mode.
"The infusion wasn't even finished, and she was devouring an entire plate of spaghetti," her mom said. "It kicked in that quickly."
Blair was cleared to go home two days after her diagnosis and treatment, for a total of six days in the hospital. She took baby aspirin for six weeks to guard against any blood clots. Her follow-up visits with Panchangam revealed no sign of lasting problems with her heart, and she was cleared to stop taking the aspirin and get back up to speed with her favorite activities.
"She loves to do gymnastics," Panchangam said. "I remember she was very cheerful and excited to hear she could do gymnastics again."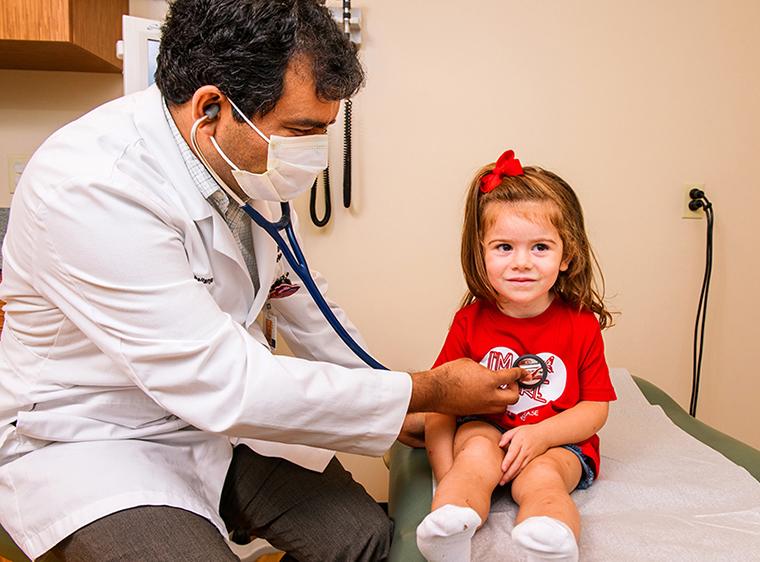 Without the expertise available at Children's Hospital, families such as the Claytons would have to travel to Kansas City, St. Louis or farther away for pediatric specialty care.
"We were able to go home and check on our other kids, who were staying with family," Heather said of Blair's hospital stay. "My husband could pop into work for a few hours each day, and I could leave and go to my own house to wash my hair and do things like that. We were trying to be as normal as possible. If we were in St. Louis, there would be no way any of that could happen."
To make sure young patients receive the best care long into the future, MU Health Care is building a new hospital that will use the strengths of the entire health system to provide the best care for patients.
"Kids are not just little adults — their bodies are different, and their needs are different," said Keri Simon, MU Health Care's chief hospital operations officer. "Our new Children's Hospital will go above and beyond to create the best care environment for kids and their families."
 
DESIGNED WITH KIDS IN MIND
Every detail of the new Children's Hospital has been thought through to provide the best environment, including:
• A dedicated kid-friendly entrance designed to make check-ins and appointment navigation as easy and convenient as possible.
• An ADA accessible shuttle to assist families to and from their vehicles.
• A warm environment with colors, murals and rounded corners designed to create a softer feel and put kids at ease during treatment.
• Interactive clinic areas with toys and furniture that are inclusive for those with special needs.
• Special outdoor environments with play areas, flower gardens and additional spaces to relax.
• A nature-inspired interior with natural lighting to promote healing and create a more connected experience.
PHASED TRANSITION
The new Children's Hospital and Birthing Center are scheduled to open in the summer of 2024. The transition of services is happening in phases. The first phase is complete. It includes the move of the following services to their temporary home within University Hospital:
• Pediatric inpatient unit and pediatric intensive care unit (PICU)
• Pediatric surgery
• Pediatric emergency services
• Children's Hospital procedure suites (CHPS)
• Children's cancer and blood disorder unit (CBCU)
During this transition, Women's and Children's Hospital has been renamed Women's Hospital to represent the remaining services, including women's health services, childbirth services, pediatric outpatient services and emergency services for adults. The NICU will also remain at Women's Hospital until 2024, when it moves into the new Children's Hospital.  
IN CASE OF EMERGENCY
Children who need emergency care should be taken to the University Hospital emergency room, which has a new and expanded kid-friendly space. Pregnant women needing emergency care should continue to go to Women's Hospital.