If there's one thing everyone knows about Missouri summers, it's that the heat can be oppressive. Many families end up spending the bulk of their time indoors to beat the heat.
"It's easy during summertime in Missouri to say, 'It is too hot and too humid outside to exercise so I'll just wait until it cools down,'" said Christopher Wilhelm, MD, a pediatrician at MU Health Care. "We all say that knowing it probably won't cool down until October."
Wilhelm suggests committing with your family to find options to be active together inside and outside.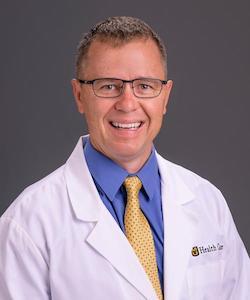 Choose Your Adventure
There is no shortage of outdoor activity options in mid-Missouri.
In Columbia alone, there are more than 75 outdoor parks, almost 50 trails and several outdoor swimming pools or "spraygrounds" available for families to enjoy this summer. Every year, the city holds a competition to see how many families can visit all 40 of its playgrounds over the summer months.
Simple games such as tag and hide-and-seek can be held in any backyard, as can water balloon fights — which are a great way to get some exercise while staying cool.
On extra-hot (or rainy) days, head to an indoor pool, let the kids run wild at indoor play places, such as Tiger Bounce or a trampoline park, or turn up the radio and have an indoor dance party. Dancing is a surefire way to get the entire body moving.
Fun for the Whole Family
Walking, biking, swimming and dancing as a family doesn't just lead to healthier bodies. It also allows parents to set an example for children and to spend quality time together.
"We shouldn't tell our children exercise is important and then sit in our car on our phone while they are at soccer practice," Wilhelm said. "It would be healthier for everyone if our kids saw us walking laps around the soccer field while they practiced."
Wilhelm suggests scheduling time to exercise as a family, whether it's in the morning or evening, to avoid the heat, and to set a collective family goal and encourage one another to achieve it.