At MU Health Care, we understand every child and family has unique challenges to achieving a healthy lifestyle, and our experts are here to help.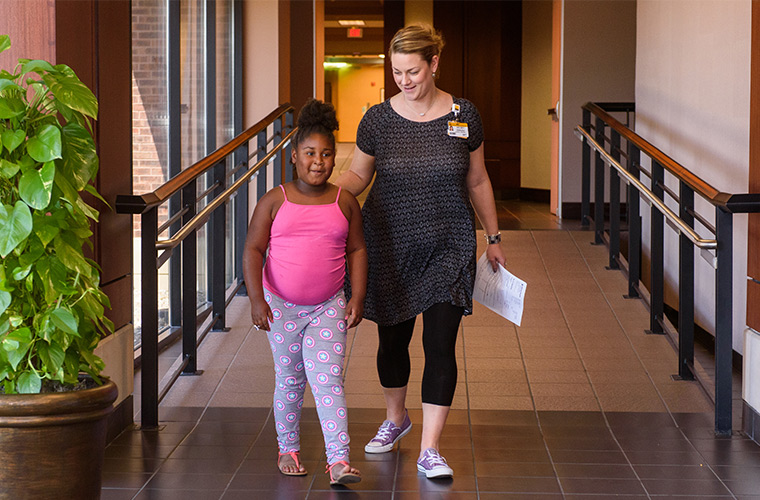 Childhood obesity is a common issue, affecting as many as one in five kids in America. It can lead to a number of other medical conditions, but the good news is helping your family create healthier lifestyle habits can make a real impact.
Options for Pediatric Weight Management
Our approach to pediatric weight management starts with Tigers on Track, a specialized pediatric and adolescent program designed to help your child and family develop healthy, lifelong habits. The main focus of Tigers on Track is to prevent and treat childhood obesity by increasing awareness about healthy eating and physical activity while improving self-esteem.
What to expect at your first visit
At your first appointment, you and your child will meet with members of our team for a wellness evaluation.
A doctor or nurse practitioner will discuss your goals and expectations and ask about your eating, exercise and other habits. We will also discuss your child's medical history.
A dietitian will complete an in-depth nutrition evaluation and help you create a food plan that incorporates healthier food choices and habits that best fit your family's goals and lifestyle.
A physical therapist will evaluate your child's balance, heart endurance, range of motion and strength and develop a personalized activity program for your child.
A social worker may also meet with your family to provide additional community resources.
Childhood obesity is often accompanied by other weight-related conditions such as high cholesterol, high blood pressure, sleep apnea, diabetes, and issues with digestion, hormones and growth. That's why our pediatric weight management teams work closely with other pediatric specialists to make sure your child receives the best care possible.
Who is Eligible for Tigers on Track
Tigers on Track is open to children ages 2 to 18. We encourage the entire family to participate, including other children and adults in the family such as parents, siblings, grandparents as well as child care providers. We want to help children and families understand that childhood obesity can be managed successfully.
Adolescent Weight Loss Surgery
If your child has a weight-related health condition, and lifestyle changes haven't helped them lose weight, our pediatric weight management team can discuss whether your child is eligible for weight loss surgery, and if surgery is the right treatment choice.
Our adolescent weight loss surgery team includes a psychologist, dietitian, pediatric and adult surgeons, social workers and more. These specialists ensure you and your family have everything you need, from our pre-surgery evaluations through post-surgery care.
Our surgeons perform the gastric sleeve procedure to help adolescents lose weight because it reduces the size of the stomach without changing how nutrients are absorbed and can improve metabolism. Candidates must be seen and evaluated through the Tigers on Track program to be referred to our adolescent weight loss surgery team.
Related Conditions & Treatments