If your child has been diagnosed with a developmental or behavioral condition, it can be a confusing time for your family. Of course, you want to seek the best treatment possible for your child — but you aren't sure if that's therapy, medication or some combination of treatments.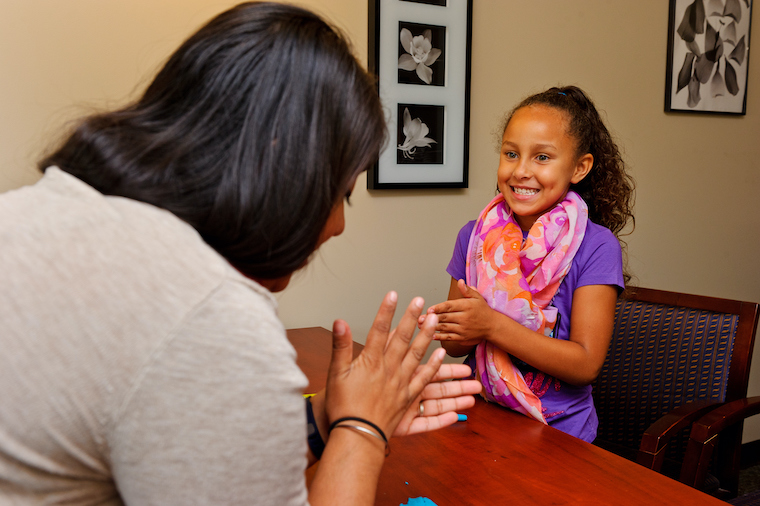 The Missouri Psychiatric Center and the Psychiatry Clinic provide inpatient and outpatient care, respectively, for children and adolescents with mental health issues, as well as community outreach.
Outpatient pediatric psychiatry
If we treat your child on an outpatient basis, we will evaluate his or her condition and prescribe treatment, which often includes medication management. We make a referral to our trusted community providers for additional therapy, if necessary.
Inpatient pediatric psychiatry
If needed, your child can receive treatment for psychiatric conditions while an inpatient at the Missouri Psychiatric Center.
Psychiatric treatment goals
Our goal is to provide a comprehensive evaluation, stabilization and short-term treatment, as well as to make arrangements for ongoing treatment after discharge. The Missouri Psychiatric Center provides both inpatient and day treatment programs for children and adolescents. The center has 13 inpatient beds for youth ages five through 17. It serves children and adolescents who are in crisis and who pose a serious danger to themselves or others.
Psychiatry treatment program
When your child is admitted to the hospital, our team evaluates his or her mental state. We continue to monitor and assess throughout his or her stay in the hospital. We may gather information from the following sources to help us make a comprehensive evaluation of your child's condition:
Your child
Parents, family and other caregivers
Other agencies working with your child 
Your child's school
Our specialists may use informal observation, formal questionnaires and tests in completing our assessment of your child. 
Each day's structured schedule includes: 
Free time
Hygiene time
Meals
Planned activities
Sleep time
Visiting times
Depending on the child or adolescent's needs, treatment options may include: 
Group counseling on topics such as problem solving, communication, anger management, coping skills, stress management and goal setting
Physical and leisure activities, including arts and crafts
Medications and medical stabilization
Youths have opportunities for recreation and physical activities daily. They also receive daily educational instruction from teachers at our facility who work with the child's home school. When a child or adolescent is discharged, our team provides an aftercare plan to parents or guardians.
Our adolescent program has adapted dialectic behavior therapy (DBT) as the framework for treatment, including the core strategies of validation and problem solving, and teaching mindfulness and distress tolerance skills. DBT is an evidence-based behavioral therapy that is effective with emotionally dysregulated, behaviorally dysregulated and suicidal individuals.
Pediatric psychiatry treatment team
Your child's attending physician is a child psychiatrist who is a medical doctor. 
Other team members include: 
Child psychiatrist
Nursing staff
Occupational therapists
Psychologist 
Resident
Social worker 
Therapeutic recreation specialists
Related Conditions & Treatments