MU Health Care's Children's Therapy Services provides pediatric physical, occupational and speech therapy services and includes a unique therapeutic rehabilitation playground.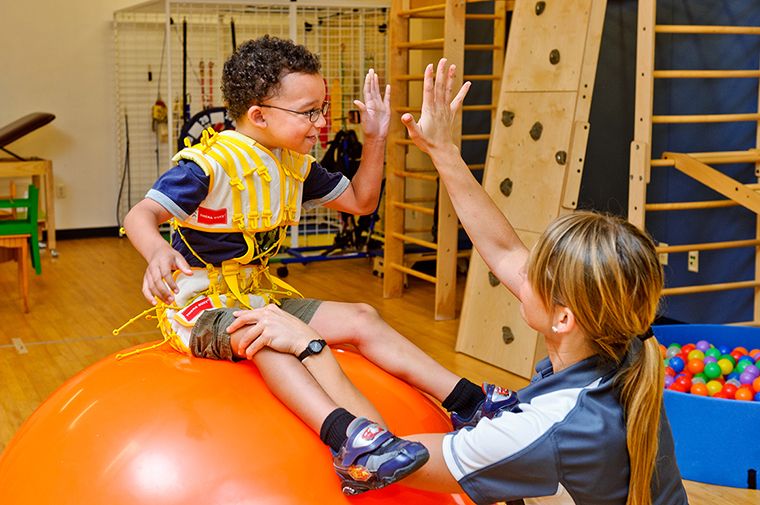 Our Children's Therapy Services provide a team approach to treating your child. Together, with your child's pediatrician, we create a personalized treatment plan and team specific to your child's diagnosis and developmental stage. With access to the latest technology and the most advanced equipment, your child will receive the best care possible.
What to expect at your child's first visit
When you arrive for your first visit, consider this a consultation where our team will help decide if therapy is needed. Your child will meet with a variety of therapists, including a physical therapist, occupational therapist and a speech language pathologist. Each will conduct an evaluation of your child and talk with you about how therapy services may benefit him or her. Additionally, they will observe your child in any equipment he or she uses, such as a walker, wheelchair, stander and bracing. If your child doesn't currently use equipment but would benefit from it, our therapists can recommend the most appropriate choices.
At the end of your appointment and if therapy is recommended, our therapists will work with you and your child to create a personalized therapy plan. Referrals to other clinics and specialists will be completed as necessary.
Therapy services offered
Occupational Therapy
Occupational therapists help children with fine motor skills, visual motor skills, handwriting, activities of daily living, including dressing, bathing, toileting, grooming and feeding, instrumental activities of daily living, such as money management, meal preparation and job skills, social skills, upper body coordination, functional transfers, use of manual and power mobility and adapted equipment and assistive technology for functional communication or use in everyday activities.
Occupational therapists often work with children who are recovering from surgery or an injury, struggle with fine motor skills, require a wheelchair, or have feeding or swallowing difficulties. To learn more, visit our Occupational Therapy page.
Physical Therapy
Physical therapists help children to improve mobility and motion so they can function at their highest potential. They will evaluate your child's mobility, strength, endurance, range of motion, balance, posture, sensory and neurological systems. Your child may be referred to one of our physical therapists if he or she has been diagnosed with a walking or balance disorder; has a need for an orthotic device, such as a brace or wheelchair; or is recovering from surgery or a traumatic injury, among other reasons. To learn more, visit our Physical Therapy page.
Speech Therapy
Speech-language pathologists help children effectively communicate. When you arrive for your first visit, your speech therapist will conduct an initial evaluation with you and your child. He or she will also observe your child, if recommended, suggest additional testing. Our speech therapists evaluate a variety of communication needs, including speech, motor speech disorders, phonological processes, fluency, receptive and expressive language, pragmatic/social language, cognitive communication and executive functioning, and alternative and augmentative communication (AAC). Your speech therapist will discuss your child's assessment and create a plan that includes a home exercise program and recommendations for ongoing treatment, if necessary.
If your child has been diagnosed with a hearing, swallowing or feeding condition, has a cognitive communication disorder or has received cochlear hearing implants, speech therapy may help him or her. To learn more, visit our Speech Therapy page.
Feeding Therapy
Speech therapists help children learn to eat and maintain a healthy diet throughout their lives. Your child should arrive to the appointment somewhat hungry. Please bring food your child can chew and eat with a spoon and something to drink. Among the services provided are food chaining (emphasizing similarities between accepted and targeted foods), food exploration, meal-time routing planning and swallowing evaluations.
Tiger Intensive Therapy
Customized therapy programs of increased frequency, called Tiger Intensive, are planned with your family's needs and goals in mind. The Tiger Intensive program offers three: physical therapy, occupational therapy and speech/language therapy. Sessions are scheduled from two to five days per week for a total of three or four weeks. PT sessions may last up to three hours, OT sessions may last up to two hours and ST sessions last one hour. Upon completion of Tiger Intensive, families will be issued a home program that will further progress and prolong the gains made during intensive sessions. Children with certain medical conditions such as cerebral palsy, down syndrome, a developmental delay, neuromuscular condition, or children recovering from a traumatic brain injury are often referred to Tiger Intensive Therapy.
Therapy treatments
MU Health Care's Children's Therapy team offers a wide variety of treatments to meet the needs of your child as well as all children in mid-Missouri.
Our team is also part of specialized programs to help children with complex conditions, such as aerodigestive disorders or motility conditions. We also collaborate with the Thompson Center for Autism and Neurodevelopment to provide therapy services for children who may be diagnosed with cerebral palsy or developmental disorders.
Pediatric therapeutic rehabilitation playground
Our unique outdoor playground is designed to be accessible to children of all abilities, including those who require the use of crutches, walkers, wheelchairs and other assistive devices. The playground features therapeutic elements such as hidden images of animals to test children's visual development, steps of various heights to help children learn to climb stairs and obstacles such as hills and gravel to teach kids to navigate their environments.
We have a devoted space across from Children's Hospital that is designed with children in mind. Our Children's Therapy Center includes:
Six private treatment rooms for speech therapy, manual therapy and infants
An activity room, where children will focus on hand-eye coordination and fine-motor skills
Two feeding and dysphagia treatment rooms for patients with feeding and swallowing disorders
A low-stimulation treatment room with sound insulation and dimmable lights for infants and children with autism spectrum disorders, attention-deficit hyperactivity disorder, sensory processing disorder and other conditions
Two indoor treatment gyms for physical and occupational therapy equipped with universal exercise units (UEU) from the TheraSuit method
A splinting-and-casting room
Read some frequently asked questions about your child's therapy appointments for more information.
Related Conditions & Treatments