If you need help to regain mobility, movement, balance or strength following an injury or illness, we can help. The highly trained and skilled physical therapists at University of Missouri Health Care Mizzou Therapy Services provide excellent care to our patients using the latest treatment methods and equipment.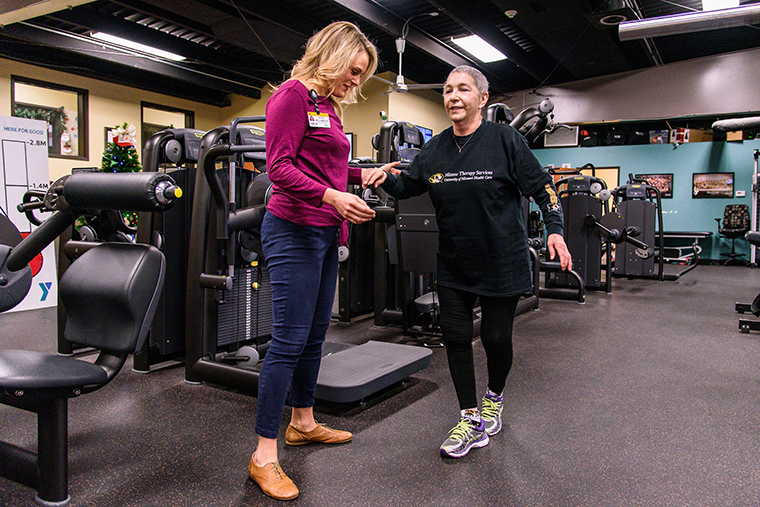 Whether you are recovering from an injury, experiencing a painful condition, learning how to prevent future injuries, maximizing your athletic performance or rehabilitating after surgery, our team of therapists will help you reach your goals and improve your quality of life.
What is physical therapy?
Physical therapists (PTs) work closely with other members of your medical care team to restore and improve mobility and motion so you can function at your highest potential. PTs have a good understanding of the connection between your needs, abilities and environment, which assists in your successful transition to your home, community or next level of care.
Our team of therapists provides exceptional patient-centered outpatient physical therapy with a focus on sports medicine, orthopaedic, neurologic and pelvic floor and women's health services.
Our physical therapists work closely with our referring physicians to develop an evidence-based team approach to the treatment of injuries and various conditions. You'll receive a thorough initial evaluation as well as an individualized plan of care to meet your specific goals during one-on-one sessions with your therapist.
Physical therapy services
Our physical therapists specialize in treating four of the body's major systems:
Musculoskeletal. This includes the body's bones, cartilage, connective tissue, joints, ligaments muscles and tendons.
Neuromuscular. This refers to all of the muscles and related nerves in the body.
Cardiovascular/pulmonary. This includes blood, blood vessels, bronchi, heart, lungs and trachea.
Integumentary. This includes the exocrine glands, hair, nails and skin.
Conditions we treat
We provide physical therapy services related to a variety of medical conditions such as:
Joint problems (shoulder, elbow, hip, knee, ankle and foot)
Mobility and balance impairments
Neck and back pain
Neurologic diagnosis such as chronic spinal disorders, stroke, brain injury, or spinal cord injury
Orthopaedic rehabilitation
Recovery after surgery
Sports or athletic injuries
Whatever your needs may be, our approach is personal physical therapy with exceptional results.
Related Conditions & Treatments