Jake Pickens has long felt the pull of Friday nights under the lights, and the brotherhood and common purpose of high school football.
Growing up in Boonville, Missouri, that meant one thing: wearing Pirate Blue, White and Black.
"I like the feeling of putting my hand in the dirt by my friends and competing," Pickens said. "Being with the team, socializing with my friends after school and on Friday nights. That brotherhood, it's something I've always wanted."
An offensive lineman since he started playing in 7th grade, Pickens has played center as well as right guard and tackle, working hard to keep his quarterback upright and open gaps for his running backs. A box of Krispy Kreme donuts was the offensive line's reward for hitting the team goal of 200-plus rushing yards in a game.
But during the first quarter of the Pirates' final regular-season game, on October 21, 2022, he got hit from the front and back at the end of a play. The unexpected contact forced Jake to fall in an unnatural way.
As he was helped off the field, he hoped it was just a sprain. He hoped, whatever it was, it wouldn't keep him from missing the postseason.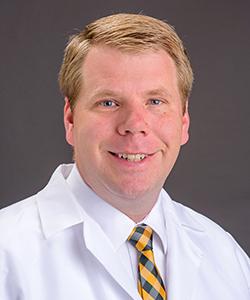 The trainer told him his knee needed a closer look, and recommended he go to MU Health Care's walk-in Sports Medicine Injury Clinic the following morning, where he was evaluated by sports medicine expert Brian Toedebusch, MD. The clinic is open from 7-8 a.m. Monday through Saturday in the fall with no appointment needed. Patients are seen by sports medicine physicians, the same doctors who take care of Mizzou Athletics.
Toedebusch ordered an MRI scan of Jake's knee the same week he was in the clinic to confirm the diagnosis, and Pickens had his fears confirmed a few hours after the scan: He had torn his right anterior cruciate ligament (ACL) and hurt both menisci in his right knee.
"The trainer told me there was a high chance I'd torn it," Pickens said. "I dreaded the answer I was going to get, and when I heard that my ACL was torn, it bummed me out."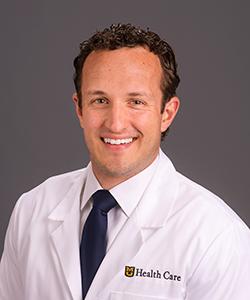 It wasn't all bad news that day, though. The Pickens family met Clayton Nuelle, MD, an orthopaedic surgeon who specializes in sports medicine reconstructive surgeries, and one of the team doctors for the Mizzou football team.
It can be a big blow, mentally and physically, to lose the hard work put in before and during a season because of injury. Knowing Jake's diagnosis and goals, Nuelle worked with the Pickens family to develop a surgery and rehab plan that would give Jake the best chance of returning for his senior year in September.
"Jake's injury was a little more complex, because of the combined ligament and menisci damage, than if it had just been one of those injuries alone," Nuelle said. "It made the repair and recovery more complex, but these are injuries we see fairly frequently taking care of high-level athletes, including Mizzou athletes. We know what it takes to get them back on the field."
The anterior cruciate ligament stabilizes the knee joint as it bends, twists and pivots during movement, while the lateral and medial menisci are thick semicircles of cartilage at the top of the tibia that act as shock absorbers. For Pickens to safely return, that ligament needed to be at 95% of its original function or better.
Two weeks after Jake's injury, Nuelle performed a complete ACL reconstruction by using part of Jake's right quadriceps tendon, as well as two menisci repairs.
"A great benefit of our walk-in sports injury clinic is an athlete can be seen within 24 hours of an injury," Nuelle said. "You get advanced imaging the same week and, if needed, surgery within two or three weeks. That's unusual and is a great service for athletes in mid-Missouri."
The first two weeks after surgery were painful for Pickens, even with medication, ice and bed rest. He couldn't drive and needed help getting into and out of the shower, but had his parents, siblings and teammates there to support him.
A fellow offensive lineman helped Jake get around town until just before Christmas, when he was cleared to drive again. He started twice-weekly physical therapy at the Boonville location of Mizzou Therapy Services and continued in the new Jackson Road Medical Building when it opened in April of 2023.
Pickens told his physical therapists his goals: Get back to squatting at least 280 pounds, and help Boonville win a repeat district championship.
"His hard work and consistency, staying with it, has been key," said Kelley Tate, clinical manager of therapy services in Boonville and Fulton. "No one can just get strong overnight. He's had that discipline and motivation to take those risks to get better and start pushing himself."
Working with physical therapist Nick Weitzel, Pickens did push himself, ramping up gradually to regain muscle, stability, speed and overall function.
"It can really kill your motivation, not being able to walk or do things you were able to do before the injury," Pickens said. "But with how far I've come these past couple months, it's been a real eye-opener to how much you can do with the right people behind you."
Jake officially received his clearance to return to football at the end of July, nine months after he was first injured. And with MU Health Care's orthopaedic surgery, sports medicine and physical therapy teams supporting him, Jake will wear the Pirates' colors on the field this fall.
"I'm so excited to get back on the field with my teammates," Pickens said. "It's going to be like a family reunion."