MU Health Care is proud to partner with Mizzou Athletics as team physicians to provide the best care possible for the Mizzou Tigers. Just like the Tigers, our sports medicine doctors and specialists work as a team to achieve great results.
Mizzou Athletics players and coaches trust us for their medical care during games, practices, training camps and beyond, and you can, too. Inside Missouri Orthopaedic Institute, you can expect the same expert care we provide to the Mizzou Tigers on the field, on the court, on the mat and outside of competition.
We keep Tigers — and Tiger fans — at the top of their game with expertise, quality care and compassion. From broken bones and muscle injuries to diet and fitness, our team works with you to create a care plan personalized to your sport goals and needs so we can get you back in action as quickly as possible.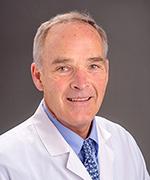 "Anyone can come to us and receive the same research-backed, leading-edge treatments and techniques as the Mizzou Tigers — some of the most elite athletes in our community — completely personalized to them."
- James Stannard, MD, Medical Director, Missouri Orthopaedic Institute and Head Team Physician, Mizzou Athletics