Whether you're a pro athlete or a weekend warrior, the expert orthopaedic specialists at University of Missouri Health Care offer the most advanced treatment options to get you back in the game.
Our team approach to sports injuries
Our team of specialists includes sports medicine doctors, athletic trainers, dietitians and physical therapists. They work together to evaluate and treat your sports injury with the goal of getting you back to the sport you love as quickly as possible. With on-site services, such as X-ray and MRI, physical therapy and pharmacy, we offer comprehensive athlete care in one location.
Personalized care to get you back in the game
Our treatment plans never take a one-size-fits-all approach. Instead, our team takes the time to work with you to determine which treatments are best for your lifestyle, goals and recovery. Your personalized treatment plan for sports and exercise-related injuries may include surgical or nonsurgical solutions, such as minimally invasive procedures, soft-tissue massage or physical training and reconditioning. If it's determined you need surgery, our goal is to not only heal your injury, but do so with the least amount of time away from work, family and the things you enjoy. Our pediatric and adolescent sports medicine specialists also provide tailored treatment plans for younger athletes.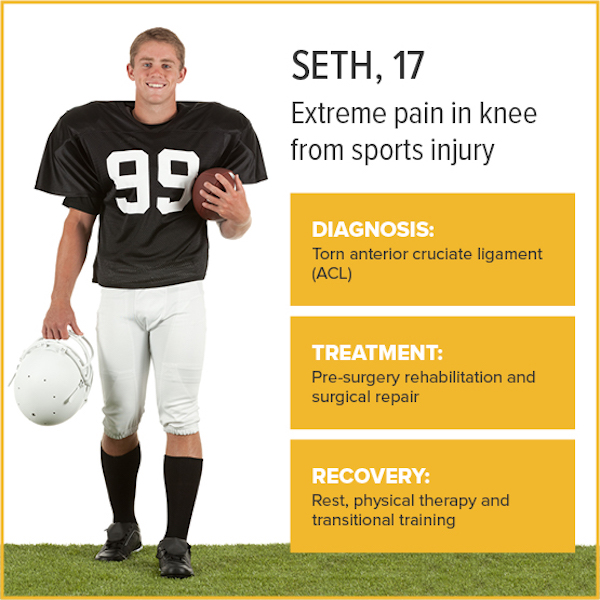 Sports-injury conditions
Our specialists treat a wide variety of sports-related injuries for both adult and youth athletes, including:
Concussion, including a Sports Concussion Clinic featuring a sports neurology specialist
Fractures or broken bones and bone stress injuries
Shoulder rotator cuff tears
Shoulder instability including dislocations and separations
Elbow injuries including elbow instability and ligament tears
Biceps and triceps tears
Lateral epicondylitis, or tennis elbow
Hip injuries including labral tears
Cartilage injuries
Meniscus injuries
Knee torn tendons and ligaments (ACL, LCL, MCL, PCL)
Leg exertional compartment syndrome
Ankle sprains and tendon tears
Muscle strains
Acute or overuse tendon injuries (i.e. tendinitis or tendinopathy)
Bursitis, which happens when the bursae — small, fluid-filled sacs that cushion the bones, tendons and muscles in joints — becomes inflamed
Athlete nutrition and sports and fitness eating disorders
Sports Medicine Injury Clinic
If you need evaluation for a sports or exercise-related injury, we offer a walk-in sports medicine injury clinic for athletic injuries Monday to Friday so you can be seen and back on your feet quickly. Adult and adolescent athletes are welcome to visit the walk-in clinic.
Treating your sports injury
Unique subpopulations we treat
Many of our doctors and specialists are active in sports themselves, so we know how passionate athletes can be about their sport. Many of our providers also have received advanced training to take care of athletes. Our expertise and passion drive our specialized sport-specific treatment of athletic subpopulations, including female athletes, collegiate athletes, and youth sports athletes.
Nonsurgical treatment options
Many sports injuries fortunately do not require surgery. Common nonsurgical treatments include rest, pain relieving medications, icing the injured area, and physical therapy. Our therapists offer specialized treatment for concussions and post-injury muscle recovery, such as blood flow restriction therapy, which is a rehabilitation technology to help a person regain strength with less strain across the joint. We offer athletic training to prevent injuries, and active release therapy, a movement-based massage technique. Transitional training to aid athletes back onto the playing field is also available through our Human Performance Program.
Sports Concussion Clinic
Athletes who suffer a head injury need quick, expert care not just for their health, but also to ensure they can return to their sport as quickly and safely as possible. Our Sports Concussion Clinic offers timely diagnosis and extensive treatment plans for athletes of any age.
Complete concussion care requires a variety of disciplines. Our Sports Concussion Clinic includes physicians specializing in neurology and orthopaedic sports medicine as well as athletic trainers who have experience in concussion diagnosis and treatment.
We treat all individuals at risk for concussion, including but not limited to:
Athletes across all sports and ability levels
Active individuals including adult league players and weekend warriors
Coaches
Referees
Our concussion treatment and management services include, but are not limited to:
Medical evaluation with a sports neurologist and athletic trainer
Imaging and testing as indicated
Musculoskeletal evaluation
Neuropsychological evaluation
Pain and medication management
Concussion education/health literacy
Care coordination and follow-up referrals
Comprehensive therapy services
Surgical treatment options
If your injuries require surgery, our team will help you through the process. Our surgeons use the latest techniques and minimally invasive procedures to get you back to your sport quickly. With outpatient surgery available for some procedures, you could be back home and recovering the same day. Some of our surgical treatments include:
Cartilage treatment: Our team is able to offer minimally invasive surgeries to repair cartilage damage. We also provide our patients opportunities to participate in ongoing clinical trials where innovative treatments for cartilage injuries and diseases are being used. These clinical trials involve collecting cartilage and regenerate the cells to help store damaged cartilage, and enhance your recovery.
Meniscus treatment: We offer minimally invasive surgery, known as arthroscopic surgery, which allows our surgeons to view inside the joint and fix repairable meniscus tears, preventing future damage and discomfort. When individuals are suffering from a lack of meniscus, we can also perform meniscus transplants.
Osteotomy: For patients who have degenerative joint disease due to overuse and arthritis, our surgeons can perform advanced procedures like an osteotomy that realigns your joint by adding a new bone wedge into the affected joint to relieve pressure from the damaged area.
Platelet-rich plasma (PRP): We offer one of the leading-edge biologic options, PRP, to promote healing by using a patient's own platelets to treat various musculoskeletal injuries and diseases. PRP can be used to treat rotator cuff injuries, tendinitis conditions such as tennis elbow, planter fasciitis, hamstring injuries, and more. Learn more.
Tissue transplants: Our doctors are able to treat certain joint injuries conditions, such as the knee, hip, shoulder and ankle joints, with tissue transplants in order to improve a person's quality of life. With our advanced tissue preservation system, known as the Missouri Osteochondral Allograft Preservation System (MOPS), we can extend the life of transplant tissues, such as cartilage, longer, which improves the health of the transplanted tissue and success of the surgery.
Returning to your sport
Our sports medicine doctors and physical therapists offer unique comprehensive evaluation tests to assess your readiness to return to a sport after an injury or surgery and can personalize treatment to each athlete's injury. Not only do we provide the best care possible, we have the science to know when an athlete is ready to get back into action. Some of this testing may include:
Comprehensive Return to Sport Test. We use a battery of functional tests to monitor your recovery and evaluate your readiness to return to your sport after your shoulder and knee injuries or surgeries.
Selective functional movement analysis (SFMA). A series of full-body movement tests for musculoskeletal evaluation that gives our team insight into what's causing your pain and what treatment plan, including exercises and physician therapy, is best for your condition and recovery.
Kinect – Portable Motion Analysis System. A markerless tracking system used to analysis your walk and movement. This information helps our team provide a personalized therapy plan to help you recover and back to your sport.
Dartfish Video Motion Analysis System. This allows our therapists to break down running mechanics and determine the need for running retraining to prevent or treat running-related injuries. Learn more about our specialized running therapy.
Related Conditions & Treatments