A few years ago, one of Corey Jackson's coworkers at Veterans United Home Loans talked him into giving rugby a try. Jackson, 26, didn't know the first thing about the rough-and-tumble sport, but after a few practices, he decided to join the Columbia Outlaws community team.
He devoted much of his free time to practices, individual workouts and weekend games against teams from other cities. Jackson loved the adrenaline rush he got from tackling ball-carriers, but he also loved the camaraderie with his teammates and opponents.
"Our league is competitive, but it's also very social," Jackson said. "After the game, we'll all get together and eat, drink and introduce ourselves. That's my favorite part. They're our opponents, and they're our enemies when we're playing, but we can turn that off once the game is over. With rugby being such a small community in the U.S., there's an instant bond when you meet."
In January 2020, Jackson was playing in a beach rugby tournament in Florida. In the final minutes of the last match of the tournament, Jackson swooped in to make a tackle, but as he took the opposing player to the ground, he heard a pop in his left knee. He tore his anterior cruciate ligament — or ACL — a strip of connective tissue that keeps the inside of the knee stable.
ACL injuries are common and dreaded among athletes. It usually takes six to nine months after surgery before a person is ready to return to sports, and it's hard to be certain when the knee is fully healed. The national reinjury rate is about 10%.
MU Health Care's sports medicine team is dedicated to improving outcomes for current and future patients with ACL injuries.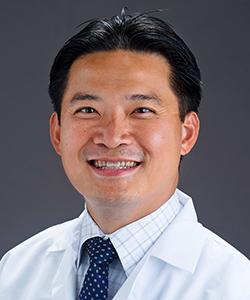 "We excel at every phase of taking care of a patient with an ACL injury," said Richard Ma, MD, a sports medicine specialist at MU Health Care's Missouri Orthopaedic Institute. "Not only do we have the surgeons who can do an excellent job reconstructing the ligament, we also have the other services — the physical therapists and the Human Performance Program specialists — who can help you before your surgery all the way through full recovery after reconstruction. The last part is the academic advantage. We're not satisfied just taking care of the patient. We're also trying to change the way people see this injury and take care of this injury through our research innovation."
Jackson took advantage of every part of MU Health Care's ACL injury program.
It began with prehab, the period before surgery when he worked with a physical therapist to reduce the swelling and regain flexibility in the joint. It is encouraged because patients who go through prehab have better outcomes after surgery.
Ma performed Jackson's surgery using a piece of his quadriceps tendon to replace the torn ACL. Patella and hamstring tendons also can be used to replace the ACL, but Ma has found the quadriceps tendon is a good, durable choice for recreational athletes.
After surgery, Jackson rehabbed with the therapists at Mizzou Therapy Services. He began with the most limited activities to improve his knee's range of motion, such as pushing the left pedal on a stationary bicycle one-half turn, and gradually worked his way back.
Jackson then advanced to the final step: Transitional Training at MU Health Care's Human Performance Program. He meets individually with trainers who collaborate with his medical team to create safe but challenging workouts that will help him return to the rugby pitch.
"Ten years ago, ACL rehab used to be focused on the knee and building up parts of the quad," said Jacob Linn, supervisor of the Human Performance Program. "Now, you have more of a holistic focus — the way the foot functions, the way the hip controls the knee, the way the core stabilizes the body. It's dynamic versus sitting at a table bending and straightening your knee. It's gotten more like performance training than rehab."
What Jackson is going through now could help others, as well. MU Health Care is an academic health system whose doctors are also scientists. Ma doesn't just fix ACLs, he is conducting two ACL research studies with the cooperation of more than 80 patients. Jackson agreed to participate in both studies.
First, he donated tissue from his knee that would otherwise have been discarded after surgery. Ma and his colleagues at the Thompson Laboratory for Regenerative Orthopaedics are studying the tissue to see if patterns emerge that link patients' cellular traits to how their knees recover from surgery. That information would help the care team select the right graft for surgery and tailor a rehabilitation program to the individual.
Second, Jackson has submitted urine samples throughout his recovery period. Certain proteins in urine give clues to what is going on inside the body. For example, levels of a protein associated with inflammation could be an indicator of when a person's ACL graft is healed. Ultimately, Ma hopes to develop a device similar to a home pregnancy test to help determine when patients should return to their sport or favorite activities.
These research studies are examples of translational precision medicine — using laboratory breakthroughs to create new, individualized treatments to help patients. The University of Missouri, which has launched NextGen Precision Health, is committed to doing more of this research, and MU Health Care's patients play an important role.
"This is about more than Corey just donating his tissue," Ma said. "It really shows his giving spirit, being willing to help us advance science, not necessarily to his own benefit but to the future people who have this injury."
Jackson is almost back to full physical strength. He fully expects to be on the field when COVID-19 is controlled enough for the Outlaws to resume practices and games.
"I'm not having any issues with the knee," he said. "But any pain or soreness that comes with rehab, I've told my trainers, 'Sign me up.' I'm down to go through any pain now so I don't get injured again later in life."