Our orthopaedic specialists offer surgical and nonsurgical options to reduce or eliminate elbow pain and injury. Our surgeons are leaders in minimally invasive procedures that can get you back to normal activity more quickly.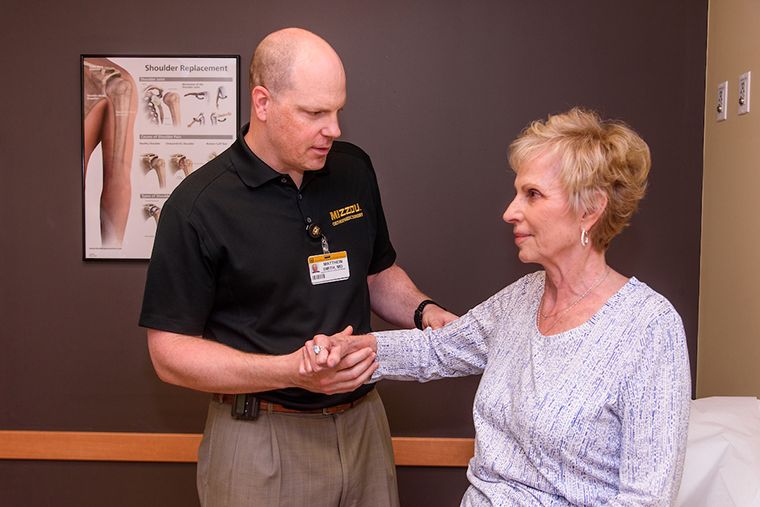 As experts in diagnosing and treating elbow conditions, MU Health Care orthopaedic specialists can help you get relief from elbow pain. Our experts are often called on by other physicians to address the most complex elbow issues.
We can help you understand what's causing your elbow pain and connect you to the latest research and treatment options.
If you're looking for relief for your elbow pain, call us at 573-882-BONE (2663) to set up an appointment today.
Causes of elbow pain
Your elbow pain may be the result of a fall, a prior surgery or an unknown condition. Whatever the cause, our doctors will help you understand the reason for your pain.
Causes of elbow pain include:
Arthritis
Cubital tunnel syndrome
Dislocated elbow
Distal biceps tendon injury
Elbow instability
Elbow stiffness
Fractures
Golfer's elbow
Repetitive stress injury
Tendonitis
Tennis elbow
Throwing injuries
Triceps tendon injury
Ulnar collateral ligament (UCL) injury
Diagnosing elbow pain
Our doctors will do a physical exam to look for injuries that may be causing your elbow pain. They'll also ask you questions about the nature of your pain.
For example, your doctor may ask you if your elbow hurts more if you bend or straighten it, if your elbow hurts when lifting or holding things or if it causes you pain while you work.
Knowing which movements and activities make your elbow hurt will help your doctor diagnose the cause of your elbow pain.
Your doctor also may ask for tests or images to get a better look at your elbow and help put together a treatment plan.
Elbow pain treatment at MU Health Care
Your treatment plan will center around your personal goals. Your doctor will go through a variety of options to help you manage your pain and any related elbow conditions. Together, you'll decide on a plan that gets you back to normal activities.
Nonsurgical elbow pain treatments
Your doctor may recommend one or more of the following nonsurgical treatment options:
Resting your elbow injury
In some cases, your doctor will ask you to reduce or stop moving your elbow so it has time to heal. Your doctor may provide a splint or brace to help the elbow rest. Applying ice and heat during this time may help reduce pain.
Injections
Some medications can be injected into the joint to reduce pain and inflammation. Your doctor will let you know which one is best for you.
Oral medication
Medications can help manage elbow pain, swelling and inflammation. For example, your doctor may prescribe nonsteroidal& anti-inflammatory drugs (NSAIDs) for elbow pain.
Physical therapy
Your doctor may recommend physical therapy. During therapy, you will do exercises and stretches that improve flexibility and strength.
Injury prevention
Your doctor or therapist may recommend changes to your desk or keyboard to help avoid strain or pressure on a nerve. These steps can help you avoid pain from coming back or getting worse.
Surgical elbow pain treatments
If nonsurgical options do not address your pain or injury, MU Health has the region's highest level of care for elbow surgery.
Our surgeons are leaders in the field and experts in minimally invasive elbow procedures. This means your surgeon will use the latest techniques so you can expect a shorter surgery and faster recovery.
Our expert surgeons specialize in complex cases and commonly perform the following procedures:
Arthroscopic or open contracture release for stiff elbow
Arthroscopic debridement for arthritic elbow
Ligament repair and reconstruction for unstable elbow
Surgical debridement for tennis elbow and golfer's elbow
Fixation of fractured and dislocated elbow
Elbow replacement
Additionally, our health system is collaborative across all specialties. You'll have a seamless experience –– from your initial surgical consult to your rehabilitation appointments after surgery.
Monitoring Progress
Your doctor will monitor your progress over time to make sure your elbow is healing properly. They also will ask if your pain is reducing or gone.
Our doctors will communicate with your physical therapist and other members of your health care team throughout the process.
Expertise in treating elbow pain and injuries
At MU Health, we have the highest level of surgical expertise in the area, which provides you with the best care close to home. This is why doctors in the region continue to send us their most complex cases for referrals and second opinions.
Our elbow surgeons perform more complex elbow surgeries than anyone else in the area. They can assess why a prior surgery may not have adequately addressed your pain — and perform a revision surgery to bring you relief.
Related Conditions & Treatments