When he graduated college, Jamie Mills received a special gift from his father. It was a gun cabinet made by a family friend. At the time, Mills knew nothing about woodworking — he never even took a shop class in high school — but that beautiful walnut cabinet with interlocking dovetail joints inspired him.
He bought a used jigsaw for $20 and started teaching himself. Mills got married and settled down in Centralia, and over the course of three decades, his hobby became a second job. He operates Mills Fine Woodworking, building custom cabinets for kitchens and bathrooms.
Mills, 55, dreams of eventually retiring from his day job in agribusiness sales and devoting himself to his labor of love.
"Woodworking has actually been my relief from all the stress of the corporate world," he said. "I want to be that old man in bib overalls making furniture for my grandkids."
On the night of April 5, 2020, Mills was operating a table saw safely, using a push stick to feed a board into the blade, as he had done thousands of times before. He's not sure exactly why, but the board kicked back while his left hand was close to the blade, and his thumb slipped into harm's way. The saw sliced off the top part of the thumb, just below the nail line. Mills hurried to his house and asked his wife, Lori, to drive him to the emergency room at MU Health Care's University Hospital. This wasn't their first trip to the ER together. In 1999, Mills lost his right eye when the tip of a table saw blade broke off and struck him.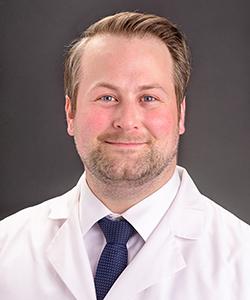 "As my wife was driving me, I said, 'I'm sorry … again,' " he said.
At the emergency room, the attending doctor cleaned the wound and sent photos to Sebastien Lalonde, MD, a hand and microvascular surgeon at MU Health Care. Lalonde decided the thumb could be saved by performing a procedure called a first dorsal metacarpal artery island flap.
The next morning, Lalonde transferred a flap of skin — with the artery and veins still attached — from Mills' left index finger. He tunneled the flap under the skin of the thumb to reach the area of the defect on the thumb, where it was sewn in place. The flap retained its blood supply through the artery and accompanying veins.
The bare patch on Mills' index finger was then covered with a small skin graft taken from his wrist crease. Because the skin of the wrist is loose, Lalonde could close that wound with stitches to complete the surgery.
"It's not a procedure that's usually done outside of large centers," Lalonde said. "It requires surgeons that are familiar with flap surgeries and comfortable with microsurgery."
Lalonde and his colleagues at MU Health Care's Limb Preservation Center specialize in treating traumatic injuries and infected wounds to help people avoid amputations. They've often found solutions for patients who sought second opinions after initially being told they needed an amputation.
Mills was relieved to keep his thumb, but he also wanted to use it again as soon as possible. Lalonde said the expertise of certified hand therapist Brad Earnest was a key factor in Mills' recovery.
"I always remind the patient that the first 30 days are going to feel like 300, because you have to be really careful to protect that graft as we work on motion with a lot of finesse," Earnest said. "He listened to our instructions. He was anxious to get back to work, but he truly understood he couldn't rush it."
Mills never had any doubt he would return to work. In fact, he did some online shopping for a safer table saw while he waited in the hospital on the night of his injury. Just six weeks after surgery, Mills was cleared to get back into his workshop and use his new saw.
"We have two grandkids now — they're 2 and 4 — and I had just finished a dresser for my granddaughter before the injury," Mills said. "So when this happened, the first thing that came to my mind was, 'Will I still be able to make them furniture?' "From what I thought could have been an amputation to where it is today is unbelievable. I have a fully functional thumb for the most part. It's a little different, but it's not going to slow me down."