Foot pain and ankle pain can keep you out of step with your life, preventing you from enjoying the activities you love. At University of Missouri Health Care, our podiatrists provide expert diagnosis and treatment of foot and ankle conditions and injuries to relieve your pain and restore mobility.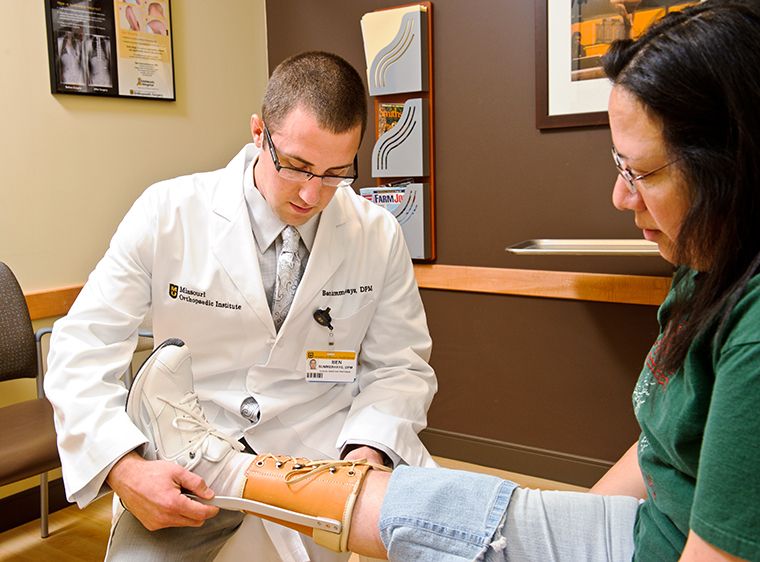 At Missouri Orthopaedic Institute (MOI), we offer complete care in one location, making your treatment easy and convenient. We can diagnose your condition through physical exams or advanced medical imaging. Treatments, including inpatient and outpatient surgery, are deliver using the latest physical therapy techniques to build strength, relieve pain and increase range of motion.
As a patient in an academic health center, you have access to the latest orthopaedic treatments. Our physicians use the most up-to-date recommendations and research to guide your care and help you heal.
You'll also receive care from a multidisciplinary team of specialists, including orthopaedic surgeons, podiatrists, radiologists, physical therapists and other health professionals. Our teams work with you to find the best treatment for your condition, age and fitness level.
Foot and ankle injuries
As providers at a Level I Trauma Center, the podiatrists at MU Health Care treat a wide range of injuries to the feet and ankles. From broken bones to complex traumatic injuries, we offer advanced treatments to restore foot and ankle function.
Injuries we treat include:
Achilles tendon rupture
Broken toes, feet and ankles
Frostbite
Heel bone fractures
Lawn mower injuries
Sprained ankles
Stress fractures
Whether you need an ankle brace and ice or reconstructive surgery, our foot and ankle experts help you get back on your feet. Our experienced physical therapists guide your rehabilitation, helping you rebuild strength and movement.
Foot and ankle conditions
Chronic foot and ankle conditions can cause long-term pain that keeps you from being physically active. Our team approach to care helps you put the spring back in your step.
Conditions we treat include, but are not limited to:
Achilles tendinitis
Bone spurs
Bunions
Clubfoot
Diabetic foot problems
Foot and ankle arthritis
Ganglion cysts
Hammer toe
Ingrown toenails
Neuromas
Foot and ankle pain treatments
You receive complete care at MU Health Care and the Missouri Orthopaedic Institute. Our orthopaedic specialists work with you to develop long-term, personalized treatment plans.
Your treatment may include:
Ankle fusion
Ankle replacement
Anti-fungal medicines
Cortisone injections
Medications to relieve pain and inflammation
Lapiplasty™ surgery to correct bunions
Minor surgeries to remove corns, warts and other issues
Orthotics or bracing
Physical therapy
Related Conditions & Treatments