Just before Zeke Crane turned 60, members of the Southern Boone High School student council asked principal Dale Van Deven if they could do something special for their beloved custodian. They decided to surprise Crane, an avid sports fan, at an upcoming school assembly with a Kansas City Chiefs jersey with the number 60 and his name on the back.
When Crane received the gift, the students rose and gave him a standing ovation.
"It moved him to tears," Van Deven said. "It was really cool. He's a hard-working guy, and it showed the appreciation the students have of his work. Not every custodian goes out of their way to form relationships with the students. Zeke does."
As Crane goes about his daily duties, he chats up students and teachers, "aggravating them, in a good way," he said. After school, he is a fixture on the sidelines at Southern Boone games. He even rides the team bus or catches a ride with parents to out-of-town games.
"If there was a tiddlywinks contest, I'd go to it," said Crane, a lifelong Ashland resident.
But throughout his 50s, the job he enjoys and even his relaxing weekend tradition of riding his Harley-Davidson motorcycle around mid-Missouri became harder because of pain and stiffness in both knees. Van Deven said it was hard to watch Crane hobble down the halls.
"At work, if I made a sharp turn, my knee started hurting," Crane said. "One time in the library, I thought I was going to hit the floor. I could feel stuff moving around in my knee. It was time to do something."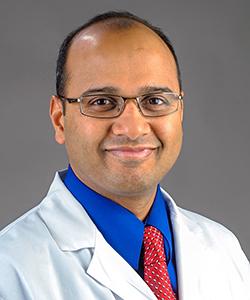 In the fall of 2020, he visited MU Health Care's Missouri Orthopaedic Institute, where surgeon Ajay Aggarwal, MD, diagnosed him with arthritis. The condition had caused his knee cartilage to break down over time, leading to painful bone-on-bone rubbing. Aggarwal prescribed over-the-counter pain medicine, physical therapy and knee injections, but when those treatments didn't solve Crane's problem, he recommended total knee replacement surgery.
The procedure involves removing the damaged surfaces of the thigh and shin bones and replacing them with artificial surfaces. MU Health Care has a well-established program for every step of knee replacement, from prehab exercises and "Joint Camp" — which teaches patients what to expect from surgery — to a physical therapy team that helps patients recover and get back to a pain-free life. The only long-term restrictions are to avoid activities such as running, jumping and contact sports, which can shorten the lifespan of the new knee.
"Zeke was very, very motivated, and that's important," said Aggarwal, who performs as many as 300 knee replacement surgeries each year. "To get a good outcome, probably 50% of it is my job as the surgeon, 25% is the patient's effort to do what's required and then 25% is the therapy team. When we all three work together, we get the best outcome."
Aggarwal replaced Crane's right knee in November 2020 and his left knee in February 2021. In each case, an inpatient therapist worked with Crane a few hours after surgery to make sure he was ready to go home the next morning. Within five days of surgery, he began outpatient physical therapy and was able to do it conveniently in his hometown at the Mizzou Therapy Services facility in Ashland.
"My first question is always, 'What is your goal?' " MU Health Care physical therapist Katie Williamson said. "Zeke wanted to get back to work, wanted to see those kids as the custodian and wanted to ride his Harley. I told him, 'OK, so everyday you're here, when your knee hurts, we need to remember that's why you're here and why you got your knees replaced, so you can do those things.' "
Aggarwal said patients usually regain 60% of their knee's function within three weeks, 90% within six weeks and full function between six months and a year after surgery. Crane dedicated himself to his rehab, sometimes returning to the new facility that Mizzou Therapy Services shares with the Southern Boone Area YMCA for some extra exercise in the afternoon after his morning physical therapy session.
Williamson knew Crane was ready to return to work in late March when he could push a leg sled across the YMCA's turf room. That was a similar activity to maneuvering a custodial cart. The chance to go back to work after nearly four months off thrilled Crane.
"You can only watch so much TV," he said. "And I missed the kids."
He is back at Southern Boone High School, joking with the students in the halls and cheering for them on the ball fields. For the first time in years, he can work and relax without pain.
"I've talked to a lot of people who had knee surgery who said, 'Best thing I ever did.' " Crane said. "Now, I'm agreeing with them."