The knees are the strongest joints in the human body, allowing the legs to bend and straighten while carrying almost all of the weight of the individual when they are standing. The knees are a hinge joint, but still have substantial capacity for lateral (side-to-side) motion.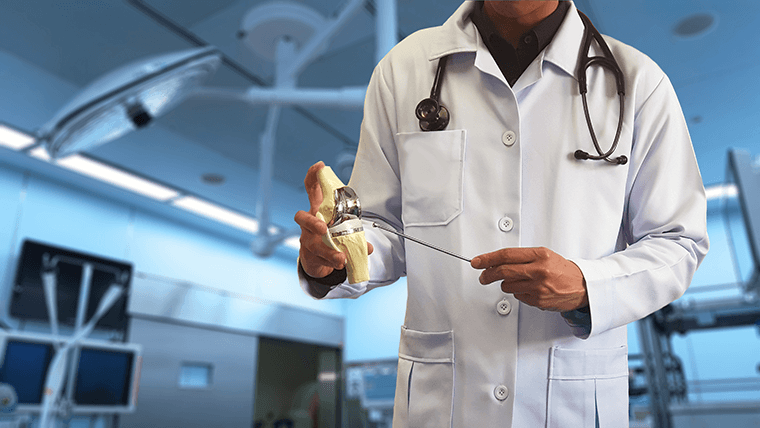 Arthritis is one of the most common and crippling conditions to affect the knee joint, but other conditions can cause knee pain as well. When exercise, weight loss, medication and other treatments no longer provide sufficient relief from knee pain, you should consider surgical alternatives. Knee replacement can offer dramatic pain relief and increased range of motion.
See if knee replacement surgery is right for you:
Types of Knee Surgery
Knee Preservation
In cases where your knee cartilage is healthy, our experts can work to preserve your healthy tissue by using minimally invasive techniques to repair your knee function. All of our treatments involve physical therapy to help reestablish your mobility and build your strength.
Knee arthroscopy
If your knee has sustained damage to its supporting tissue (the meniscus), you may experience pain or locking/catching symptoms. Minimally invasive arthroscopic knee surgery may be helpful to remove or repair the damaged tissue. During the procedure, your orthopaedic surgeon will use a few small incisions and specialized tools to remove or repair your cartilage.
Knee osteotomy
If your knee is not aligned, our experienced surgeons can reposition the joint. We use these procedures when a single compartment of the knee is involved and when good cartilage is still present in the knee joint. During an osteotomy, your orthopaedic surgeon will remove part of the bone around your knee. He or she will then realign the knee joint and hold it in position using a plate and screws. This realignment helps your knee work as it should and relieves stress on your cartilage.
Knee ligament repair
Sports injuries are common, and the knee's importance in running, jumping and changing directions means the joint is vulnerable even though it is supported by four ligaments: the anterior, posterior, medial and lateral cruciate ligaments. Orthopaedic surgeons at MU Health Care are experts at repairing torn knee ligaments, and as the official health care provider of Mizzou Athletics, you can count on the same world-class care our surgeons provide for the Tigers.
Knee Replacement
When you need knee replacement surgery, we are here to help you decide the best option to get you back to the activities you love.
There are multiple types of knee surgery, and your doctor will talk to you about the best approach: total or partial replacement.
Our knee replacement specialists are also trained to use Mako SmartRobotics, a surgical tool for replacement that uses a CT scan of your knee to personalize your new joint's placement. The goal of Mako-assisted knee surgery is greater satisfaction with how the knee moves and feels after recovery.
Outpatient Knee Replacement Surgery
Having a knee replaced once required several days in the hospital to recover. Now, some patients can have an outpatient knee replacement, either going home on the day of surgery or the next day less than 24 hours after surgery. Learn more.
Related Conditions & Treatments