Before his third year of medical school at Loyola University in Chicago, Clayton Nuelle received a life-changing text message from his brother, Kyle. It said he should introduce himself to a new Loyola medical student named Julia Vetter — a college friend of Kyle's — and make sure she was doing OK.
Clayton saw her one day, approached as she was putting her belongings in her locker and asked a seemingly innocent question: "Are you Julia?"
She was not in the mood for that question.
"I was very frustrated, because another guy in his class kept coming up to me and asking me that, mistaking me for another girl named Julia in my class who had come from Boston College," she said. "I just looked at him and said, 'I did not go to Boston College.' I was very short with him."
Fortunately, Clayton wasn't easily discouraged. When two of their mutual friends started dating a few months later, they met again and hit it off.
"She just blew me off the first time I tried to say hello," he said with a laugh. "She realized later that it wasn't what I was asking. She felt really bad, but I still give her a hard time about that."
They got past the initial miscommunication. Now, they're married with two young children and are working together at MU Health Care's Missouri Orthopaedic Institute. Julia Nuelle, MD, is a hand surgeon, and Clayton Nuelle, MD, is a sports medicine surgeon.
Clayton grew up in Columbia, and they both did their residency training in the MU School of Medicine's Department of Orthopaedic Surgery. They spent the past four years in San Antonio, where Julia served her Air Force active duty as the chief of hand and microvascular surgery at the San Antonio Military Medical Center and Clayton worked in private practice.
"Clayton and Julia are two extraordinarily talented surgeons who are also humble servant leaders," said James Stannard, MD, chair of the Department of Orthopaedic Surgery and medical director of the Missouri Orthopaedic Institute. "I worked for four years to recruit them back to MU Health Care. They are both five-star recruits who I would allow to operate on me or my family."
Clayton, a former standout baseball and football player at Hickman High School, helps people of all ages who have suffered injuries during sports or leisure activities. He performs open and arthroscopic surgeries on ankles, knees, shoulders and elbows, including needle arthroscopy without incisions for smaller procedures. He also offers innovative cartilage restoration procedures, such as harvesting a patient's own tissue and growing it in a culture before implanting it back into the damaged area.  
"One patient may need a cartilage transplant. One patient may need a simple clean-up scope. One patient may need a meniscus transplant. One patient may need a total joint replacement, a partial joint replacement or some may not need surgery at all," Clayton said. "I can do all of those things. So I tell my patients, 'I'm going to do a full evaluation, and your treatment is going to be very specific based on your needs and expectations.'"
Julia grew up on a farm in the southeast Missouri town of Benton and knew from childhood that she wanted to be a doctor. She treats patients for common problems such as carpal tunnel syndrome, arthritis and fractures, and she also has expertise in complex microvascular and nerve repair surgeries.
"I do the breadth of hand surgery, including microsurgery, but there are two main niches I'm developing here," she said. "One is pediatric and congenital hand surgery. A pediatric patient with any traumatic injury to the hand or people born with congenital hand differences would fall into that spectrum. The other is advanced peripheral nerve surgery. These are both areas I am passionate about."
The Nuelles decided to return to their home state to enrich their personal and professional lives. They wanted to raise their kids near their extended families, and they wanted to work at an academic health system like MU Health Care, where they get the chance to tackle complex cases and conduct research.
Sometimes, their personal and professional lives mix as they bounce ideas off one another and collaborate on research. A relationship that began with a miscommunication grew into lifelong conversation.
"We try to have date nights where we have no shop talk, but it's challenging because that's a big part of our lives," Julia said. "For us, it's good that we can talk about work with each other. Whatever field you're in, sometimes your spouse doesn't understand what you're doing all day. Clay and I are very fortunate that we can have those discussions.'"
GETTING TO KNOW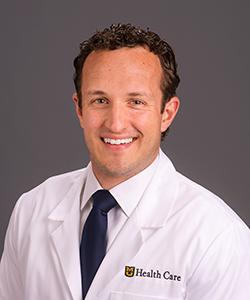 Clayton Nuelle, MD
Clinical Focus: Ankle, knee, shoulder and elbow surgeries
Research Focus: Cartilage transplantation and joint restoration
Interesting fact: Serves as a team physician for Mizzou athletic teams
Hobbies: Outdoor activities with his kids
Q: What's it like practicing medicine in your hometown?
A: "There's this group of people who know me who are calling to see if they can come in for an appointment. There are people my age in their late 30s and early 40s who I grew up with. There's also the parents of people my age in their late 50s and 60s. Pretty soon, there will be the age group of our kids."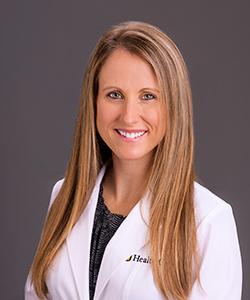 Julia Nuelle, MD
Clinical Focus: Pediatric and congenital hand surgery, microsurgery and adult hand surgery
Research Focus: Peripheral nerve repair and regeneration
Interesting fact: Served in the Air Force, including a three-month deployment to Saudi Arabia in the summer of 2020.
Hobbies: Enjoying the outdoors as a family and cooking with our children
Q: What drew you back to Columbia and MU Health Care?
A: "It really meant a lot to come back and use all the knowledge I've gained and the training I've received from all these wonderful people over the past 10 years and use it to help people who are my neighbors and friends. You don't get that experience as frequently in a larger city, where you're kind of anonymous. But here, at a restaurant or grocery store, you always see someone you know."