If you are at risk of losing your arm or leg because of injury or infection, or you cannot use them as you want because of deformity, MU Health Care's Limb Preservation Center will do everything possible to keep you whole and preserve your quality of life.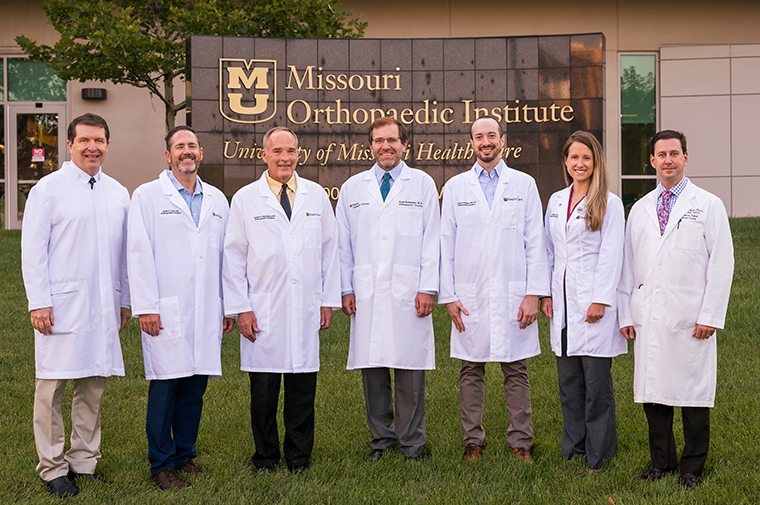 We are the only hospital in the region that provides multidisciplinary care and complex microsurgical reconstruction. Our team has seven orthopaedic surgeons — including microvascular surgeons — and other specialists. We're led by Brett Crist, MD. We are equipped to address the most challenging cases, including:
Complex extremity injuries including fractures
Failed bone healing
Bone deformity
Limb Lengthening
Chronic infections
Chronic wounds
Our expert surgeons treat complex bone problems and soft-tissue injuries, including when tissue is missing and requires moving muscle and skin from another part of the body to replace it. These microsurgical reconstructions are precise procedures that require a microscope to reconnect blood vessels the size of a spaghetti noodle.
What sets the Limb Preservation Center apart even further is its multidisciplinarian team approach. Our center is a one-stop shop for all the issues facing a patient with complex problems that include a combination of bone, skin, muscle, nerve and artery damage.
Rather than being shuffled from specialist to specialist, you will have one team of surgeons, physicians and specialty nurses caring for all your needs. We believe this approach is more convenient to you, prevents miscommunication about your care and, most important, gives you the best opportunity to keep using your limb. The mission of our team is to improve the quality of life for all patients in a caring environment.
The Limb Preservation collaborates with several other departments including, but not limited to:
Infectious Disease for diagnosing, treating and managing infectious conditions.
Interventional Radiology, which is used for diagnostic and therapeutic care for a wide variety of vascular conditions.
Anesthesiology and Perioperative Medicine, which offers comprehensive training in perioperative patient care, pain management and intensive care medicine.
Comprehensive Pain Management Center for post-acute care which integrates Physical Medicine & Rehabilitation and Psychology.
Health Psychology, which promotes quality of life for individuals and families by addressing the complex interplay of medical and behavioral factors, primarily behavioral treatment for chronic pain and sleep.
Limb Lengthening
Our limb lengthening procedure is one example how our surgeons can help patients correct what may have been a life-long issue.
Our surgeons can treat leg-length discrepancies, which are common in people who suffered broken legs as children. If the legs have a difference of 2 centimeters or more, surgery may be needed to correct the problem. MU Health Care is the only hospital in mid-Missouri that offers corrective surgery for the condition.
Our surgeons cut through the bone and insert a motorized telescopic rod into the marrow cavity. After about a week, the patient returns to the clinic and receives instructions on how to operate a portable device that will continue to lengthen or shorten the rod at home.
Three times a day, for five minutes per session, the patient places the machine on his or her leg, and the device's electromagnets cause the magnetic motor in the telescoping rod to spin, turn the gears and lengthen or shorten the rod 1 millimeter per day. The process continues until the leg lengths are even.
Related Conditions & Treatments