At University of Missouri Health Care, our board-certified plastic surgeons are among the most highly trained, experienced doctors in mid-Missouri. Board certification by the American Board of Plastic Surgery is important because it means your surgeon is expertly trained in all areas of cosmetic and reconstructive plastic surgery — including facelifts, body contouring and reconstructive surgery after an injury or illness.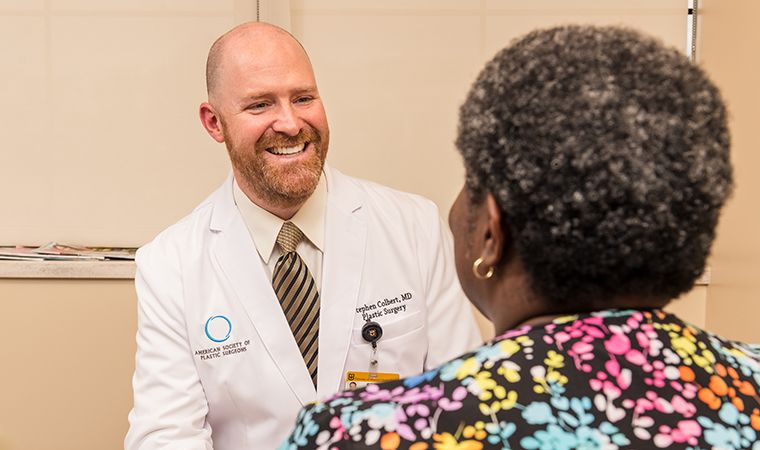 Our experts take the time to listen to what's important to you so we can create a treatment plan that's safe, healthy and meets your expectations. We understand the decision to have plastic surgery can be emotional, and you need respectful guidance and care. 
Our plastic surgeons are compassionate medical experts, but they're also artists and perfectionists — qualities that are important when it comes to how you look. 
Experience you can trust
As an academic health center, MU Health Care offers a combination of experience, medical capabilities and advanced technology you can't find anywhere else in mid-Missouri. Our surgeons are educators and researchers at the University of Missouri School of Medicine, which means your care team is knowledgeable about and skilled in the latest surgical techniques. 
When you choose MU Health Care, you benefit from the research resources and expertise available throughout our health system. Our surgeons collaborate with physicians in other departments such as orthopaedics for limb preservation and reconstruction and cancer care for breast reconstruction.
Aesthetic surgery services
We offer a full range of procedures, from nonsurgical treatments (Botox, chemical peels, dermabrasion, Fraxel laser, injectable fillers, skin care products) to abdominoplasty, facelifts, foreheadplasty or browlifts, rhinoplasty, eyelid surgery, liposuction, and more. Our plastic surgeons offer the highest level of expertise and skill in the region.
Our University Physicians Surgery Associates location also provides esthetic services. Our licensed aesthetician offers spa services such as waxing procedures in addition to nonsurgical procedures as Fraxel Restore laser, chemical peels, microdermabrasion and dermaplaning of the face. She is also available for consultations.
Hand surgery services
Our plastic surgeons have expertise in treating injuries, acquired problems and congenital problems of the hands in both pediatric and adult patients. We also specialize in peripheral nerve reconstruction.
Craniofacial surgery
The craniofacial dysostosis syndromes are a group of similar, inherited, congenital anomalies that affect the skull, face, and sometimes the limbs. If you have questions as to the best treatment option for your child with a cranial abnormality, we encourage you to obtain a second opinion at our craniofacial anomalies clinic. 
Breast surgery
Whether you're looking to enhance your breasts, get a breast reduction or have breast reconstruction surgery, our team is here to help meet your needs. 
General reconstructive surgery
Our reconstructive plastic surgeons perform highly complex surgeries to reconstruct areas of the body after illnesses, such as cancer, traumatic injury or burns. We have the expertise to perform even the most delicate surgeries to reconstruct tiny vessels and tissues, and we collaborate with other MU Health Care providers to offer comprehensive care.
Pediatric plastic surgery 
We understand children need specialized care, so we offer a full range of services just for kids. Our pediatric plastic surgery team delivers expert care tailored to the unique needs of children and families. We offer a full range of services — everything from treatment of congenital abnormalities to ear surgeries, expert second opinions and more.
Vascular anomalies
From hemangiomas to malformations, our experts offer a full range of services to handle simple and complex vascular anomalies. 
Skin cancer surgery
Skin cancer can require surgery to remove cancerous growths. Our plastic surgeons use specialized techniques to surgically remove cancerous skin lesions and preserve your appearance. 
Related Conditions & Treatments