Whether you're looking to reshape your features, reverse the signs of aging or undergo a more advanced reconstruction surgery, MU Health Care offers a wide range of services to help you look and feel your best.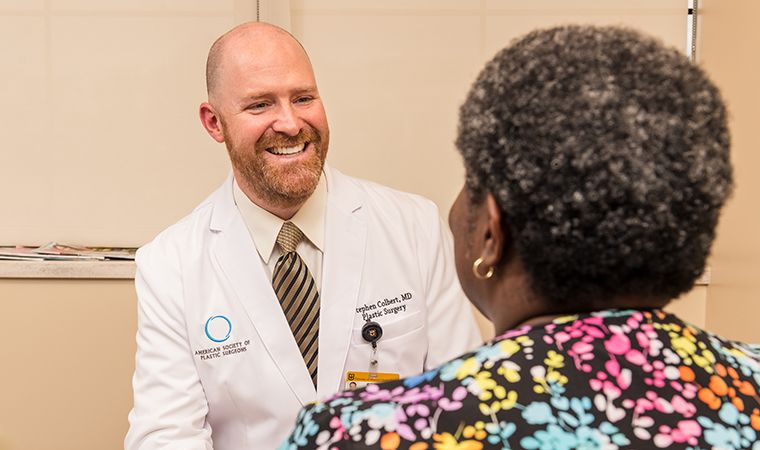 Today, there are more safe and effective cosmetic treatments available than ever before. And you'll find them all at MU Health Care. Our board-certified plastic surgeons and licensed aestheticians specialize in procedures that enhance your face or body.
Over the years, we've helped countless people boost their self-confidence and feel more comfortable in their own skin.
You can turn to us if you're looking to:
Tone or tighten areas of your body affected by pregnancy, weight fluctuations or aging
Change the size or shape of your nose, chin, breasts or other body parts
Restore a more youthful appearance by reducing wrinkles, age spots, crepey skin and other signs of aging
Improve skin damage from sun exposure, smoking or other habits
Why choose MU Health Care
We know you have a choice in who performs your cosmetic treatment, and we're honored to be considered.
Although we're not the only plastic surgeons in mid-Missouri, we are among the most knowledgeable and experienced. Patients consistently trust us to perform their cosmetic procedures because we offer:
Proven expertise
Our plastic surgeons are certified by the American Board of Plastic Surgery (ABPS). Compared to surgeons without ABPS board certification, they've completed (and continue to maintain) rigorous training. This means their skills remain up to date as the field evolves.
Safe, state-of-the-art surgical care
When you have plastic surgery at MU Health Care, you can feel confident about your safety. All of our surgery locations are accredited or licensed, meaning they meet or exceed patient safety measures, including infection control. And any anesthesia you receive during your procedure will be given by an experienced, board-certified anesthesiologist.
Leaders in the field
Because our providers are part of an academic health system, they're also teachers and researchers. They're helping train the next generation of plastic surgeons, which provides an extra level of experience. And they stay on top of the latest plastic surgery research, ensuring any treatments they offer are safe and well-studied.
Services we offer
We offer a wide range of plastic surgery services to suit your goals and preferences.
Cosmetic surgery
If you're interested in surgically enhancing your face or body, turn to the plastic surgeons at MU Health Care. Our areas of expertise include:
Blepharoplasty (eyelid surgery)
Breast plastic surgery, including breast augmentation, breast lift and breast reduction surgery
Brow lift and forehead lift
Facelift
Neck lift
Rhinoplasty (nose job)
Tummy tuck (abdominoplasty)
Body lift (after weight loss)
Nonsurgical cosmetic services
We also offer the following nonsurgical treatments for your face or neck:
Botox injections
Dermal fillers, such as hyaluronic acid injections
Skin rejuvenation techniques ranging from laser resurfacing and chemical peels to microdermabrasion
Plastic and reconstructive surgery
Although many of our patients choose to have a procedure for cosmetic reasons, others need more advanced plastic or reconstructive surgery. This includes children born with facial abnormalities and women seeking breast reconstruction after breast cancer surgery.
If you or your child need this type of surgery, you'll find it at MU Health Care. Our plastic surgeons work closely with many other specialists, including:
Craniofacial surgeons who treat conditions such as cleft palate and craniosynostosis
Hand surgeons who can help rebuild the hand after a traumatic injury or correct a structural abnormality
Orthopaedic surgeons who specialize in limb preservation or reconstruction
Ear, nose and throat (ENT) specialists who can reconstruct parts of the face or neck after cancer treatment or restore movement after facial paralysis
Oncology surgeons who remove cancers or other tumors, such as breast cancer
A patient-centered approach
Our team understands that the decision to have a cosmetic procedure is deeply personal. We also believe your decision should be well-informed.
When you choose MU Health Care, you can expect your plastic surgeon or aesthetician to:
Discuss your needs and wishes
Explain all the options available to you
Help you understand the benefits and risks of each option
Set realistic, achievable expectations
Whether you're simply gathering information or are ready to schedule your procedure, you can count on our team for exceptional guidance and support.