Whether you are an athlete, artist, laborer, surgeon or student, your hands are vital to your work and the activities you love. At University of Missouri Health Care, we provide comprehensive surgical and nonsurgical options to improve the function of your hands and wrists.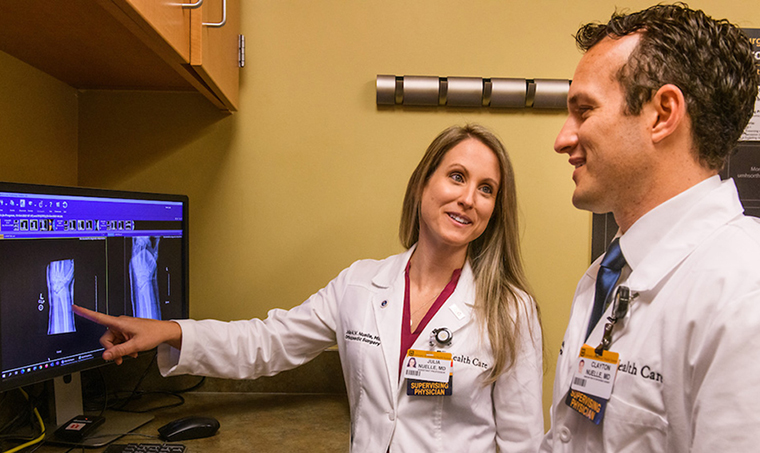 Our expert hand surgeons care for acute injuries and chronic conditions of the hand, wrist and upper extremities. Using a team approach, your hand surgeons will work with physical therapists and occupational therapists to create a personalized treatment plan to heal and strengthen your hands. We also work closely with the Division of Plastic Surgery to cover the entire spectrum of hand and upper extremity problems.
At MU Health Care's Missouri Orthopaedic Institute, we are focused and specialized in providing the best experience to all those who require care for their upper extremities. We offer complete care from first evaluation through total rehabilitation.
As part of an academic health center, our physicians participate in research to find new treatments for hand injuries. We use the latest medical evidence to design effective treatment plans to help you. To make your care convenient, we offer the hand and wrist care you need in one location. You can complete X-rays, electrodiagnostic testing, physical and occupational therapy, inpatient and outpatient surgery, and many other treatments in a place specially designed for orthopaedic care.
Hand and wrist injuries
As a Level I Trauma Center, we see a wide range of hand injuries, including broken fingers, complex fractures and nerve damage. Our expert hand surgeons are available around the clock to offer emergency surgery for the most complicated injuries, such as:
Complex hand surgery
Limb preservation
Microsurgical reconstruction-flap surgery
We also treat common hand and wrist injuries, such as:
Broken fingers, hand or wrist
Fingertip injuries or amputations
Nerve injuries
Tendon injuries
Our experienced hand care teams offer all the treatment options you need, including casting, physical and occupational therapy, bracing and advanced hand surgeries to repair tendons and nerves. You can rely on our expertise to restore hand function and relieve pain after injury.
Chronic hand and wrist conditions
Chronic hand conditions cause pain and impair the function of your hands. At MU Health Care, we treat patients of all ages for hand and wrist conditions, such as:
Carpal tunnel syndrome: A pinched nerve at the wrist level that is usually provoked by repetitive activities involving the wrist and/or hands. You might notice numbness and tingling of fingers in a specific pattern, or in more severe cases, patients have reported extreme weakness and dropping objects.
Trigger finger release: A finger that clicks during motion and occasionally gets locked in flexed position is known as a trigger finger. It can be caused by swelling of the flexor tendon, which causes it to "catch" on the pulley system through which it glides.
Wrist tendinitis (De Quervain's "texter's thumb"): Overuse and frequent lifting using the wrists can increase the likelihood of wrist tendinitis. This condition, also known as "texter's thumb" is also aggravated by texting. Pain can increase with use of the thumb and twisting movements of the wrist.
Tendon repair: Tendons that are accidentally cut result in the inability to bend or extend a finger. A cut tendon usually retracts and will not heal on its own without surgery.
Lumps and bumps: Ganglion cysts are fluid-filled cysts that come from a deeper source, like a joint or tendon sheath, and are usually caused by wear and tear, but can occur suddenly without a reason. These painless mobile bumps under the skin can increase and decrease in size. In certain areas, the lumps and bumps can cause pinching of nearby nerves or can cause discomfort on motion.
Retained foreign bodies: Sometimes, objects accidentally become lodged under your skin. Objects close to the skin surface can be painful and cause inflammation, and need surgery to remove them.
Hand and wrist treatments
We provide nonsurgical treatment options, including physical and occupational therapy, medicines to relieve inflammation and bracing. If nonsurgical options don't relieve the symptoms of your condition, we also offer the latest hand and wrist outpatient surgeries.
These outpatient surgeries may include:
Carpal tunnel syndrome surgery: We first treat patients with carpal tunnel syndrome with nighttime bracing of the wrist. If that's unsuccessful, surgery might be helpful and involves a small incision at the wrist with the goal to improve and resolve numbness and tingling to helps restore strength.
Trigger finger surgery: We first treat tigger finger with a Cortisone injection, which typically offers a 60-65% cure with a single injection. Surgery is another option and provides immediate and complete restoration of normal motion.
Wrist tendinitis surgery: Initial treatment involves bracing, anti-inflammatory topical creams or oral medications including a possible cortisone injection. If surgery is necessary, it involves releasing the tight roof over the affected thumb tendons at the wrist.
Tendon repair: Tendons that are completely cut require urgent medical attention to restore continuity and function. Wide-awake surgery allows for immediate testing of the repair, strength and gliding, and real-time adjustments by our surgeons.
Lumps and bumps: Cysts without any symptoms are usually observed until surgery becomes necessary. A needle aspiration or injection has extremely high recurrence rate. Our surgeons typically suggest removing cysts that cause uncomfortable symptoms. Surgery offers a very low recurrence rate.
Retained foreign bodies: Most foreign objects can be removed safely under local anesthetic and save you a trip to the operating room.
Convenient outpatient care
Our providers use local anesthesia that provides pain control without putting our patients to sleep. This allows us to perform adjustments in real-time and give our patients the best care possible without using sedation. Thus, there is no need for a hospital stay or feeling drowsy after a sedated surgery procedure. Using local anesthesia provides patients with the most comfortable and safest surgery experience possible in an outpatient setting, so you can get back to doing what you love quickly.
MU Health Care is the only hospital in Mid-Missouri, and only one of 50 Hospitals in the US, to have Hand Trauma Center of Excellence designation by the American College of Surgeons.
Accessing care
If you're suffering from hand or wrist pain, have sustained recent injuries, or are experiencing numbness and tingling, call us today. All of our patients are asked to schedule an initial consultation appointment to see if reasonable non-surgical treatment has been tried first. For patients that meet certain criteria, surgery may be offered the same day as the office visit. This depends on insurance requirements for pre-authorization and helps alleviate travel concerns for patients who live further away. Appointments are available via Telehealth or in-person.
Related Conditions & Treatments