Whether you are an athlete, artist, laborer, surgeon or student, your hands are vital to your work and the activities you love. At University of Missouri Health Care, we provide comprehensive surgical and nonsurgical options to improve the function of your hands and wrists.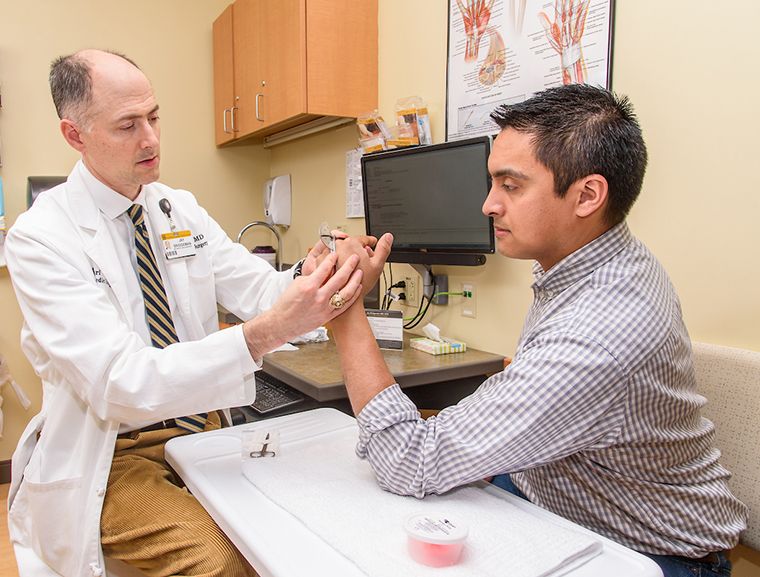 Our expert hand surgeons care for acute injuries and chronic conditions of the hand, wrist and upper extremities. Using a team approach, your hand surgeons will work with physical therapists and occupational therapists to create a personalized treatment plan to heal and strengthen your hands. We also work closely with the Division of Plastic Surgery to cover the entire spectrum of hand and upper extremity problems.
At MU Health Care's Missouri Orthopaedic Institute, we are focused and specialized in providing the best experience to all those who require care for their upper extremities. We offer complete care from first evaluation through total rehabilitation.
As part of an academic health center, our physicians participate in research to find new treatments for hand injuries. We use the latest medical evidence to design effective treatment plans to help you. To make your care convenient, we offer the hand and wrist care you need in one location. You can receive X-rays, physical and occupational therapy, inpatient and outpatient surgery, and many other treatments in a place specially designed for orthopaedic care.
Hand and wrist injuries
As a Level I Trauma Center, we see a wide range of hand injuries, including broken fingers, complex fractures and nerve damage. Our expert hand surgeons are available around the clock to offer emergency surgery for the most complicated injuries, such as:
Complex hand surgery
Limb preservation
Microsurgical reconstruction-flap surgery
We also treat common hand and wrist injuries, such as:
Broken fingers, hand or wrist
Fingertip injuries or amputations
Nerve injuries
Tendon injuries
Our experienced hand care teams offer all the treatment options you need, including casting, physical and occupational therapy, bracing and advanced hand surgeries to repair tendons and nerves. You can rely on our expertise to restore hand function and relieve pain after injury.
Chronic hand and wrist conditions
Chronic hand conditions cause pain and impair the function of your hands. At MU Health Care, we treat patients of all ages for hand and wrist conditions, such as:
Arthritis of the hand, wrist or thumb
Carpal tunnel syndrome
Congenital hand deformities
Dupuytren's contracture
Ganglion cysts
Trigger finger
Hand and wrist treatments
We provide nonsurgical treatment options, including physical and occupational therapy, medicines to relieve inflammation and bracing. If nonsurgical options don't relieve the symptoms of your condition, we also offer the latest hand and wrist surgeries.
These surgeries may include:
Carpal tunnel release
Dupuytren's contracture fasciectomy
Ganglion removal
Joint fusion
Joint replacement
Nerve repair
Tendon repair
Trigger finger release
Fracture care surgery
Related Conditions & Treatments