Having a knee or hip replaced once required several days in the hospital to recover. The length of hospital stay for joint replacement surgery has steadily decreased over the past decade. Now, some patients can have an outpatient joint replacement, either going home on the day of surgery or the next day less than 24 hours after surgery. Over the next decade, outpatient joint replacement could become the norm for as many as half the patients.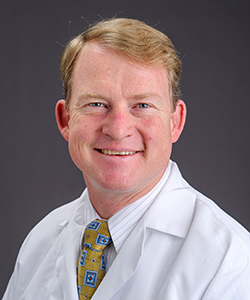 "We deliver great joint replacement care to everybody — no matter whether they are healthy and active or if they have had a significant decline in health because of arthritis," said James Keeney, MD, a surgeon who specializes in knee and hip replacements at MU Health Care's Missouri Orthopaedic Institute. "If you're highly active, highly motivated and you want to recover in your home, outpatient joint replacement is not only possible but a very good way to get back to your normal life."
Preparing for surgery with focused strength exercises and the use of multiple tools to manage surgical pain have helped reduce time in the hospital after surgery. The use of a short-acting spinal anesthesia or a general anesthetic has allowed patients to be active sooner after their surgery. And patients having outpatient surgery now start physical therapy in the first two to three hours after the procedure. All of these treatment changes have helped to speed up the early recovery process.
MU Health Care offers two options for people who want outpatient joint replacement. "The traditional approach for an outpatient procedure is for patients to have their surgery early in the day and to be discharged home after a single interaction with physical therapy. When you're ready to go home, we let you go home," Keeney said. "For other patients who may be feeling uneasy about going home the same day, we can perform surgery later in the day and have physical therapy work with you later in the day and then again the next morning. You will go home the morning after surgery before reaching the 23-hour limit. That's the best of both worlds, as I look at it — an outpatient surgery with an overnight stay."