In recent years, hip replacement surgery has become less invasive, and the artificial bearings in prosthetic hip joints are more wear-resistant. Although a routine operation, hip replacement surgery still requires careful decision-making with your surgeon.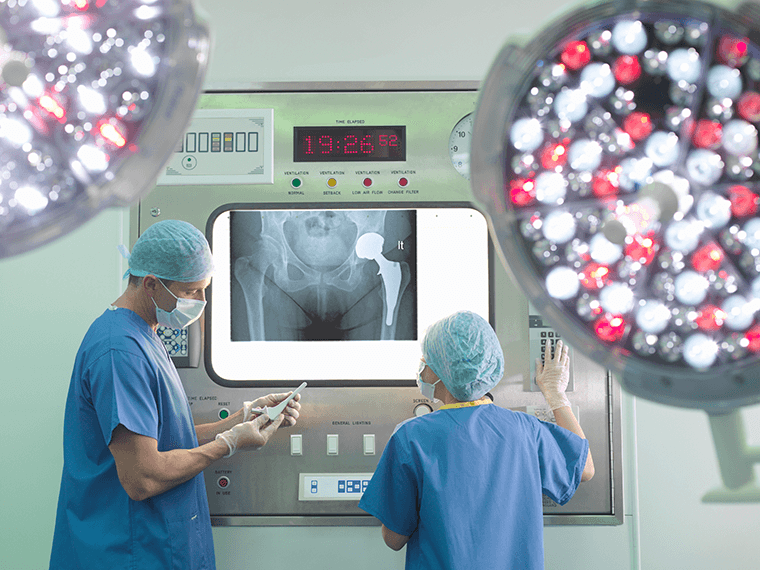 What is Hip Replacement Surgery?
Hip replacement surgery is a procedure in which your hip joint is replaced by a prosthetic implant. You may also hear the term total hip arthroplasty. Surgeons use the word "arthroplasty" to mean replacement. The word "total" means that both the ball and socket part of the hip are replaced. Therefore, "total hip arthroplasty" means a total hip replacement.
The most common reason for hip replacement surgery is arthritis. The procedure might also help in the case of injuries or fractures that damage the hip. If your hip cartilage is damaged, you might need hip replacement surgery to relieve your pain. The decision to have elective surgery should be made after careful thought and deliberation.
Hip replacement procedures
Hip Preservation
When your hip cartilage is healthy, surgeons can provide treatments to repair or remove damaged tissue and corrective surgeries to preserve the joint cartilage and delay the progression of arthritis.
Whenever possible, we use minimally invasive techniques that offer smaller incisions and shorter recovery time. No matter which type of hip treatment you receive, you'll participate in physical therapy after surgery to help rebuild strength and improve your mobility.
Hip Arthroscopy
Hip arthroscopy can help you if you have sustained damage to the tissues around the hip joint or have minor deformities to the hip bone structure. During minimally invasive arthroscopic surgery, your surgeon repairs or reshapes the joint to restore normal function and delay the development of arthritis in the joint. Your surgeon will use specialized tools to remove bone deformities or damaged cartilage and repair your cartilage.
Hip Osteotomy
If you have hip pain due to a structural deformity (hip dysplasia), our orthopaedic surgeons can realign the hip joint and decrease the damage to your cartilage. These procedures can restore normal joint function and may prevent the need for a hip replacement in the future.
During hip osteotomy, your physician removes part of the bone on either your pelvis or femur (the thigh bone). The surgeon then realigns the joint, holding it in place with screws so it can heal properly.
Hip Replacement Surgery
When your hip cartilage is damaged, you might need hip replacement surgery to relieve your pain. During this surgery, your damaged joint is replaced with an artificial joint.
There are multiple hip surgery techniques, and your doctor will talk to you about the best approach. At MU Health Care, our experts offer partial hip replacement, total hip replacement and Mako surgical robot assisted total hip replacements.
See if hip replacement surgery is right for you:
How Long Does it Take to Recover From Hip Replacement Surgery?
Recovery time varies from one patient to another. The average hospital stay is one or two days, although MU Health Care does offer an outpatient joint replacement procedure for those who qualify.
The day after your surgery, you will be helped into a chair and you may be able to walk limited distances. Your activity will increase with each day that follows. Most people return to their own place of residence after a hip replacement. Some elderly or debilitated patients may need to go to a nursing home to recuperate.
Learn More About Hip Replacement Surgery
Related Conditions & Treatments