A‭s he was growing up, Bill Lewis of Macon, Missouri, ‭watched his father build, paint and install signs to support ‭his family — all with a wooden leg, the result of a motorcycle accident in 1924.
‭"I feel lucky to be 80 years old and see all the things I have in ‭the medical world," Bill said.
‭Fast forward nearly a century, and Bill is the proud recipient ‭of a new ankle. Built of metal and plastic instead of wood, that ankle, he said, has restored his quality of life.
‭Before the replacement, Bill struggled to walk and stand without fear of falling because of pain in his right ankle. A new ‭fishing dock sat unused because he was afraid he would topple ‭into the lake.
‭"I'd get out of bed every morning and struggle to the kitchen ‭table and then limp to the recliner," Bill said. "I was hardly able ‭to do anything."
‭He knew he wanted an ankle replacement, and over the ‭course of five years, he talked about it with family members ‭and friends and met with several doctors. He and his wife of 60 years, Reba, knew they found the right surgeon when they met Kyle Fiala, DPM, at the Missouri Orthopaedic Institute. Fiala ‭specializes in foot and ankle surgery.
‭"Few people think an ankle replacement is a possibility," ‭Fiala said. "Everybody knows about knees because knee ‭replacements are so common."
‭One reason ankle replacements are less common, Fiala said, ‭is that only a small percentage of people meet the medical criteria for the procedure. Eligible patients must be age 55 or ‭older. Good blood circulation is essential for success of the ‭operation and long-term outcome, so the best candidates are ‭patients who do not smoke and do not have diabetes. Weight ‭is a factor, too. Because the ankle supports a person's entire ‭body and the components wear over time, ankle replacements ‭are not recommended for patients weighing more than ‭250 pounds.
‭Fiala said with recent advances made in surgical techniques and implant parts, he anticipates physicians will recommend more ankle replacements, known as total ankle arthroplasty, in ‭the future.
Surgery and recovery
‭Leading up to his surgery in October 2015, Bill underwent ‭CT scans of his right foot and ankle, which were used for precise placement of the components in his new ankle. During the procedure at the Missouri Orthopaedic Institute, Fiala made an incision in the front of Bill's ankle and recreated his ‭ankle joint using the metal and plastic components. The operation ‭took about three hours.
‭"Dr. Fiala did a great job," said Bill, who stayed in the hospital for ‭two nights. "We were satisfied from beginning to end with Dr. Fiala. ‭I had very little pain and took just a few pain pills."
‭The next day, Bill checked into Rusk Rehabilitation Hospital, an affiliate of Encompass Health and MU Health Care, ‭located just a few miles from the Missouri Orthopaedic Institute ‭in Columbia, where University of Missouri Health Care doctors —specialists in physical medicine and rehabilitation — oversaw ‭his recovery.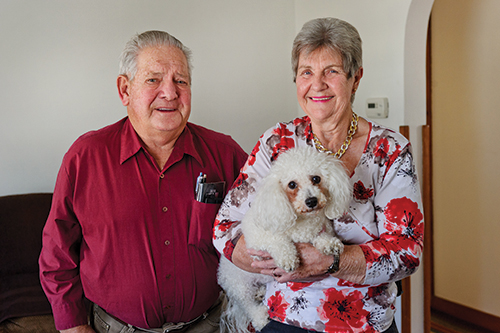 ‭"Rusk was such a blessing," Reba said.
‭Doctors and physical therapists at Rusk Rehabilitation Hospital guided Bill through his recovery and exercises to get him back on ‭his feet and ready to return home. He wasn't allowed to bear weight ‭on his new ankle for six weeks, so he used a knee scooter to ‭move around.
‭"They really worked well with me at Rusk, but I think maybe they ‭thought I was too much of a hotrod with that scooter," Bill quipped.
After returning home, Bill attended physical therapy sessions until ‭he was cleared at a follow-up appointment with Fiala in February. It ‭was a long recovery, but Bill said it was worth it.
‭"They're really satisfied with the way I can bend my ankle and do ‭everything now," he said. "This ankle replacement has worked great for me. I've been able to go around wherever I want."
‭Soon after returning home, Bill tested his stamina by taking a walk ‭at one of his favorite places — a nearby hardware store.
‭"I'm in great health for a person my age," he said. "I want to start ‭walking more and, of course, go fishing more. People say they don't think I'm older than 50 when they see me walking around."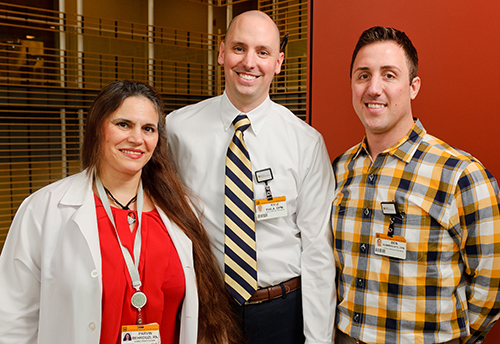 MU's foot and ankle specialists
‭Don't let painful feet or ankles keep you down. The specialists at the Missouri Orthopaedic Institute determine the best treatment for patients, ranging ‭from nonsurgical care to surgery.
‭The foot and ankle team includes surgeons ‭Kyle Fiala, DPM, and Ben Summerhays; and ‭Parvin Behrouzi, FNP, a nurse practitioner who has 12 years of experience in a foot and ankle clinic.
Conditions they treat include:
Ankle arthritis
Bunions
Flat feet
Foot or ankle pain
Hammer toes
Heel spurs
Traumatic foot and ankle injuries