For nearly a year, Pam Bromagen dealt with searing pain and weakness in her thumbs. Routine tasks such as signing her name or cooking became difficult or impossible.
"You know how it feels when you slam your hand down on a desk? That's what I was feeling 24/7," she said. "Gripping, writing, cutting — all those things you need fine motor skills for — just weren't working for me.
"I would pull a hot pan out of the oven and my thumbs would give way, and there go the cookies. My poor dogs ate so many cookies off the floor."
A few weeks after undergoing an innovative surgery on both thumbs at MU Health Care's Missouri Orthopaedic Institute, Bromagen felt like her old self.
"I have freedom of movement without pain," said Bromagen, a 52-year-old resident of Harrisburg, Missouri.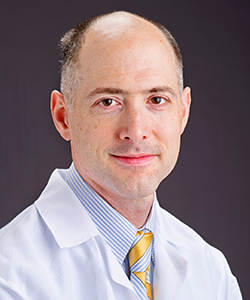 Hand surgeon Jay Bridgeman, MD, said patients who undergo this thumb joint reconstruction surgery typically return to normal activities two weeks after the procedure. In addition, 70% of these patients don't need physical therapy.
"The whole goal of our field is to help people get back to normal activities and to do it as quickly as possible," Bridgeman said. "As surgical techniques improve, we're able to achieve even better results than we did just a short time ago."
Thumb osteoarthritis afflicts women twice as often as men. Bridgeman said most women over the age of 50 have the condition to some degree. The first treatment option is to care for arthritic flareups with anti-inflammatory medication, braces, physical therapy or steroid injections into the joint. None of those treatments gave Bromagen long-term relief, so she decided surgery was her best option.
In a traditional thumb joint reconstruction, the surgeon removes the trapezium — the small bone that connects the thumb to the wrist — then harvests a piece of tendon from the patient and implants it between the thumb and wrist to serve as a spacer. Patients often need three months to fully recover.
MU Health Care performs a new version of the surgery that does not require using a tendon or artificial spacer. After removing the trapezium, the space is left open and the surgeon anchors the base of the thumb to the second metacarpal — the hand bone that leads to the index finger — with a fiber wire.
Patients go home the same day. They are advised to wear a brace for a few weeks for comfort as they return to normal activities.
"This is a huge game-changer for us in hand surgery," said Bridgeman, who has performed the surgery for the last four years. "I used to have to counsel patients that we have a surgery that can fix your thumb, but you have to invest three months. Older techniques required long periods of casting and therapy.
"Now, if you have your thumb done at the Missouri Orthopaedic Institute, you'll have your thumb back in two weeks instead of 12 weeks."
It worked for Bromagen, who had surgery in February 2019.
"There was almost immediate relief," she said.
Bromagen is back in the kitchen making her favorite dishes, such as lasagna and stuffed shells. And her two dogs are no longer first in line for dessert.
"I can take things out of the oven without asking my son to help me," she said. "I trust my thumbs enough to know I won't be dropping anything on the floor."