Bill Stanley comes from hardy stock. According to family lore, his ancestor Tom Stanley was the first non-Native American to live in north Missouri, where he spent his first two winters sheltered in a hollow sycamore log.
Bill's mother is 99 years old and would be driving a grain truck still if her balky left knee allowed her to work the clutch. At age 84, his father, who landed on Omaha Beach and fought in the Battle of the Bulge, cut wheat all day on July 3, 2003, and the next day cleaned his plate at an Independence Day party and died on the spot.
"How lucky can you get?" Stanley said. "Worked to the last day."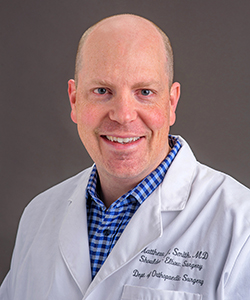 Future generations will tell stories just as memorable about Stanley's disregard for pain and devotion to work. For example, feeling invincible six weeks after returning from a haunting tour of duty in the Vietnam War, Stanley blew off both of his hands with dynamite in a fishing accident … and then walked into the emergency room without assistance. Shortly thereafter, he drove himself to Kansas City to be fitted for prosthetic hooks, steering with his stumps and using his toes to turn the ignition on his truck. Stanley requested the most durable hooks possible, because he was ready to get back to work on his farm in Rothville, Missouri.
But even for tough customer like Stanley, 70, the pain he experienced after slipping on a muddy tractor step and wrenching his left shoulder was "absolute agony." After eight years of suffering, he finally could take no more and made an appointment with Matthew Smith, MD, at MU Health Care's Missouri Orthopaedic Institute in the summer of 2016.
Smith diagnosed Stanley with rotator cuff tear arthropathy — severe arthritis that accompanies a tear of the muscles and tendons that surround the shoulder joint.
"It sounded like I was shaking a bucket of gravel every time I moved my arm," Stanley said. "Dr. Smith heard it and said, 'Oh my, we've got to do something.' "
Stanley liked the way Smith didn't hurry through the appointment, taking time to explain things and show him exactly how a total shoulder replacement procedure worked. Smith's combination of training and experience was reassuring. Smith is board-certified and fellowship-trained in shoulder-and-elbow surgery. He is one of only 149 associate members of the American Shoulder and Elbow Surgeons society, a select invitation-only group of national and international orthopaedic surgeons. He has performed thousands of shoulder replacements over the last 11 years.
"The average shoulder surgeon in this country may do between 30 and 50 shoulder replacements a year. I do about 200," Smith said. "With that kind of volume, we have a great system. The people on the operative team are really familiar with it. The nurses on the floor know how to care for and position patients after surgery. And the recovery ends up being really good, with about 90 percent of the patients able to go home the next day."
Stanley's surgery posed some technical challenges. The positioning of the forearm and hand are usually reference points for precisely aligning the metal-and-plastic shoulder joint. Because of Stanley's amputation, Smith had to rely on his experience to make the new shoulder a perfect fit.
When he woke up from surgery, Stanley turned to his wife, Leah, and said, "It doesn't hurt anymore."
The standard recovery period is six weeks. That figured to be longest six weeks of Leah's life. As a farmer, Stanley's life follows the rhythm of the seasons. It was late summer, and there was corn in the fields that needed to be harvested.
"His eyes got all bugged out," Leah recalled. "He said, 'Everybody's cutting corn. I've got to go.' "
Stanley couldn't get into a combine on his own, so he sat in the bucket of a front-loader and was hoisted into the cab. It was time to get back to working the land.
The town of Rothville gets a little smaller each census. The city-limits sign says the population is 99, although Stanley joked that number "probably includes cats and dogs." Still, there's nowhere Stanley would rather be.
It's where he started running four hay-hauling crews at age 16, where he and Leah raised four children, where he worked with no concessions to his disability. When asked how a lack of hands affected his ability to farm, the only answer he could summon was that he struggles to use a screwdriver. He asks for no pity and accepts no disability checks.
Stanley raises cattle and grows corn, soybeans and sometimes wheat. He owns two combines, and his crew does custom harvesting within a 50-mile radius. He has every intention of working to the last day, just like his father. He is grateful to Smith that his new shoulder can help him keep doing what he loves.
The gratitude runs both ways.
"Pain and dysfunction can really can change someone's life," Smith said. "Sometimes I take what I do for granted, because it's a job and a skill, and five days a week I come in and do this thing. I repair things or put in these parts. He, in particular, reminded me of the impact it can have on someone's life."