When you take part in activities with repetitive arm motions, you're at risk of developing a shoulder or elbow injury. These painful conditions can keep you from working or participating in activities you enjoy, like baseball or tennis.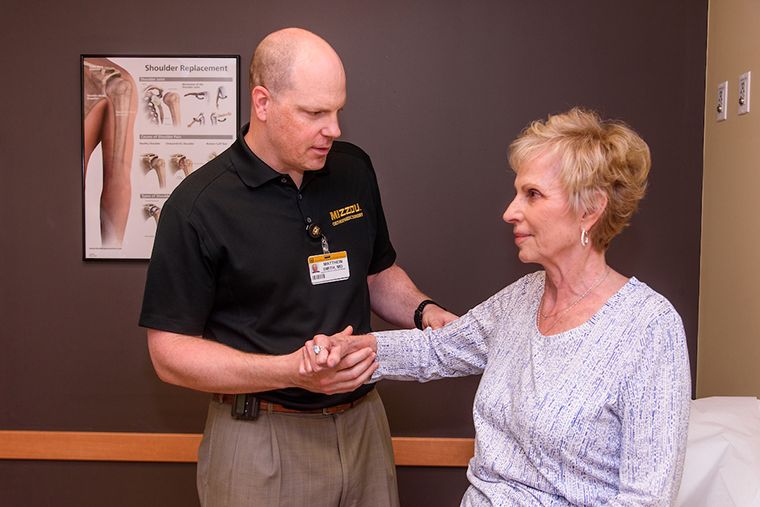 At University of Missouri Health Care, our expert orthopaedic surgeons, physical therapists and athletic trainers work together to create a personalized treatment plan to relieve your shoulder and elbow pain. We offer complete surgical and nonsurgical care options to restore shoulder and elbow joint function.
At Missouri Orthopaedic Institute, which is part of MU Health Care, you can receive the shoulder and elbow care you need under one roof. From X-rays to physical therapy, inpatient surgeries to minimally invasive outpatient procedures, we make getting the care you need easy and convenient.  
As providers at an academic health center, our orthopaedic surgeons also conduct research into sports injuries, new treatments and other advancements that help patients in Missouri and around the world. As one of our patients, you have access to the latest treatments and receive care based on the most up-to-date research.
Shoulder and elbow injuries
At our Level I Trauma Center, we provide immediate care for even the most complex bone and muscle injuries. Our orthopaedic surgeons are ready 24/7 to care for you when you need it most.
We treat a wide range of painful and debilitating shoulder and elbow injuries, including:
Biceps tendon tear
Brachial plexus injuries
Broken collarbone
Dislocated shoulder
Elbow dislocation
Elbow fractures
Forearm fractures
Rotator cuff tears
Shoulder impingement
Shoulder joint tear
Shoulder separation
Shoulder trauma
SLAP tears
Shoulder and elbow conditions
Our expert orthopaedic teams also provide care for chronic shoulder and elbow conditions that cause recurring pain and other symptoms.
Conditions we treat include:
Arthritis of the elbow or shoulder
Biceps tendinitis
Bursitis of the elbow or shoulder
Cubital tunnel syndrome
Elbow instability
Frozen shoulder
Shoulder instability
Tennis elbow
Thoracic outlet syndrome
Shoulder and elbow pain treatments
Your orthopaedic surgeon and physical therapist will work with you to determine the best treatment for your injury based on your age, severity of the injury, what activities you enjoy and your fitness level.
We offer both surgical and nonsurgical treatments, including:
Arthroscopic elbow and shoulder surgery
Arthroscopic rotator cuff repair
Arthroscopic stabilization procedures
Injections to relieve pain
Injury prevention programs
Medicine to relieve inflammation
Physical therapy strengthening programs
Reverse total shoulder replacement
Shoulder replacement
Total elbow replacement
In many cases, intensive physical therapy exercises, along with other non-surgical treatments (injections, medications, etc.), can relieve symptoms and help you overcome these conditions. For advanced chronic conditions, a combination of surgery and rehabilitation may be needed to help you return to your activities.
Related Conditions & Treatments