MU Health Care's Infectious Diseases team provides compassionate inpatient and outpatient care for all types of infectious diseases.
In addition to diagnosing and managing medical conditions, we also serve as teachers and clinical researchers. Our services are supported by outstanding diagnostic laboratories, which allow us to provide state-of-the-art techniques for rapid diagnosis of infectious diseases.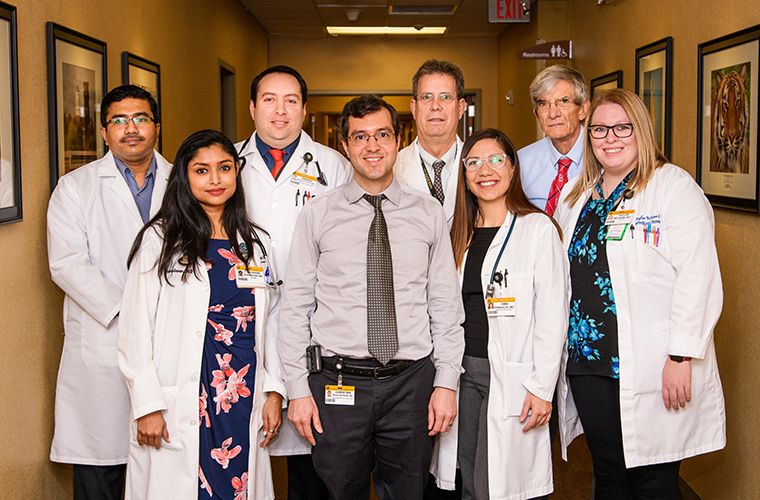 We provide around-the-clock inpatient care through two infectious disease consultation services as well as outpatient care in dedicated ambulatory clinics.
Infectious Diseases We Treat
Our specialists are skilled at treating many infectious conditions, including:
Bone and joint infections, including hip or knee joint replacement infections and diabetic foot infections
Endocarditis (an infection in the inner lining of the heart and heart valves)
Infections of implantable cardiac devices, such as pacemakers
Infections of the lungs, brain, urinary tract, skin or any other site
Infections in patients who are immunosuppressed due to immunosuppressive medications, acquired or congenital immunodeficiencies, transplants or other medical conditions

We also offer pre-transplant assessment of infection risk and prevention strategies

HIV infection and its complications
Sexually transmitted diseases, such as chlamydia, gonorrhea and syphilis
Viral hepatitis, such as hepatitis A, B, and C
Influenza and other viruses
Tick-transmitted or other vector-borne diseases
Infections in pregnant women
Clostridioides difficile infections (often referred to as "C. difficile" or "C. diff")
Hospitalized patients with sepsis and septic shock
Fever of unknown origin
Unusual infections, such as those caused by fungi, tuberculosis or other mycobacteria or drug-resistant pathogens
Travel Clinic
When planning a trip abroad, it can be difficult to keep track of the international health and vaccination requirements. By meeting with an infectious disease specialist about which vaccinations you and your family require before your trip, you can reduce your risk of being exposed to unfamiliar diseases that are usually preventable.
Services offered at our Travel Clinic help ensure a safe and illness-free trip. No referral is necessary.
HIV Prevention Clinic
Our team offers a pre-exposure prophylaxis (PrEP) clinic for individuals at risk of acquiring HIV to lower their chances of getting infected.
PrEP is a pill that helps to prevent an HIV-negative person from contracting HIV from a partner who's positive. Studies have shown that PrEP is highly effective when used as prescribed.
Our infectious disease experts prescribe the medications and provide ongoing consultation and care to people taking PrEP.
Learn more: HIV Pre-Exposure Prophylaxis
Outpatient Parenteral Antimicrobial Therapy
Outpatient Parenteral Antimicrobial Therapy (OPAT) patients receive intravenous (IV) antibiotic therapy outside the hospital. Over the past 30 years, this has become a widely accepted form of therapy.
OPAT patients experience many benefits, including shorter hospital stays, avoidance of hospital-acquired infections, cost savings and the ability to return to normal activities faster.
Our team evaluates hospitalized patients to determine whether they can be enrolled in the OPAT program, and we regularly meet with patients throughout their treatment to ensure their safety. Most patients will undergo weekly blood work during OPAT.
Antimicrobial Stewardship Program
When antibiotics are correctly prescribed — right antibiotic, right dose, right duration — they save lives. But when they are incorrectly prescribed or overprescribed, they can cause serious problems.
MU Health Care's Antimicrobial Stewardship Program was implemented to promote the optimal use of antibiotics, improve clinical outcomes across our health care system and fight antibiotic resistance in our community. Our Infectious Diseases team plays a pivotal role in the pursuit of this goal.