If you or your child needs a kidney transplant, you can rely on the experts at University of Missouri Health Care. Our kidney transplant program has one of the most experienced kidney transplant teams in the country and uses current, evidence-based treatment and technology to manage patients with kidney failure.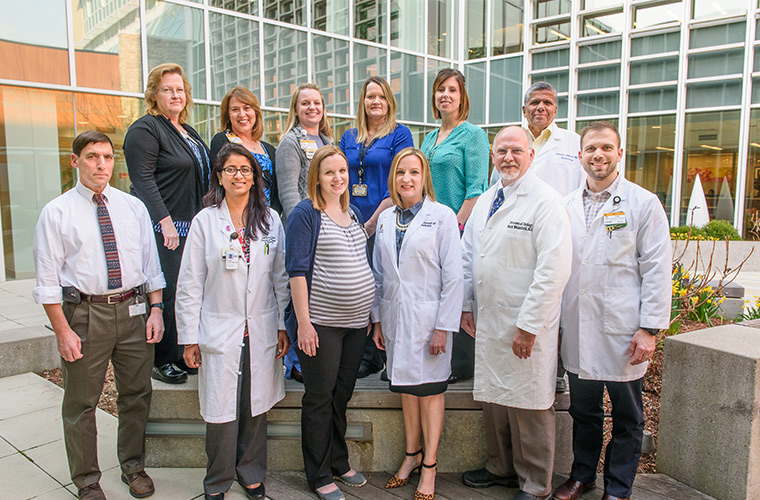 We offer a full spectrum of kidney care 24/7 to support and guide you and your family during every phase of the transplant process. Our team is here to answer your questions and connect you to other resources as needed. Our goal is to provide compassionate care and lifelong support to you or your loved one.
Our transplant surgeons have performed more than 1,000 kidney transplants throughout the past 40 years. In the past five years, our kidney transplant team has significantly reduced the length of hospital stay and decreased the number of complications following a kidney transplant. In addition, our average kidney transplant acute rejection rate is less than 10 percent, which is better than the national average of approximately 15 percent.
Reasons for a kidney transplant
Common reasons for kidney transplant due to kidney failure are:
Congenital, familial and metabolic disorders. These are conditions you are born with, inherit or that affect your metabolic system.
Diabetes. This autoimmune disorder affects the kidneys, pancreas and other organs.
Glomerular diseases. These are diseases that affect the glomeruli, which strain fluid in the kidneys.
Hypertensive nephrosclerosis. This means there is damage to the kidneys caused by high blood pressure.
Malignant hypertension. This is extremely high blood pressure that damages the organs.
Polycystic kidney disease. This disease causes numerous cysts or growths on the kidneys.
Renovascular and other vascular diseases. These diseases cause blockages or narrowing in the renal arteries or veins.
Tubular and interstitial diseases. These diseases affect the portions of the kidney outside the glomerulus, a cluster of blood vessels that filter waste products from the blood.
Comprehensive team approach
The kidney transplant program offers a depth of clinical expertise, research experience and an array of leading-edge resources for both children and adults.
Our multidisciplinary team of health care professionals includes:
Transplant surgeons
Transplant nephrologists
Pre-transplant and post-transplant coordinators
Nurses
Social workers
A dietitian
A financial coordinator
Other health care professionals
Transplant services
Below is an overview of the transplant services we provide.
Kidney transplant for children
Kidney transplant for adults
Living-donor kidney surgery using small incisions
Steroid-free immunosuppression protocols
Transplantation in adults over age 70
Transplantation in people who are hepatitis C positive
Transplantation in people who are obese (BMI <40)
Transplantation in people who have oxalosis
Transplantation in people who have polycystic kidney disease
Transplant process
Below is an overview of our transplant process.
Before transplant
A transplant nurse coordinator will collect the appropriate medical records and schedule a transplant evaluation. Your transplant nurse coordinator will communicate with you and your medical team throughout the transplant process.
You will have a comprehensive evaluation by all members of our transplant team, including the transplant physicians, transplant surgeons, transplant nurse coordinator, social worker, financial coordinator, dietitian and psychologist.
The team will determine which tests and labs will be required to determine if you are a transplant candidate.
After completing the evaluation process and determining that you are eligible for a kidney transplant, you may be transplanted with a kidney from a living donor, if one is available. You can also be placed on the waiting list with the United Network of Organ Sharing (UNOS).
Transplantation surgery
Once an organ is available for transplantation, you will be notified by one of the transplant coordinators. You will go to University of Missouri Health Care to be admitted to the surgery floor.
After the surgery, the transplant team will follow the patient closely during recovery. In the first few weeks after discharged from the hospital, you will be seen frequently.
After transplant
Once you are home, your nurse coordinator will be in regular contact with you. In the first few weeks after discharge from the hospital, you will be seen once or twice per week in our outpatient transplant clinic. Over time, routine care will be transitioned to your primary care physician. For continuity of care and to ensure the best outcomes, we continue to follow our transplant patients for life.
Adjusting to life after a kidney transplant will take time. Our doctors and staff work with you to make sure you're taking care of your physical and emotional health. Learn more about what to expect after your kidney transplant and find helpful resources by visiting our life after transplant page.
Related Conditions & Treatments