The pediatric urology team at Children's Hospital has the expertise and training to successfully diagnose and treat disorders of both the genitals and urinary tract. We treat everything from bed-wetting to urinary tract infections to birth defects requiring reconstructive surgery.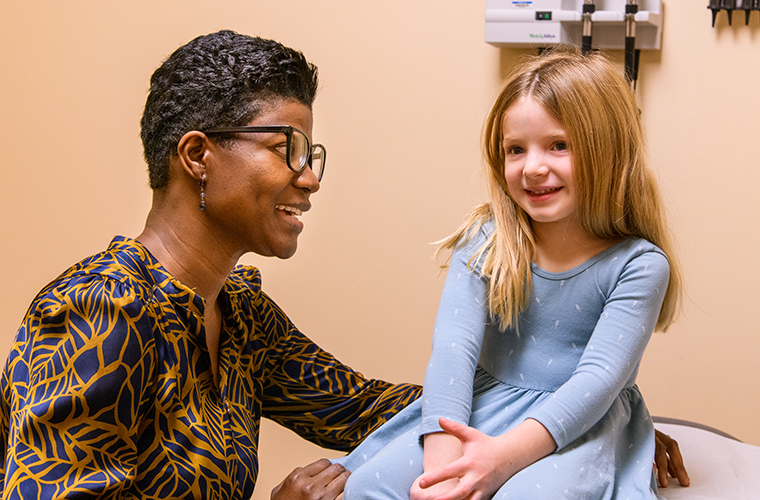 Our pediatric urologists are trained to provide kid-focused care personalized to your child's needs. This means we can help your child experience fewer daily interruptions while receiving the latest research-based care from our leading-edge doctors, social workers, nurses and child life specialists.
Treating urinary or genital problems can greatly improve your child's quality of life by relieving pain and restoring confidence. Nurturing your child's mental and emotional well-being is part of our care plan and greatly improves treatment outcomes.
Kids come first at Children's Hospital
Young children can have difficulty telling adults what is troubling them, and as they grow older, many find it difficult to discuss the awkward topics of genitals and urinary problems. Our team overcomes these challenges by providing a comfortable, relaxed environment for your child.
Although many pediatric urology problems do not require surgery, some are best managed this way. If our team recommends surgery, be sure to closely follow the instructions provided by your child's doctor and nurses, and visit this page for helpful resources.
Our pediatric urology team often collaborates with other MU Health Care specialists in clinics to address issues that may have several causes, such as our Voiding Dysfunction Clinic, Spina Bifida Clinic, Pediatric Kidney Transplant Clinic and Prenatal Counseling
Diagnosis and treatment
In most cases, children are diagnosed in person, either by our team or by their primary care expert. Our pediatric urology experts will work with your family to create a personalized treatment plan based on your child's condition. Our team will discuss all treatment options with you, which may include behavioral changes, medication and surgery.
Conditions we treat
Kidney and bladder disorders, including:
Hydronephrosis , a usually painless buildup of urine in the kidneys, as well as associated conditions such as ureteropelvic junction obstruction (UPJO), ureterovesical junction obstruction (UVJO) and vesicoureteral reflux (VUR).
Kidney stones, which can cause severe pain and blood in the urine.
Kidney transplant and dialysis, which are treatment options if your child is diagnosed with acute kidney injury or loss of kidney function. If your child is a candidate for kidney transplant, our transplant team  fully discuss your family's options with you.
Urinary tract infections, a common condition in children that can develop in the bladder (cystitis) or the kidney (pyelonephritis).
Conditions of the male reproductive system, including:
Chordee, a congenital downward bend of the penis that can cause painful erections and difficulty with intercourse as an adult. Reconstructive surgery allows for straightening of the penis.
Hydroceles and inguinal hernias, which occur when the connection between the abdomen and the scrotum does not close normally. This allows fluid to collect in the child's scrotum and appear as swelling.
Hypospadias, an abnormal urethra opening that can be corrected with reconstructive surgery.
Phimosis and Paraphimosis, conditions related to the foreskin and head of the penis.
Undescended testes, which occurs when one or both testes fail to move from the abdomen into the scrotum.
Our clinics
Voiding Dysfunction Clinic: This clinic helps children and caregivers manage daytime and nighttime wetting, urinary tract infections, urinary frequency/urgency and other issues. Most patients are successfully treated with behavior modification, including managing coexisting constipation, timed voiding, limiting fluids before sleep and bed-wetting alarms. A wide variety of medications can be used to help prevent accidents and establish a normal urinary routine. Watch our video below to learn more about this unique clinic.
Spina Bifida Clinic: Patients with spina bifida often have coexisting urologic conditions, including hydronephrosis, vesicoureteral reflux and recurrent urinary tract infections. Our team focuses on preventing urinary tract damage caused by these common issues. We monitor spina bifida patients with the latest technology, looking for signs of kidney damage and other problems.
Pediatric Kidney Transplant Clinic: Children with end-stage acute kidney disease are evaluated for kidney transplant eligibility and monitored by the transplant team regularly after they receive their transplant. The team is comprised of urological surgeons, pediatric nephrologists, specialty nurses and social workers who ensure your child has all aspects of transplant care provided.
Prenatal Counseling: Expecting mothers whose babies are found to have hydronephrosis are evaluated by the maternal fetal medicine team as well as our pediatric urology team before giving birth to discuss diagnosis and expectations after delivery. After delivery, the baby usually will be evaluated in the hospital with follow-up care in the pediatric urology clinic.
Related Conditions & Treatments