During your child's visit, we will do everything possible to make sure you and your child are safe, comfortable and informed.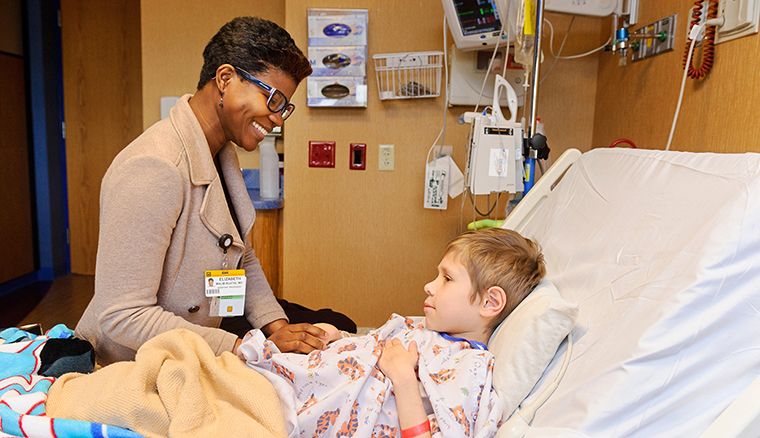 Each inpatient room at Children's Hospital has a flat-screen TV, DVD player, sleeper sofa for parents/guardians, private bath and wireless Internet access.
Appointments
Important things to bring to any appointment:
Photo ID.
We ask parents and visitors age 16 and older to provide a photo ID and receive a visitor badge. Each badge is valid for 24 hours, or until you exit the facility. You can get a badge at one of three locations:

The Women's and Children's Hospital information desk (open 24/7/365)
The Women's and Children's Hospital Emergency Department (for ED and OB triage patients)
The Keene Medical Building security check station (open Monday through Friday from 6 a.m. to 6 p.m.)

Insurance Cards.
Bring your health insurance and prescription cards.

Court Papers.
Bring any legal papers giving custody or guardianship. If you are not a parent with legal custody, bring legal papers that allow you to admit your child to the hospital or consent to your child's surgery. Without these legal papers, your child's appointment, surgery or hospital stay may be canceled.

List of Medicines.
Bring a list of the prescription and non-prescription medicines and vitamin supplements your child is taking, including the name, dosage and concentration. If your child is staying overnight in the hospital, bring his medicines with you so that we can identify name, dosage and concentration. However, in most cases, you will not be able to use these prescription or non-prescription medicines, or herbal or vitamin supplements that you bring from home. If your child needs to take scheduled doses while he is at the hospital, our pharmacy will provide the medicine. You may store medicines from home in the outpatient pharmacy during your child's stay.

ATM Card or Cash.
The cafeteria takes cash and Visa and Mastercard; no personal checks are accepted.

Clothing.
Children's Hospital provides gowns and footwear, but your child may feel better in his own clothes, including comfortable day clothes like sweat pants, large t-shirts, socks and underwear, and night clothes like pajamas, a robe and slippers. Parents staying overnight should also bring a bag, including change of clothes, personal toiletries and any necessary medicines. A central bath with showers is available for parents.

Play and Comfort Items.
A favorite blanket, toy, book, video or music (with headphones) will help soothe your child. Consider bringing pictures of family, friends and pets.

Baby Needs.
We provide diapers, bottles and formula. Bring a pacifier if your baby uses one or any special type of bottle, nipple or sippy cup.

Car Seat, Booster Seat or Seat Belt.
Please remember to use a car seat, booster seat or seat belt (depending on your child's age and weight) when transporting your child.
Surgery
If your child has been scheduled for surgery at Children's Hospital, here are a couple resources to help and a video that shows what to expect on the day of the surgery.
Tips for Talking to Children about Surgery