Our pediatric surgeons have extensive experience in caring for infants and children of all ages, from before they're born through their adolescent years. As the region's only children's hospital, our mission is to save and improve the lives of children and their families. That's why we are dedicated to the advancement of child health in Missouri and surrounding states.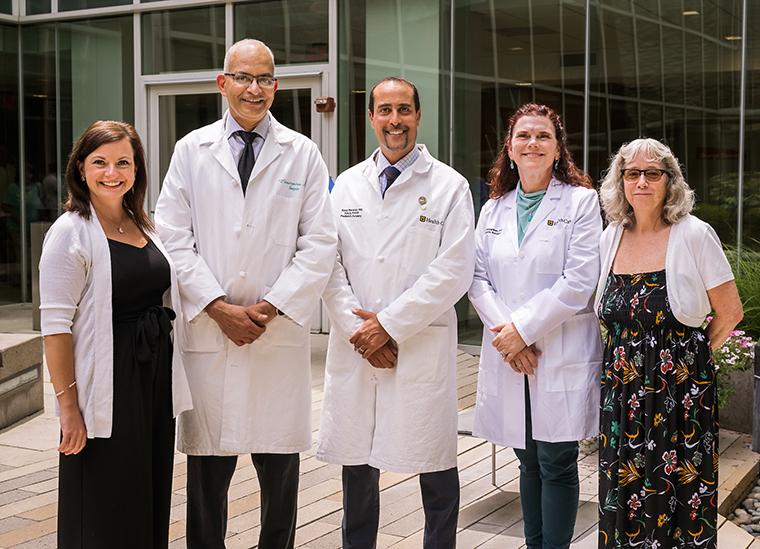 Putting children first
Children receive individualized, coordinated care in kid-friendly spaces both before and after surgery. From the moment you walk through our doors, you and your family will be greeted by people who only work with children, with easy access to our many other pediatric specialists. Our staff handles appointment scheduling and works with you to get all of your child's appointments scheduled on the same day whenever possible.
Our approach to surgical care for children
In addition to traditional surgeries, our specialists perform minimally invasive procedures in both the abdomen and the chest. These procedures use small instruments with a specialized light and a small camera to reach the desired area and allow our surgeons to diagnose and treat the problem.
Our surgeons also offer the only single incision pediatric laparoscopic surgery program in our region. This type of procedure achieves the same result as other surgeries but uses only one small incision, hidden in the belly button, which means patients do not have a visible scar.
Conditions we treat
With combined knowledge from our board-certified surgeons and a broad range of pediatric specialties, our experts provide a continuum of care, including diagnosis, treatment and follow-up, for many conditions, from the routine to the highly complex. Your child may be seen in one of our multidisciplinary specialty clinics, which means doctors with expertise in different areas work together to develop a treatment plan that best fits your child.
Vascular Malformation Clinic Services
Chest Wall Malformation Clinic Services
Our team provides pediatric general, thoracic and fetal surgical services and includes nationally recognized leaders who work collaboratively both in neonatal and pediatric intensive care units and outpatient settings.
We also provide expert maternal and fetal care including fetal MRI, echocardiography and prenatal counseling for all fetal medical and surgical conditions.
General surgery
Our team treats all surgical conditions in kids including hernias, abscesses, lumps, appendicitis, pyloric stenosis (a condition that prevents food from moving between the stomach and small intestine), undescended testicles, pilonidal disease (a skin infection near the tailbone) and foreign bodies (removing something that shouldn't be there, from splinters to swallowed toys).
Neonatal surgery
Our pediatric surgeons work collaboratively with our NICU team and are expert neonatal surgeons. We have expertise in prenatal diagnosis and treatment of all kinds of congenital malformations. Surgeons here use specialized minimally invasive approaches to treat these small babies, with a focus on reducing the length of hospital stay, including:
Thoracoscopic repair of esophageal atresia (a birth defect in which the esophagus does not connect to the stomach).
Laparoscopic repair of duodenal and jejunoileal atresia (a congenital condition in which portions of the small intestine do not connect to the rest of the bowel).
Abdominal wall defects such as gastroschisis and omphalocele (birth defects in the belly wall). We use innovative approaches to management including sutureless repair of gastroschisis and use of specialized wound vacuum therapy dressings for definitive repair.
Cancer and tumors
We work collaboratively with our pediatric oncology, pediatric intensive care team and pediatric specialties to provide fully integrated cancer care, from diagnosis through treatment and recovery. Putting kids and their families first means we take care of making and coordinating appointments, which helps our patients focus on recovery.
Gastrointestinal conditions
If your child has a condition affecting their gastrointestinal system, our pediatric surgery team treats a wide range of conditions of the esophagus, stomach, gall bladder, and small and large intestines, including achalasia, gastroesophageal reflux disease (GERD), gall stones, inflammatory bowel disease (IBD), familial polyposis syndromes (hereditary noncancerous growths, or benign polyps) and rectal prolapse.
Surgeons here treat congenital birth defects such as Hirschsprung disease, an intestinal condition where specialized nerve structures are absent from variable bowel segments, leading to a form of bowel obstruction.
We offer expert care for anorectal malformations, a set of conditions related to improper development of the anus and rectum.
Our comprehensive team treatment means your child receives their care in one place: MU Children's Hospital. Dedicated pediatric surgical clinics include specialized care in pediatric bowel management, feeding access and gastrostomy, motility and aerodigestion.
Congenital lung malformations
Our expert pediatric surgeons have extensive experience diagnosing and treating all types of congenital lung malformations from their appearance during pregnancy through birth and afterwards. We perform thoracoscopic lung resections with excellent outcomes and a very short (2-day) hospital length of stay.
Hepatobiliary disease
Our team can manage all liver, bile duct and pancreatic conditions in children. This includes very common gallbladder diseases from cholecystitis (infection), gall stones, or biliary dyskinesia (abnormal function of gall bladder), to pancreatic masses and congenital malformations. Our expert surgeons manage congenital absence of the bile ducts (biliary atresia) based on the most current evidence-based guidelines. At Children's Hospital, surgical outcome following the Kasai operation for biliary atresia are outstanding and survival with native liver is excellent.
Surgeons here also evaluate benign and malignant hepatic tumors as part of a group of specialists, which are managed with surgical and minimally invasive approaches.
Kidney transplantation
Our transplant team diagnoses and manages many conditions, both congenital and acquired, that lead to end stage renal disease.
The transplant team consists of a pediatric nephrologist, a pediatric general transplant surgeon, a pediatric urologist, a pharmacist dedicated to transplant medication, a social worker, a dietitian familiar with transplant and renal related needs for children, and transplant coordinators to assist patients and their families.
Our team has successfully performed both living donor and deceased donor transplants in children as young as 1 year old.
The kidney donor transplant procedure is minimally invasive with laparoscopic or robotic techniques, and donors are able to leave the hospital one to two days after surgery.
Our transplant team also procures other organs for transplantation including liver, pancreas and small bowel.
When appropriate, our surgeons perform robotic surgery using the da Vinci system, a minimally invasive operation that gives surgeons the precision for detailed, delicate procedures. This method can mean less pain and scarring, less blood loss and a lower risk of infection for patients.
Related Conditions & Treatments