When children experience long-term effects from an illness or accident that affects their ability to participate in everyday life, we are here to help. Our board-certified specialists in pediatric rehabilitation each have more than 20 years of experience helping kids requiring rehabilitation.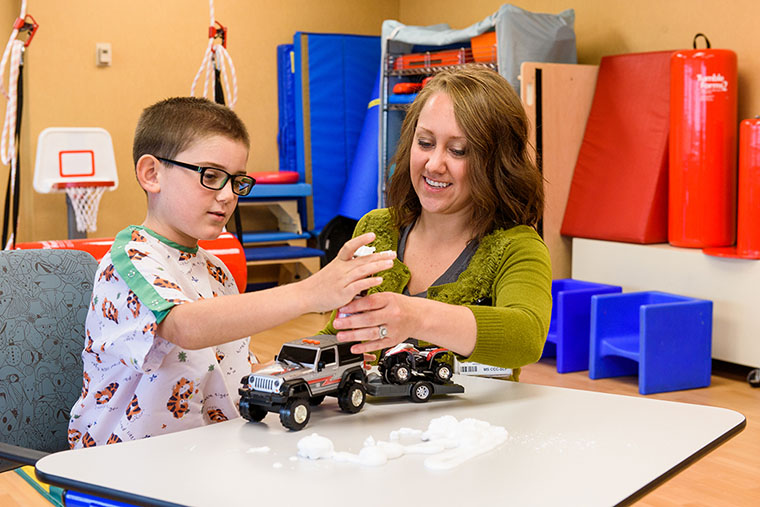 Our pediatric inpatient rehab team helps kids three months to 18 years old improve physical, mental or behavioral function after injury, illness or surgery. We understand the uncertainty and challenges families face due to a child's injury or illness . We are here to assist your family during this process.
Children who can benefit from inpatient rehab include those with:
Motor conditions including cerebral palsy.
Genetic conditions including muscular dystrophies.
Orthopaedic injuries or illnesses.
Neurologic injuries or illnesses including brain injuries, brain tumors and strokes.
Severe illness following prolonged hospitalization.
Spina bifida.
Traumatic brain injuries and spinal cord or musculoskeletal injuries.
Deconditioning due to long hospital stays.
Our pediatric specialists work with children and their families to create an individualized treatment plan that best meets your child's needs and sets a foundation for continued progress and success. Your child will participate in multiple therapy sessions per day.
To qualify for admission, children must be hospitalized and must be able to benefit from rehab, including a minimum of three hours of therapy per day, five days a week. We accept both internal and external referrals, but all inpatient admissions must be approved before transfer. Please call the referral number above for more information.
Comprehensive rehabilitation at mid-Missouri's only children's hospital
Children's Hospital has private patient rooms allowing parents to stay with their children and participate. No matter the challenge, you and your family will have access to the best inpatient and outpatient care with onsite specialists, including physical, speech and occupational therapists, pediatric nurses and child life specialists.
Other members of your family's care team might include social workers, neuropsychologists, pediatric physiatrists, dietitians and more. Your child's specific needs determine how we approach therapy.
Inpatient rehab therapy techniques
Our therapy team uses different therapy techniques to help children achieve their goals.
Physical therapy sessions focus on neurological and sensory systems, mobility, strength, endurance, balance and posture. Occupational therapy sessions focus on daily living tasks, including feeding and swallowing, bathing, social skills, fine motor skills and using mobility equipment and assistive technologies. Speech therapy sessions focus on language and communication. Age-appropriate play and activities help your child participate and be more successful in therapy.
A part of our treatment plan includes education and instruction for you and your family to transition out of inpatient rehab. In some cases, we may recommend continuing outpatient rehab, but no matter the next steps, our team will make sure your child has everything he or she needs to ensure continued success.
Alternatives to inpatient rehab
Therapy Services also provides pediatric outpatient treatments, offering families truly comprehensive care. Tiger Intensive Therapy is a specialty pediatric program that offers three disciplines of outpatient treatment: physical therapy, occupational therapy and speech language therapy. These intensives are designed to each child's level of ability and planned with the needs and goals of our patients and their families in mind.
Related Conditions & Treatments