When your child has a serious or life-threatening emergency, you want a team that is trained to care for kids.
At MU Health Care, we are experts at caring for children, and we have the only emergency room in mid-Missouri dedicated to kids. Our staff — from doctors and nurses to emergency medical technicians and child life specialists — are focused on one goal: making you and your child feel better.
A kid-friendly experience
Our Children's ER — the region's only emergency room dedicated completely to kids — is now located at University Hospital, 1 Hospital Drive. This relocation was one of the first steps toward creating a centralized hospital campus, which will include our new Children's Hospital — opening summer 2024.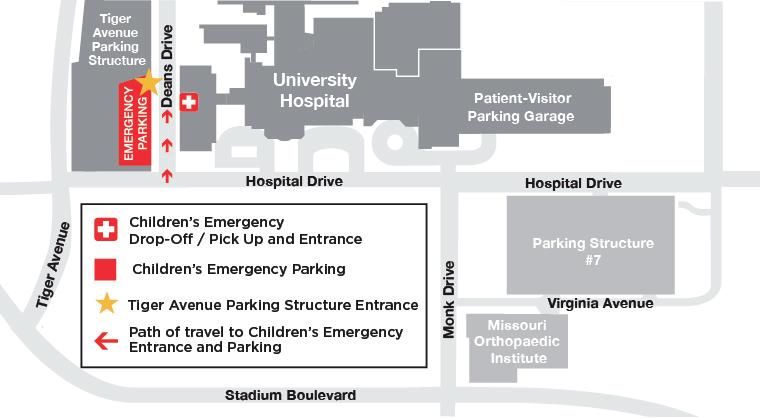 Welcome to the "ouchless" emergency room
No, we can't prevent all pain, but we can — and do — take every step to meet the physical and emotional needs of kids who need emergency care. That means pain relief and procedure explanations geared toward kids as well as distractions to help reduce anxiety.
We use several tools to help reduce pain and discomfort during procedures:
The J-Tip needle-free system allows us to provide numbing medication, such as lidocaine, without the sting of a needle. The device uses pressurized gas to apply medication under the skin, making it virtually painless for kids.
EMLA and LMX are brands of anesthetic cream that can be used to numb the skin for procedures such as stitches, sutures or IV placements.
Expertise just for kids and families
Our doctors are board-certified in pediatric emergency medicine, meaning they have undergone years of training to be experts in caring for acutely ill or injured children in an emergency room.
Our physician assistants and nurses also have completed specialized training and are certified in Pediatric Advanced Life Support (PALS) to give you and your child the highest level of care.
Our emergency care team for kids also includes child life specialists, who are specially trained and certified to help take the stress out of a hospital visit. These specialists can:
Help prepare kids for procedures by giving age-appropriate explanations and allowing kids to handle and learn about the medical instruments that will be used in their care.
Provide comfort and help distract kids from pain through relaxation techniques, such as deep breathing, and distractions such as tablet computers, toys and games.
Conditions we treat
Our emergency care team for kids consults with pediatric specialists throughout MU Health Care, so no matter what brings your child into the ER, we have someone who is specially trained to treat their condition.
If your child has any of the following symptoms or conditions, don't hesitate to come to the emergency room:
Allergic reactions
Asthma attacks
Broken bones or dislocated joints
Serious burns
Choking
Deep cuts and other wounds
Dehydration
Difficulty breathing
Severe or sudden headache
Head or eye injuries
Severe cold or flu-like symptoms
Rashes
Seizures
Swallowed objects
Severe or persistent vomiting or diarrhea
We welcome all types of families
We provide a welcoming, inclusive environment where every child and every family can receive validating, respectful and culturally appropriate care.
Our entire team is focused on making you and your child feel better.
Related Conditions & Treatments