Team William: Embracing life with a rare disease
---
On Monday evenings, William Lyons breaks into his happy dance, swinging his arms and shouting, "Oh, yeah!" William knows the next day he'll receive an infusion of what he calls "muscle juice." It's the medicine that prepares his 7-year-old body for another week of fishing, looking for crawdads and playing with his family's pet turtles.
William has Pompe disease, a genetic condition that affects about 1 in 30,000 people. His body lacks the enzyme that breaks down a sugar called glycogen and converts it to muscle-fueling glucose. It is a progressive, fatal disease that weakens muscles — including the heart — and causes developmental delays and problems with swallowing, breathing and walking.
While there is no cure, MU Health Care offers enzyme replacement therapy — aka "muscle juice" — that helps people with Pompe disease live longer, healthier lives. It gives a kid like William the chance to enjoy being a kid.
"His personality pops," said his mother, Sheila Cormack. "It doesn't matter if you're having the worst day in the world, he'll say something or make a face at you and make you smile. He's definitely a gift."
Beating the odds
Cormack considers even bad days with her son as a gift because he has faced long odds from the beginning. His heart stopped beating when he was born, and his health was so fragile that he was flown by helicopter from Lake Regional Health System in Osage Beach to MU Health Care's Women's Hospital, where he spent his first three months in the neonatal intensive care unit.
William was diagnosed with infantile-onset Pompe — the most serious form of the disease —when he was a few days old. Cormack had never heard of the disease, and her heart sank when doctors described it and prepared her for the possibility William might not live through childhood.
"You can't imagine how it feels when doctors tell you he might only have 5 years to live," she said.
William can now walk and ride a bike. He even made his own fishing pole with a stick he found in the woods. Reaching all those wonderful kid milestones is a testament to his own determination and the dedication of a large team of health care professionals who help him.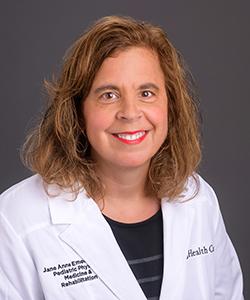 William sees a team of specialty doctors and therapists at the Pediatric and Adolescent Specialty Clinic once every six months. The family lives 116 miles southwest of Columbia in Edwards, Missouri, so the team coordinates his appointments for convenience. On a recent morning, William met with a physical medicine and rehabilitation doctor, a cardiologist, a pulmonologist and a neurologist — one right after another.
"The biggest thing in his case is the team is working to ensure his heart health and his respiratory health are as good as they can be," said Jane Emerson, MD, the pediatric physical medicine and rehabilitation doctor who coordinates his care. "From my standpoint in seeing him every six months with a physical therapy and occupational therapy team, we'll be determining if he needs any assistive devices or bracing or orthopaedic surgery. Hopefully, we'll keep him walking and riding his bike as long as we can."
Hope for the future
While his team of doctors, nurses and therapists help William manage his symptoms, the enzyme replacement therapy allows his body to convert glycogen into glucose that will keep his muscles working. It's a weekly routine that's so vital for his health that his mom can predict his behavior by the day of the week.
"As soon as he gets his treatment, he's bouncing off the walls and wound for sound — that's Tuesday," she said. "Wednesday and Thursday, he's good. But by the time Sunday rolls around, he's starting to drag, he's starting to trip when he walks, he's starting to choke on food."
So it's understandable why the promise of the next infusion of "muscle juice" sends William into his weekly happy dance. Before enzyme replacement therapy became available in 2006, children with infantile-onset Pompe often wouldn't live to see their first birthday. Now, a 7-year-old boy with Pompe is playing outside and spreading his joy to others.

"When you're looking at patients with rare diseases — especially neuromuscular or metabolic — research changes the landscape dramatically," Emerson said. "Even though enzyme replacement therapy is amazing, we strive for the day we can change the underlying enzymatic defect and cure these patients. That's why research and ongoing clinical trials are so important."
Cormack knows William has a terminal disease, but she is treating each day with her son as a blessing and keeping hope alive.
"Sixteen years ago, there was no medicine for Pompe disease. Now there is. Five years from now, maybe they will cure it," Cormack said. "He's going to outlive every expectation. Every great achievement was once thought impossible."
---