If your child has a condition that affects his or her lungs and breathing, it can be scary for you as a parent. Your child needs proper diagnosis, treatment and management to allow him or her to breathe easier and participate in everyday activities.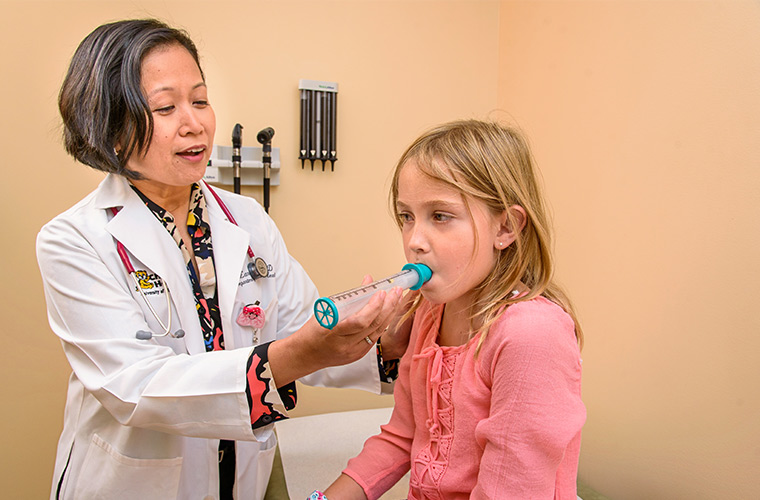 Children's Health at University of Missouri Children's Hospital has one of the most comprehensive and respected pediatric pulmonary medicine, asthma and allergy centers in the state of Missouri.
Our team of highly skilled pediatric pulmonologists takes care of children who battle acute (sudden) and chronic (ongoing) respiratory diseases such as cystic fibrosis, asthma and conditions like hay fever brought on by allergies. We offer state-of-the-art treatments with kindness and a genuine love for kids.
Some common illnesses we treat
Our pulmonary pulmonologists treat a wide range of lung conditions in kids, including:
Asthma
Bronchopulmonary dysplasia (chronic lung disease that affects newborns and infants)
Cystic fibrosis (genetic disorder that affects the lungs)
Hay fever
Sleep apnea
Sleep disorders
Ventilator-dependent respiratory conditions
Comprehensive testing we offer
We offer testing to help diagnose any pulmonary condition your child may have, such as:
Allergy tests
Bronchoscopy (using a thin viewing instrument to closely examine your child's airway)
Exercise challenge
Methacholine challenge (test for asthma in which your child's breathes in medicine called methacholine)
Pulmonary function tests
Sleep study
Related Conditions & Treatments