Living everyday life when you're a child with diabetes can be overwhelming. Children need specialized care from doctors who understand the unique needs of children and their families. The Diabetes Center at MU Health Care Children's Hospital remains one of the world's best juvenile diabetes care centers.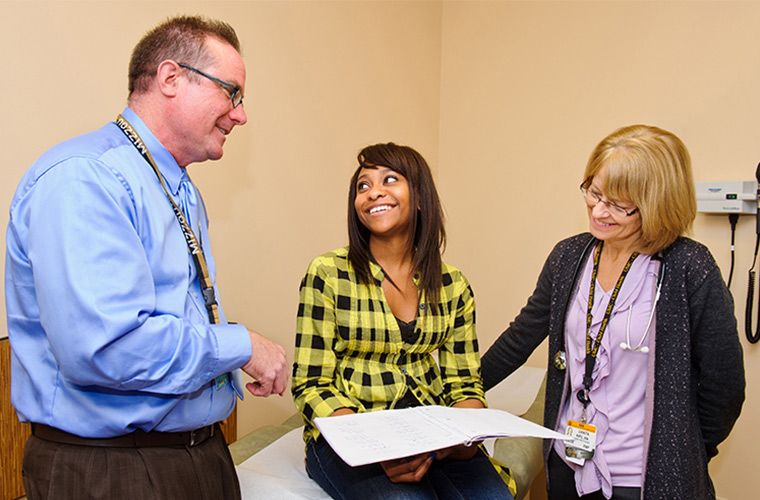 Led by central Missouri's only board certified pediatric endocrinologists, our center continues to be on the forefront of pediatric diabetes care. Our team's physicians and researchers participate in leading-edge research, which means we can provide top-notch care and the newest treatments for children with diabetes.
Kid-friendly diabetic care
Our juvenile diabetes and endocrinology specialists work together closely to provide personalized, effective care for your child. In all we do, we never forget that our patients are children.
Our team members are pediatric specialists, which means they love working for and with kids. Doctors and other health professionals know how to adapt their care and education styles to best help children of any age, such as play therapy, modeling and other kid-friendly techniques.
Additionally, our doctors are highly skilled in addressing a child's changing needs as he or she grows from a toddler, through adolescence and into young adulthood. One of our endocrine specialists is the medical director of Camp Hickory Hill, a summer camp created specifically for children with type 1 diabetes.
Diabetes care we offer
Our team offers comprehensive care for kids with diabetes, including:
Glucose testing/monitoring
Insulin injections
Insulin pumps
Nutrition education
On the forefront of juvenile diabetes research
We are committed to staying on the forefront of diabetes care for children. Here are some research efforts currently underway in our program:
Our juvenile diabetes and endocrinology specialists are involved with ongoing research that aims to stop or slow the onset of type 1 diabetes at the cellular level. 
Our specialists are involved in clinical research exploring new therapies for children with type 1 diabetes in an effort to help them gain even better glycemic control. 
Our team is often involved in research conducted through TrialNet, an international network of researchers who are exploring ways to prevent, delay and reverse the progression of type 1 diabetes.
Related Conditions & Treatments