As the weather gets colder, I am often asked, "Is what I have contagious?" What a patient really may be asking is "Should I stay home due to what I have?"
In general, I remind everyone that the common cold is contagious or can be spread from one person to another. Symptoms that should cause you to stay home instead of visiting with family and friends, or working, include:
Fevers higher than 100.4 degrees
Recurring vomiting or diarrhea
Drainage from one or both eyes
Draining or moist wound.
A cough that is uncontrolled and cannot be covered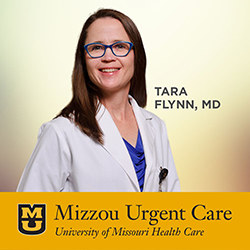 Usually, to avoid getting sick, we encourage you to wash your hands often, and to avoid touching surfaces and your face. In addition to those common sense hygiene practices we also advocate for eating well, staying hydrated, and getting sufficient rest. These are all things that help keep your body healthy.
If you are sick, try to limit the spread of the illness. First of all, if you can, stay home from work or school if you are sick. Avoid touching your face, wash your hands frequently (at least 20 seconds wiping both the top, bottom of hands and between the fingers prior to eating and drinking), cough or sneeze into your sleeve and throw away any used tissues. But for those times your cold seems to stick around longer than you like, we at Mizzou Urgent Care are here for you.
If you aren't feeling well, aren't able to see your primary care physician, and are not sure if you should go to Mizzou Quick Care, Urgent Care or the emergency room, check out this quick guide. At Mizzou Urgent Care, our goal is to take care of acute injury and illness needs and return patients to their busy lives.