Here is what you need to know about getting tested for COVID-19.
Symptoms
If you're experiencing mild symptoms of COVID-19, you should be assessed by a physician.
Learn about the latest symptom information at cdc.gov. Symptoms might include:
Fever
Cough
Chills
Shortness of breath
Muscle pain
Headache
Sore throat
Loss of taste or smell
If you have severe symptoms, including difficulty breathing, go to the Emergency Department or call 911.
If you have mild symptoms, get assessed by a doctor
Options for assessment:
After you are assessed by a physician, you can come to one of MU Health Care's drive-thru testing sites. See locations.
Drive-thru testing is available:
8 a.m. to 7 p.m. Monday through Friday
8 a.m. to 12 p.m. Saturday
The drive-thru sites are closed Sunday.
How will I be notified of results?
The test results notification process differs based on your results.
How much does testing cost?
The charge for a COVID-19 lab test is $150. If you have insurance, that company will be billed. At this time, there is no co-pay or co-insurance. If you do not have insurance, there is no charge.
Where are the drive-thru testing sites?
MU Health Care has two drive-thru sites in Columbia.
MU Softball Stadium
The original testing site is in the MU softball stadium parking lot. Enter via Mick Deaver Memorial Drive, off Stadium Boulevard.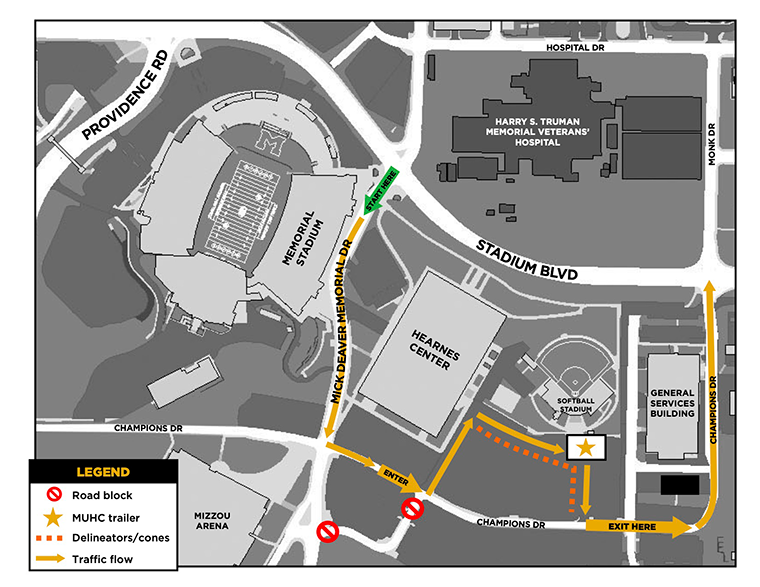 Mizzou North
The newest testing site is on the north side of Mizzou North building at 115 Business Loop 70 W in Columbia. Enter off Garth Avenue. Note: The capacity of this site is less than the Softball Stadium site. Check the website for wait times.
Image