Family medicine doctors can take care of newborns, the elderly and everything in between.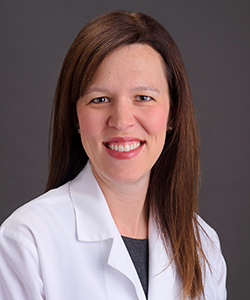 "We are trained to be the first point of contact for any health problem you might have," said Sarah Swofford, MD, a family medicine doctor at University of Missouri Health Care. "After graduating from medical school, we receive three years of additional training in a wide variety of areas. As a result, we can handle almost anything that walks into our office. But we also know our limits. If we need to refer you to a surgeon or specialist, we will happily help you pick the right person."
Family medicine doctors offer a streamlined approach to health care. You can discuss and manage multiple ailments during one appointment instead of scheduling multiple appointments with multiple providers.
These versatile doctors can provide the following services:
Preventative care: "We commonly see patients of all ages for their annual checkups and immunizations," Swofford said.

During these preventative care visits, family medicine doctors can help you kick bad habits.

"We love to partner with our patients to help them live healthier lives," Swofford said. "Many people tell us they want to eat better, lose weight, exercise more and quit smoking. We are trained to facilitate this behavior change. We can help patients create a plan that leads to long-term success."
 
Chronic disease management: If you are managing one or more chronic conditions — such as high blood pressure, heart disease, asthma or diabetes — a family medicine provider can seamlessly coordinate your care.

"Even if you are dealing with multiple health problems, we encourage you to visit us for routine checkups and follow-ups so that specialists can have openings in their schedule for patients who need immediate attention," Swofford said. "Since we are trained to care for the entire body, we treat each visit as an opportunity to work on whichever area needs the most attention at that time."
 
Obstetrics and gynecology: Family medicine doctors can provide routine gynecologic care, including annual well-woman exams and Pap smears. They can also provide prenatal care to women who plan to deliver vaginally.

"There are many advantages to receiving prenatal care from a family medicine doctor," Swofford said. "We have firsthand knowledge of your health history, we follow you through your pregnancy, we deliver your baby, and then we can care for your baby after he or she is born."
 
Dermatology: Family medicine doctors know how to examine your skin in search of acne, rashes or moles that require medical attention.

"We are trained to provide routine dermatologic care," Swofford said. "If we find something alarming during a skin check, we can perform simple in-office procedures such as biopsies or mole removals, and we know when to refer you to a dermatologist if need be."
 
Mental health: If you are experiencing mental health issues, a family medicine doctor can make a proper diagnosis and provide the right medications and treatment options.

"We often help patients manage common mental health conditions like anxiety and depression," Swofford said. "But if someone has a more severe mental health issue — such as schizophrenia, psychosis or treatment-resistant depression — we recommend seeing a psychiatrist."
MU Health Care has three family medicine clinics in Columbia, as well as clinics in Ashland, Fayette and Fulton.