Here at MU Children's Hospital, we provide excellent care for the tiniest or seriously ill infants. At our neonatal intensive care unit – or NICU – we treat more than 500 premature and critically ill babies each year.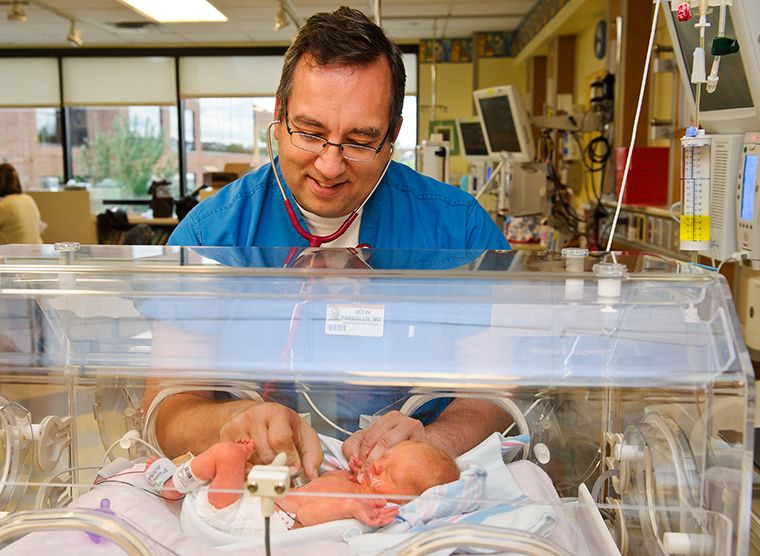 In fact, we're the only hospital in the central Missouri area that offers sub-specialist expertise for NICU care. You can trust our team of world-class neonatologists and staff, who will treat you and your baby with the understanding, sensitivity and expertise you have come to expect from MU Children's Hospital.
Comprehensive services, compassionate staff
The MU Children's Hospital NICU team offers state-of-the-art, comprehensive Level III NICU services. Level III NICUs provide subspecialty newborn care for infants born at less than 32 weeks gestation and for babies with critical illness, born at any gestational age. 
Our highly skilled, multidisciplinary team of health care professionals includes: 
Advanced practice nurses
Pharmacists
Neonatologists
Respiratory care practitioners
Social workers 
Specially trained nurses
Trusted neonatal transport team
Each year, our neonatal transport team helps approximately 350 premature or critically-ill babies from other health care facilities get to MU Children's Hospital's NICU when they need it most. The transport team consists of specially trained nurses and respiratory care practitioners whose main focus is to quickly transport babies under 15 pounds so they can get the care they need.
Related Conditions & Treatments