The Journeys – Pediatric Complex Care Team provides support for the physical, social, emotional and spiritual needs of children and families as they navigate complex or life-threatening medical conditions.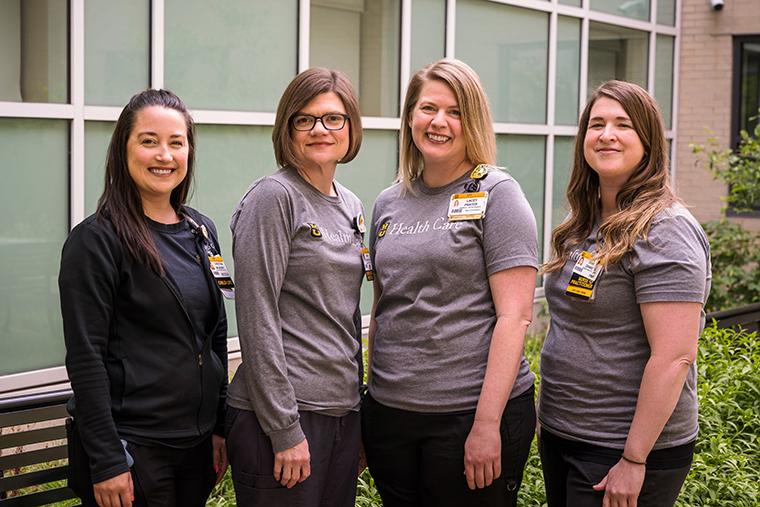 This support may include:
Treatment of symptoms. We help manage your child's symptoms such as pain, shortness of breath, fatigue, constipation, nausea, loss of appetite and difficulty sleeping.
Care coordination. We work with your child's entire care team — including primary doctors, specialists and community providers — to help coordinate his or her care. We understand how difficult it can be to manage appointments, insurance and other details, so we guide you through the process to make it easier for you and your family.
Goal setting. We listen to what's important to you and your child and help you prioritize your goals.
Disease management. We help you manage your child's illness to avoid repeated hospital or emergency room visits as much as possible. 
Planning. We help ensure your health care wishes for your child are carried out. We can help you create an advanced care plan or assist with long-term planning for care needs or transition to adult care.
If you feel your child could benefit from our services, please ask your medical provider to consult the Journeys team. If your child is eligible, we will set up a meeting with your family.
If you have more questions about Journeys and want to speak to a member of our team, please call us at 573-771-4266 or email Lacey Prater at PraterL@health.missouri.edu.
Compassionate Support Services
The death of a baby or child is a traumatic event for families and needs to be met with compassionate support.
Our compassionate support services include offering educational and supportive resources to parents following a death, hosting memorial services to remember babies and children who are dearly missed and educating MU Health Care staff on how to provide special care at the time of a death.
Every loss is unique. Whether the family experienced the death of a baby (through miscarriage, ectopic pregnancy, molar pregnancy, blighted ovum, stillbirth or in the first few months of life) or the loss of a child (up to age 21), we have resources to offer regarding normal grieving as well as memory building. 
Our follow-up resources include written information on the grieving process, managing grief through the holidays, how to support and talk with children about loss and where to find additional support. We can also provide phone support and referrals to community resources as needed. Your loss does not have to have occurred in our hospital to receive information and support from our program.
Our program receives referrals for follow-up support from within our hospital system. If for some reason you have experienced the loss of a baby or child and were not offered follow up support, please contact us, as we want to ensure families receive the support they need.
Our memorial services are held in April (Remembering our Children Memorial Service) and October (Remembering our Babies Memorial Walk). Anyone enrolled in our follow-up program will receive individual invitations, but these events are also open to the public. We encourage anyone touched by loss to attend.
Please call us at 573-771-4266 or email Lacey Prater at PraterL@health.missouri.edu with any questions about our compassionate support services.