Children's Hospital is the only hospital in mid-Missouri dedicated to kids. It's one of the only places in the region where families can receive care in more than 25 pediatric specialties and access specialized services such as neonatal transport, child life, music therapy and more.
Your support helps ensure that we can continue offering these crucial services to our region's children and adolescents.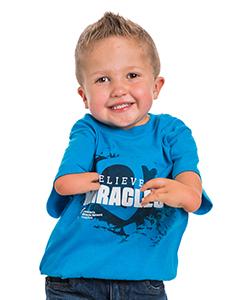 Support Crucial Children's Services
When you donate online or by mail to Children's Hospital, you can put your gift toward specific programs or services:
Children's Hospital Greatest Need Fund. By donating to our Greatest Need fund, you support the most urgent needs of our patients, families and staff. These needs may include equipment, training, research and more.
Children's Hospital Patient and Family Assistance Fund. By directing your gift toward this fund, you can help parents pay for medical services their children need.
Children's Therapy Center Fund. Help children recover from illness or injury by donating to our therapy center. The center provides pediatric physical, occupational and speech therapy services. It is home to one of the only therapeutic rehabilitation playgrounds in the U.S.
NICU Books for Babies. When a child arrives in our Neonatal Intensive Care Unit (NICU), their parents receive a children's book. And, at the start of every month their child is in the NICU, parents receive another new book. Their baby's footprints are on the inside cover of each book, giving them a way to see their baby's growth. Your support helps purchase these books.
Reach Out and Read. Through this program, doctors prepare patients to succeed by prescribing books and encouraging families to read together. The program begins at the six-month checkup and continues through age five. At the end of the program, children receive book bags with stickers, coloring books and other reading enrichment goodies. Your support helps purchase these books and goodies.
Give Through Children's Miracle Network
Children's Hospital is proud to partner with Children's Miracle Network, a nonprofit organization that gives our donors more ways to support our patients and their families:
Support Children's Miracle Network giving campaigns. Through Children's Miracle Network, we work with national partners such as Walmart, Dairy Queen, Ace Hardware, Panda Express and others to raise funds for Children's Hospital.
Participate in our annual radiothon. The Miracles for Kids Radiothon, co-hosted each February by Children's Miracle Network, is our major fundraising event of the year. Give now.
If you have questions about participating in a giving campaign or our radiothon, contact one of our Children's Miracle Network coordinators:
All funds you donate to us through Children's Miracle Network go directly to support Children's Hospital.
Participate in MizzouThon
MizzouThon is the University of Missouri's largest student-run philanthropy. Throughout the year, it hosts fundraising events that support Children's Hospital, including 5K walk/runs, tee-ball tournaments and more. Learn about upcoming MizzouThon events.
Donate Toys, Books or Other Items
Your donations of toys, clothes, books and other items help young patients and their families through difficult times. Learn more about needed items and how to donate.
Maximize Your Impact
We offer a variety of ways to give, including several that help maximize your impact:
Gift planning: You can leave a bequest to Children's Hospital through a trust or will, or by making Children's Hospital a beneficiary of your retirement account or life insurance policy. To discuss these options, contact the Office of Gift Planning at 1-800-970-9977 or 573-882-0272 or giftplanning@missouri.edu.
Matching gifts: Many employers will match charitable gifts made by their employees. Check with your human resources representative to see if your employer offers a matching gift program.
Monthly giving: Your monthly generosity helps sustain much-needed programs and services for the long haul. To begin, email Cristin Clark or call 573-882-0697.
Questions about Donating to Children's Hospital?
If you have questions about participating in a giving campaign or our radiothon, contact one of our Children's Miracle Network coordinators: