We value all contributions to MU Health Care — whether they are financial gifts, donations of items or volunteering your time.
MU Health Care Mission Fund
Help us continue to make sure the people in our community have access to the health care and resources they need.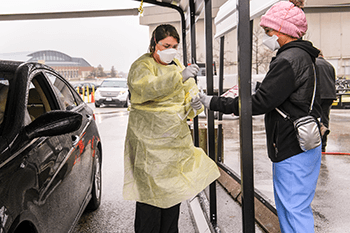 By donating to MU Health Care, you make a difference in the lives of people throughout our region. Choose from the options below to help advance the future of health care.
Make a Financial Gift
Whether it's $1 or $50, your financial gift will empower our mission to save and improve lives. You have the option of contributing to whichever areas of support you're most interested in, such as our Children's Hospital or Ellis Fischel Cancer Center. You can also donate directly to MU Health Care, and we can apply the donation to the area of greatest need.
You can contribute in any of the following ways:
Give online: Make a credit card donation using our secure online giving form.
Mail a check: Make checks payable to "MU Health Care," and send to the address below.
Office of Advancement
107 Reynolds Alumni Center
Columbia, MO 65211
Give by phone or email: Even just $1 can make a big difference in the lives of our patients. Email Cristin Clark, or call 573-882-0697.
Donor-advised fund giving: Think of this like a philanthropic savings account, with tax benefits. Your financial advisor can create this account for you. If you're interested, email Cristin Clark, or call 573-882-0697.
Gift planning: Typically donated through a will or trust, gift planning is a wonderful way to increase benefits to your estate and decrease the tax burden to your heirs. To get started, email Cristin Clark, or call 573-882-0697.
Tribute or memorial giving: Honor a special person in your life with a gift that pays tribute to their legacy. To learn more, email Cristin Clark, or call 573-882-0697.
Monthly giving: Your monthly generosity empowers our mission to save and improve lives. To begin, email Cristin Clark, or call 573-882-0697.
Matching gifts through an employer: If you'd like to increase the amount of money you donate to MU Health Care each year, ask your employer if they offer a matching gift program. For more information, email Cristin Clark, or call 573-882-0697.
Giving Society
The McAlester Society recognizes donors with cumulative giving of $50,000 or more for the important role they play in advancing MU's academic health center. These esteemed donors hold a close, long-term interest in medical education, research, training and patient care.
Donate Items
Our patients benefit from the generosity of donors like you to help ease their time in the hospital. For safety reasons, please note that we only accept new or unwrapped items.
Recognize a Caregiver (Guardian Angel Program)
If you wish to honor someone at MU Health Care who provided outstanding care to you or a loved one, we encourage you to recognize a caregiver through our Guardian Angel Program. Your guardian angel will receive a note about your donation, along with a signature lapel pin.
Fundraising Events
From galas to golf outings, we host a variety of fundraising events throughout the year. Attending or sponsoring an event is a wonderful way to give back to MU Health Care. Please let us know if you would like to be on our mailing list for future events.
Start a Fundraiser
Start a fundraiser to bring together your friends and family to support MU Health Care. To help make sure your event provides the most benefit to our patients, we've created fundraiser guidelines and an application for you to complete. Please note: You will need to submit your application at least 30 days before your event.