If you're a parent of an infant who depends on formula for nourishment, the recent shortage caused by the temporary shutdown of a formula manufacturing plant is likely a daily concern for you.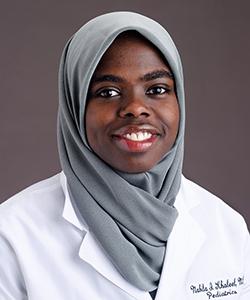 Nabila Khaleel, MD, an MU Health Care pediatrician, has seen lots of parents with concerns about how to deal with the supply shortage. She offered these tips to help parents keep their babies healthy until the supply gets back to normal.
1. Don't feed your infant whole milk before 12 months, and don't dilute formula or try homemade recipes.
Infant formula mimics breast milk and is fortified with iron, an essential nutrient for early development. Breast milk and formula also have sugar, protein, electrolytes and other nutrients that are carefully balanced and concentrated.
Diluting formula can give your baby too much water, making it difficult for their kidneys to safely process. Homemade formula imitations are not safe compared to breast milk or commercial formula because they do not always provide your baby with the right amount of nutrients and can become contaminated more easily. Starting whole milk too soon can also lead to problems.
"One of my colleagues saw a patient last year who, at 6 months old, started drinking whole milk from the sippy cup of her older brother, so she stopped wanting to take her formula," Khaleel said. "When my partner saw her at 9 months, she was concerned, checked the baby's hemoglobin and discovered she was severely anemic. She had to be admitted to the hospital and receive a blood transfusion. That's a clear example of why we shouldn't give whole milk before 1 year."
At age 1, babies can be safely weaned from breast milk or formula using water, milk and food. If your baby is 6 months or older, you can supplement formula with more baby food. Food to Grow On from the American Academy of Pediatrics is a resource for infant nutrition.
2. Don't be afraid to ask for help.
Having support to lean on can help relieve some of the stress you may be feeling. Tell family and friends the formula your baby eats and ask them to check local stores when they are shopping. Call stores to ask if they have formula in stock, if they are reserving formula and when the next delivery will be.
If your baby's formula is not available, it is OK to try different brands during the shortage. Missouri Women, Infants and Children has a list of alternative formulas, including sensitive powders.
Community organizations and your local public health department can also help. In Boone County, some resources include Central Missouri Community Action and the Columbia/Boone County Department of Public Health and Human Services. Calling United Way at 2-1-1 is another way to seek formula in your area.
Your pediatrician or family medicine doctor can also help you find formula. Currently, doctors recommend you keep a supply that will last two to four weeks and don't hoard formula so everyone can feed their kids.
"If you're not able to find any formula, check with your pediatrician's office to see if they have any, even if it's one or two cans, Khaleel said."
3. Consider relactation, use a breast milk bank or get help from other mothers if you can.
The Academy of Breastfeeding Medicine suggests relactation, the process of resuming lactation after stopping for weeks or months, as an option. However, this can be difficult the longer you go between stopping breastfeeding and trying to start again. Ask your doctor about the possibility of resuming breastfeeding and working with a lactation consultant.
Seeking breast milk locally, separate from a milk bank, can be another option but comes with risks, Khaleel said.
"If you're thinking about doing it locally with family or friends, you have to recognize breast milk is a bodily fluid, so it's similar to sharing blood," she said. "When making your decision, you need to consider whether or not the person providing the milk has a history of infectious diseases, alcohol consumption or medication use. Those can be transmitted to your baby through breast milk."
Breast milk banks might be an option to help you and your baby. The Milk Bank and the Human Milk Banking Association of North America (HMBANA) provide donor milk that has been screened and pasteurized. Donors provide medical histories and undergo blood testing for diseases, including HIV and hepatitis. The milk is then frozen to preserve it.
Khaleel encouraged mothers who produce more breast milk than their baby needs to consider becoming donors. One local option is the Central Missouri Mother's Milk Depot based in Cole County, which uses donations to feed babies born prematurely and whose mothers are unable to produce breast milk. The Milk Bank and HMBANA will cover the cost of blood tests and shipping for mothers who are interested in donating. The vetting process takes about a month to complete on average.
The Food and Drug Administration ordered a recall of bacterially contaminated powdered infant formula produced by Abbott Nutrition in early 2022. Abbott's plant in Sturgis, Michigan, was closed because of the contamination, which has resulted in at least four infant deaths and contributed to a shortage of powdered formula in the United States.
Powdered formulas — currently no liquid formulas are affected — under the brand names Similac, Alimentum and EleCare with the following lot codes and expiration dates on the bottom of the can, have been recalled:
The first two digits are 22 through 37.
The code on the container contains K8, SH or Z2.
The expiration date is 4-1-2022 or later.