During a physical exam early in Terence Brown's sophomore year of high school in New Albany, Indiana, he was diagnosed with scoliosis. His mind immediately raced to one thing.
"I wondered if I could wrestle again," Brown said.
At his father's suggestion, Brown had started wrestling in fourth grade. In his first year, Brown won only one match, but he stuck with it and got better, learning to love the sport in the process. He was getting ready for his first season as a varsity starter … and now this.
Brown was relieved after seeing a specialist in Louisville, Kentucky. The X-ray showed a spine curvature of 35 degrees, which was too much to be corrected with a brace but not enough to require surgery.
While Brown got busy with wrestling season, his mother, Ann Brown, joined a few Facebook groups for parents of children with scoliosis. That's how she heard about a procedure called vertebral body tethering (VBT).
VBT is minimally invasive alternative to fusion for scoliosis patients who are still growing and have spinal flexibility. Screws are affixed to the outside of the vertebra in the curved area of the spine. A polyethylene cord connects the screws and provides tension that straightens the spine.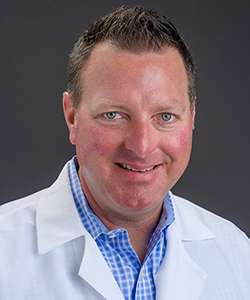 "So often, what happens is these kids are active, have an X-ray done and are confronted with the issue of needing some intervention for their scoliosis," said MU Health Care pediatric orthopaedic surgeon Dan Hoernschemeyer, MD. "Observation doesn't really seem to impede a kid in their activities, nor does a brace because they can take those off, but when you're talking about surgery, the traditional surgery is spinal fusion, and many worry that limits the amount of flexibility a child will have when they're doing high jump or wrestling or gymnastics. Tethering is a way to correct the scoliosis and modulate normal growth instead of stunting and fusing it."
Only a handful of medical centers in the country perform the procedure for scoliosis, and MU Health Care is one of them. Hoernschemeyer has done more than 65 VBT surgeries.
Intrigued, Ann emailed Hoernschemeyer.
"The next morning, I checked my email, and he had emailed me back after midnight," she said. "He was like, 'I'm sorry for my delay. I was in surgery.' We weren't even his patient, and he didn't owe me anything. I was really impressed."
She sent Hoernschemeyer her son's X-rays. He concurred with the Louisville specialist that the curve needed to be monitored but wasn't significant enough to require surgery.
In October of the next year, Brown's condition took a turn. His spine's curve had increased to 48 degrees. He needed surgery. The question was whether it would be fusion or VBT.
"What played heavily for us was him retaining his flexibility and having the option to return to wrestling, which is what he loves, and also protecting his organs and health," Ann said. "He was only 16, and we were looking for something that would allow him to make his own decision down the road if he needed to. Fusion was such a permanent decision."
Brown had the VBT procedure in December 2016. The surgery went well, and after following the Team Integrated Enhanced Recovery protocol, he was released from the hospital six days later. He had to sit out the rest of his junior season of wrestling, but three months after surgery, he was cleared to resume full activities.
"It got back to normal fast," Brown said.
He was back on the mat as a senior. Brown said he had no concerns about how his back would hold up to all the twisting of a wrestling match. His mother was worried before his first competition.
"I was sitting on the sidelines on the edge of my seat," she said. "When I realized he won, I just started crying."