Vertebral body tethering (VBT) is a fusionless spine surgery used to treat idiopathic scoliosis by using a strong flexible cord to straighten out the spine while preserving your child's range of motion.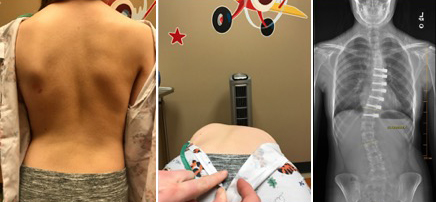 At University of Missouri Health Care, our team performs vertebral body tethering as a minimally invasive procedure that helps to correct scoliosis at the time of surgery as well as throughout your child's growth.
What is Vertebral Body Tethering (VBT)?
VBT helps to correct a common type of scoliosis, known as idiopathic scoliosis, by attaching screws to the outside of the scoliosis curve and placing a flexible cord, called a tether, to each screw on the affected vertebra. The cord is then tensioned to achieve the desired degree of scoliosis correction with no further lengthening required. As your child grows, VBT allows for additional correction of spinal curvature while maintaining spine flexibility.
Is VBT right for my child?
VBT is most appropriate for children who are still growing and have some spinal flexibility. There are other criteria that should be considered when thinking about VBT for your child, including:
A spine curvature between 35 and 65 degrees.
An idiopathic scoliosis diagnosis.
Roughly between the ages of 8 to 16.
Several scoliosis risk factors may increase VBT eligibility and these will be discussed at your first visit. If you or your child are interested in VBT, please call our office for additional information.
Your first visit
At your first visit, our team will evaluate your child's medical history and perform a physical exam of your child's back. It's also likely we will want X-rays of your child's spine standing and laying down to evaluate spine flexibility as well as a hand X-ray to determine skeletal maturity and future bone growth. Our team has access to the latest and most advanced technology, like X-ray images, that help us measure the spine curvature and determine if your child is a candidate for VBT surgery. If VBT is appropriate for your child, our pediatric orthopedic team will provide a personalized treatment recommendation and plan.
Prior to surgery
Before your child's VBT surgery you will have a scheduled pre-operative appointment to discuss surgical details as well as recovery pathway. Advanced imaging, like a CT scan and MRI of the spine, will be taken as well as an evaluation of lung function and pre-operative blood work. Our surgery team will also discuss the risks, benefits and alternatives with you and your child.
It is important to plan on staying overnight at the hospital for three or four days while your child is recovering from surgery. Surgery should take about four to six hours depending on the number of levels of your child's spine being treated. He or she will be sedated using anesthesia and will also receive pain medications, which will be discussed in detail at your pre-operative visit.
We do offer a tour of our Children's Hospital to patients and families with a child-life specialist two to three weeks prior to your child's surgery date. Often, a tour can help decrease stress and anxiety related to surgery and help prepare your family for a more successful recovery.
What to expect after surgery
After VBT surgery, your child will go to the pediatric floor and start recovery following the Team Integrated Enhanced Recovery (TIGER) protocol. This unique team surgery protocol is unlike any other and designed to reduce the length of your child's hospital stay, improve recovery time and get your child back to his or her favorite activities. We set daily goals and expectations for pain control and mobility to help in eliminating post-operative complications. Medication to help with pain will be given as needed and decreased over the course of two weeks at home. Our team will take additional X-rays of your child standing before you go home to accurately measure the spinal curvature immediately following surgery. X-rays will be taken at every follow-up visit starting six weeks after recovery to follow further improvement of scoliosis with continued growth. Your child should be discharged three to four days after surgery.
When you return home, your child will be able to walk, climb stairs and do most normal activities. Your child's restrictions will include no bending, lifting over 15 pounds, or twisting. We will ask to see him or her back in our specialty clinic six weeks after surgery to check incisions and repeat x-rays of the spine.
Patient testimonials
We first met Dr. Dan Hoernschemeyer in spring 2014. He was treating my son Ryan for a mild case of scoliosis. We made plans to follow his progress with appointments for follow-up. Later that year, my daughter, Avory, began exhibiting signs of scoliosis when she was 11 with a 30-degree curvature. By July of 2015, the curve had advanced. Dr. Dan felt confident that she would be a good candidate for vertebral body tethering.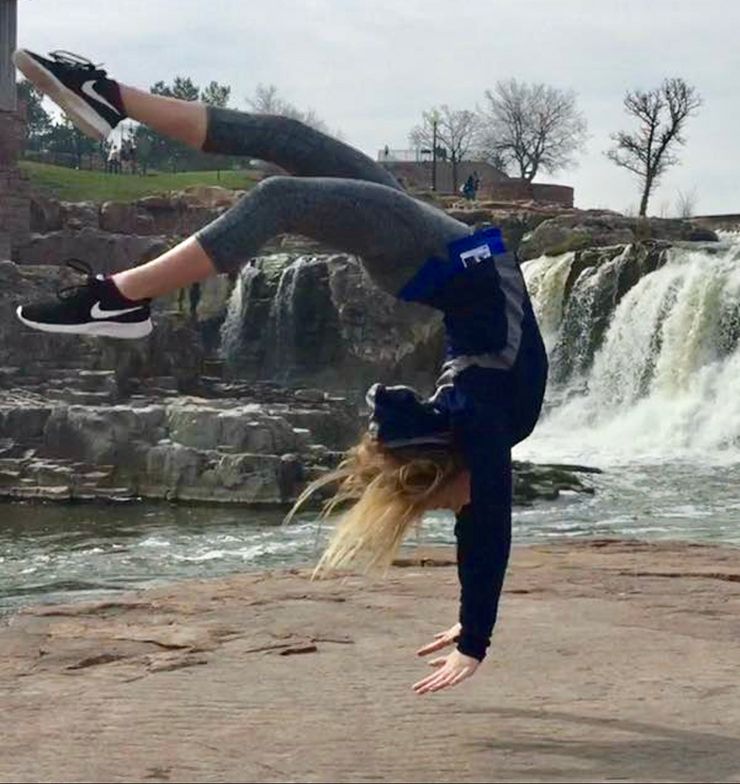 I cannot say enough good things about Dr. Dan and his staff. They took the time necessary to fully explain and go over everything that would happen before and after Avory's surgery. They even put me in touch with the mother of another VBT patient, and she was able to share her experiences with the procedure. By the day of the surgery, I was very at ease knowing we were making the best choice for Avory.
Shortly after Avory's surgery, Ryan's thoracic curve had advanced to surgical range, despite him being fully grown. Dr. Dan took into consideration Ryan's spinal flexibility and activities and agreed to perform a VBT procedure to correct the thoracic curve. In March 2016, Ryan became the oldest male to undergo a successful VBT surgery.
Both Avory and Ryan are able to compete in their high-level sports with no reduction in mobility. Avory currently competes in USA Gymnastics Level 9 competition and Ryan swims at a junior national level in club swimming, as well as high school swimming. I cannot thank Dr. Dan enough for taking both of my kids, who did not fit the traditional criteria for VBT, and was able to provide a solution that has allowed them to live their active lives with normal spinal function. As a parent and medical professional myself, this means the world to me.
— Evelyn "Dee" Gilbert,
Columbia, Missouri
Our daughter, Grier, was 6 years old when she was diagnosed with idiopathic scoliosis. We spent the next six years "managing" her curves through various means, but it became apparent that we were losing the battle. We met Dr. Dan Hoernschemeyer in 2018, and after his thorough evaluation, felt that Grier would be an ideal candidate for double VBT.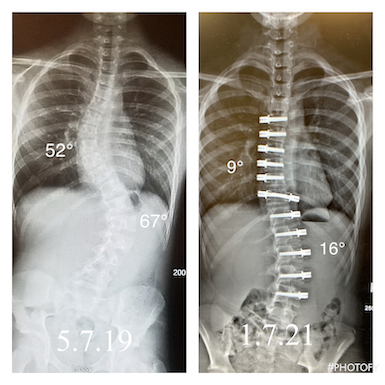 Dr. H, Nicole Buckler and the entire team of surgical nurses, nurses, occupational therapists, physical therapists, Child Life specialists, etc., were absolutely top notch in every way. The professionalism and kindness shown to Grier and us during her recovery is hard to describe.
Before surgery, Grier was extremely active in volleyball and basketball, and post-recovery nothing has changed! This past school year, she completed her first year of middle school sports and was able to compete in every way without any restrictions.
We are beyond grateful to Dr. H and his team for giving our girl her life and the ability to do everything that she loves without a second thought!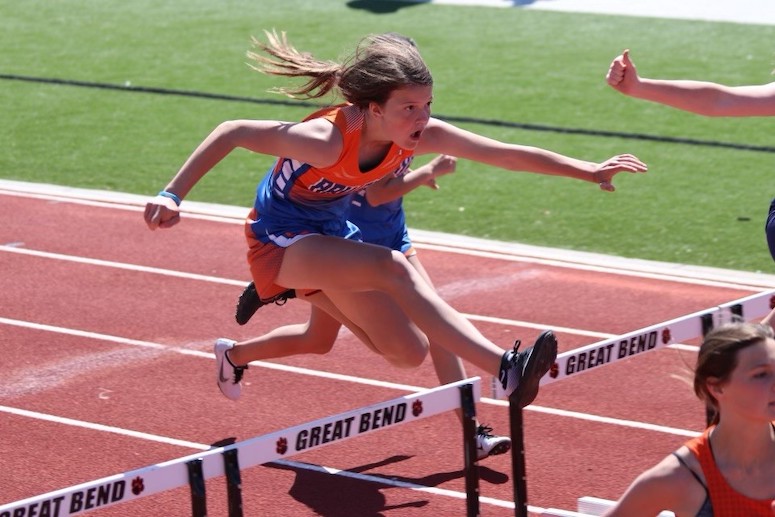 — Shelli Panzer,
Topeka, Kansas
Related Conditions & Treatments