Spinal fusion permanently joins two or more adjacent vertebrae so they grow together and form a solid-like bone that is no longer curved. Rods, screws, hooks and/or wires are placed in the spine in order to achieve curvature correction.
The spinal fusion surgery has a long-term record of safety and efficacy for treating significant scoliosis. A risk to the procedure is that fused vertebrae may lose mobility, which can limit some of the back's bending and twisting depending on the levels fused. Fusion of the thoracic spine helps maintain flexibility as most bending is done with the lumbar spine and hips.
For more details about the spinal fusion, click here.
After a spinal fusion, your child will go to the pediatric floor and start recovery following the Team Integrated Enhanced Recovery (TIGER) protocol. This protocol reduces the length of your hospital stay, improves surgical outcomes and gets your child back to his or her favorite activities. We set daily goals and expectations for pain control and mobility to help in eliminating post-operative complications.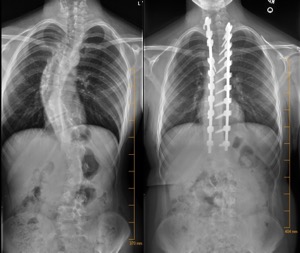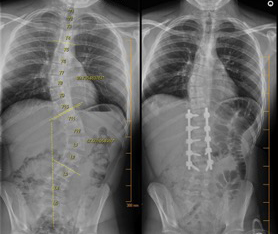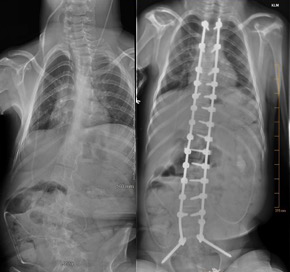 Related Conditions & Treatments