Spinal fusion surgery is one treatment option for scoliosis that permanently joins two or more vertebrae so they grow together and form a solid bone that is no longer curved.
If your child has been diagnosed with scoliosis, our pediatric orthopaedics team can perform surgery to help correct the curvature of the spine and keep scoliosis from worsening.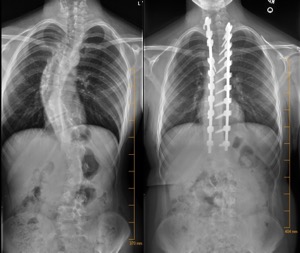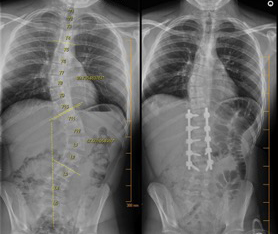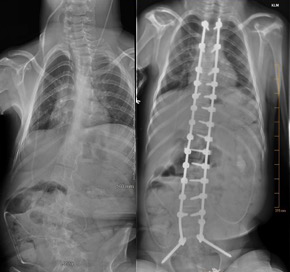 Spinal fusion surgery
Spinal fusion surgery places rods, screws and hooks in the vertebrae to help straighten the scoliosis curve. The vertebrae fuse together, with the help of bone graft, to correct scoliosis and prevent it from progressing. Spinal fusion surgery is most appropriate for children with a severe curve, or Cobb angle, of 45 degrees or greater. If not treated, severe scoliosis can continue to progress into adulthood and possibly affect your child's lung function.
What to expect at your first appointment
At your child's first appointment, our team of specialists will perform an evaluation that includes imaging tests, such as X-rays, and a physical exam. We will discuss treatment options with you and answer any questions you might have. If spinal fusion surgery is recommended, we will schedule a preoperative appointment to discuss every part of the process, including surgery and recovery details.
Preparing for spinal fusion surgery
Before your child's surgery, you and your child will meet with our nurse practitioner to prepare for surgery as well as discuss recovery, which will include two to three nights in the hospital. Your child will need additional radiology images, like a CT scan, and blood work. The preoperative appointment also will be used to discuss anesthesia and pain medication used during surgery. This appointment is a great time to talk about you or your child's anxiety about surgery.
Spinal fusion surgery recovery
Spinal fusion surgery typically takes between six to eight hours depending on how large the scoliosis curve is. Once your child's surgery is complete, he or she will go to the pediatric floor and start recovery following the Team Integrated Enhanced Recovery (TIGER) protocol. This unique team surgery protocol is designed to reduce the length of your child's hospital stay, improve recovery time and get your child back to their favorite activities.
We set daily goals and expectations for pain control and mobility to help in eliminating postoperative complications. You can expect your child to be in the hospital for two to three days after surgery. Most children are off pain medications within two weeks and back to their normal activities within a few months. If necessary, our team will help your family arrange physical therapy appointments to help keep the spine in proper alignment during rehabilitation. Patients have restrictions on bending, lifting and twisting for six months after surgery.
Patient testimonial
---
Meredith Rupp
Springfield, Missouri
My scoliosis journey began when I was 12 years old. My mom noticed my shoulder blades seemed uneven. At my next pediatrician appointment, the doctor checked my spine, and we were immediately sent for X-rays, which showed I had scoliosis. Soon after, we were set up with Dr. Dan Hoernschemeyer.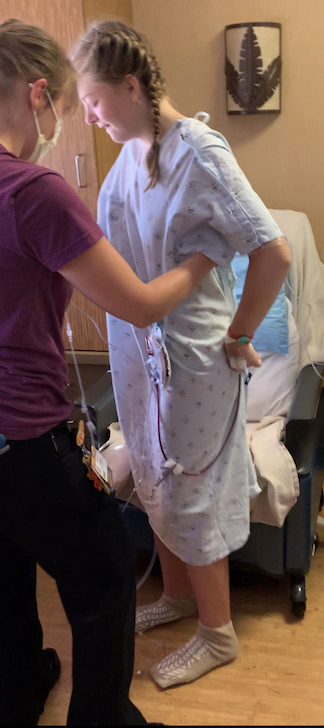 We were able to see him and his team in Springfield, which was much closer to our home than Columbia. I was fitted for a brace that I had to wear at all times except when showering and certain activities, like dance. Despite following doctor's orders for the next two years, my curve kept progressing. It became apparent that I was going to need a spinal fusion to prevent the curve from getting worse. We discussed the pros and cons of doing the surgery and decided to do it sooner rather than later. I didn't want to risk having more of my spine fused if I waited. My parents and I felt confident with Dr. Dan and his team because of their knowledge and experience.
I had surgery in July 2020, and it was tough, but I was able to walk from my bed to a chair just a few hours after surgery! Each day I was able to do a little more than the day before. I was even able to start the new school year in August with no special assistance. Six months later, I was back at dance and you would never know by looking at me that I had a major back surgery. Dr. Dan, Nicole Tweedy and the entire team have been so caring and supportive. I'm thankful they have taken such good care of me since my diagnosis.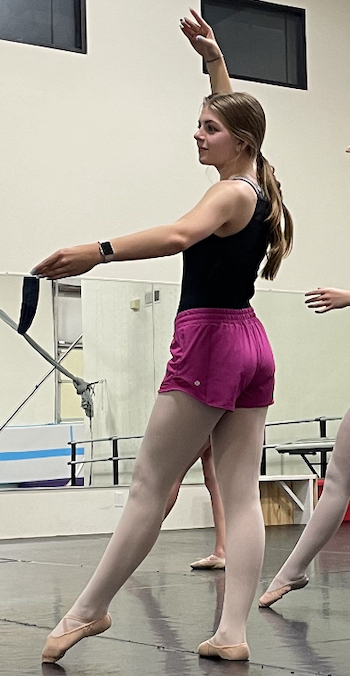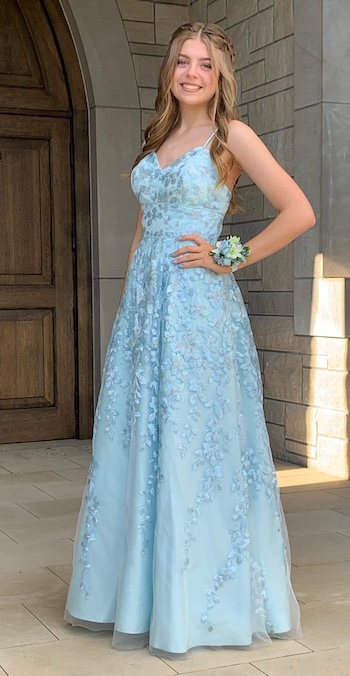 Related Conditions & Treatments